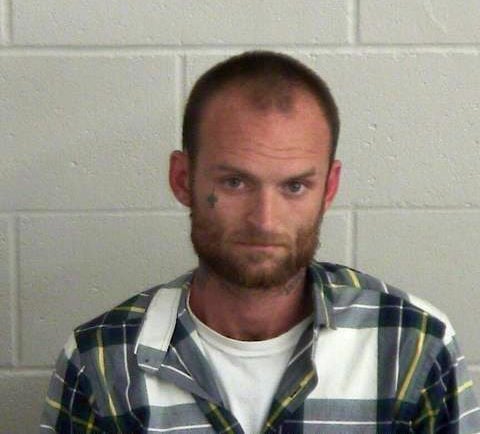 Two men allegedly led police on a high-speed chase through construction and school zones in New Lisbon and Elroy while high on methamphetamine.
Dustin Wetzel, 23, of Elroy was charged with felonies first degree recklessly endangering safety, repeater; attempting to flee or elude an officer, repeater; two counts of felony bail jumping, repeater; and misdemeanor bail jumping, repeater.
He faces up to 12 years and six months in prison or a fine of up to $25,000, or both, for the recklessly endangering safety charge; up to three years and six months in prison or a fine of up to $10,000, or both, for the flee or elude an officer charge; and up to six years in prison or a fine of up to $10,000, or both, for each of the felony bail jumping charges. As Wetzel has a prior conviction for felony second degree recklessly endangering safety within a five-year period from this arrest, he faces a possible additional four years in prison for each felony charge.
Wetzel pled guilty to the first degree recklessly endangering safety and one felony bail jumping charges on Oct. 22. The other charges were dismissed but read in.
Jeffrey Miller, 28, of Mauston is charged with felony possession of methamphetamine, four counts of felony bail jumping, and misdemeanor possession of drug paraphernalia. He faces up to three years and six months in prison or a fine of up to $10,000, or both, for the meth charge, and up to six years in prison or a fine of up to $10,000, or both, for each of the felony bail jumping charges.
According to the criminal complaint:
At about 7:58 a.m. Oct. 3, New Lisbon Police Chief Kyle Walker was on patrol in New Lisbon when he ran a registration for a truck parked on Monroe Street. The check revealed the registered owner had a suspended driver's license and was on probation for various drug charges.
At about 9:30 a.m. Walker was on patrol when he noticed the truck driving on South Monroe Street. The truck entered a construction zone and drove around posted barricades that said "Road Closed." Walker followed the truck through the construction zone, where several individuals were working, but could no longer see the truck.
Walker found the truck on Highway 80 traveling southbound at high speed. He activated his emergency lights when about a quarter of a mile behind the truck and traveling 85 mph in a 55 mph zone.
While pursuing the truck, the truck passed a vehicle in the wrong lane of traffic in a now passing zone. The truck reached speeds of over 95 mph on Highway 80 near Highway S.
Walker observed the passenger in the vehicle throw at least one clear plastic baggie out of the truck window, which Walker believed to contain illegal drugs.
The pursuit entered the city limits of Elroy, where the truck drove past a semi-tractor with a trailer in a no passing zone and came within two car lengths of t-boning a car exiting Dollar General. The chase entered the 25 mph zone in front of the school, and the electric digital speed sign in the area registered the truck traveling at 57 mph in a 25 mph zone.
The truck continued through Elroy, again passing cars in no passing zones and entering the opposing lanes of traffic. The truck made an "erratic" right turn onto Thompson Street and then an immediate left into an alleyway.
While entering the alleyway the truck began to slide on the gravel, spinning out and crashing backwards into a pole. Walker applied his brakes and skidded into the front of the truck.
Walker radioed dispatch to notify them of the crash, and then exited his vehicle with his certified apprehension canine. He drew his firearm and directed it into the vehicle, telling both occupants to keep their hands up and not to move.
Elroy Police Chief Tony Green arrived on scene and assisted in taking the driver, identified as Dustin Wetzel, into custody. Two additional officers arrived on scene, and the passenger of the vehicle was identified as Jeffrey Miller.
Wetzel told one of the officers he smoked methamphetamine and marijuana about two hours prior to the beginning of the chase. Both Wetzel and Miller were transported to the Juneau County Jail.
Walker interviewed Miller, who said he and Wetzel were at a house on South Monroe Street in New Lisbon and left to head towards Elroy. Miller stated Wetzel observed Walker's patrol vehicle, identified it as an "(expletive) cop car," and then sped away prior to the activation of Walker's emergency lights.
Miller told Walker that Wetzel began emptying his pockets during the pursuit, and instructed Miller to throw the contents of his pockets out the window. Miller said he threw out a glass marijuana pipe, various papers, and grams of meth. During the pursuit, Miller stated he was calling his mother, who he has a court ordered "no contact" with, and that he repeatedly told Wetzel to stop.
Walker then interviewed Wetzel, who stated he told Miller prior to entering New Lisbon that if the cops tried to stop him, he was going to run. Wetzel claimed Miller understood.
Wetzel said when they entered New Lisbon, he observed the patrol vehicle and began fleeing before Walker activated his emergency lights. When asked what Miller threw out the window, Wetzel claimed the items were Millers and he did not know what the items were.
During the interview, Wetzel admitted to "hot railing" meth prior to the pursuit, and said he was "high as (expletive)" during the pursuit. Asked if Miller told him to stop during the pursuit, Wetzel said not once did Miller ask him to stop and that Miller called several people during the chase "freaking out."
Wetzel was sentenced to four years' probation on a withheld sentence after pleading guilty to the first degree recklessly endangering safety charge. He was sentenced to one year of jail after pleading guilty on the felony bail jumping charge.
Miller is scheduled for a pre-trial conference Nov. 13 at the Juneau County Justice Center.
Reach Christopher Jardine on Twitter @ChrisJJardine or contact him at 608-432-6591.
Sign up for our Crime & Courts newsletter
Get the latest in local public safety news with this weekly email.