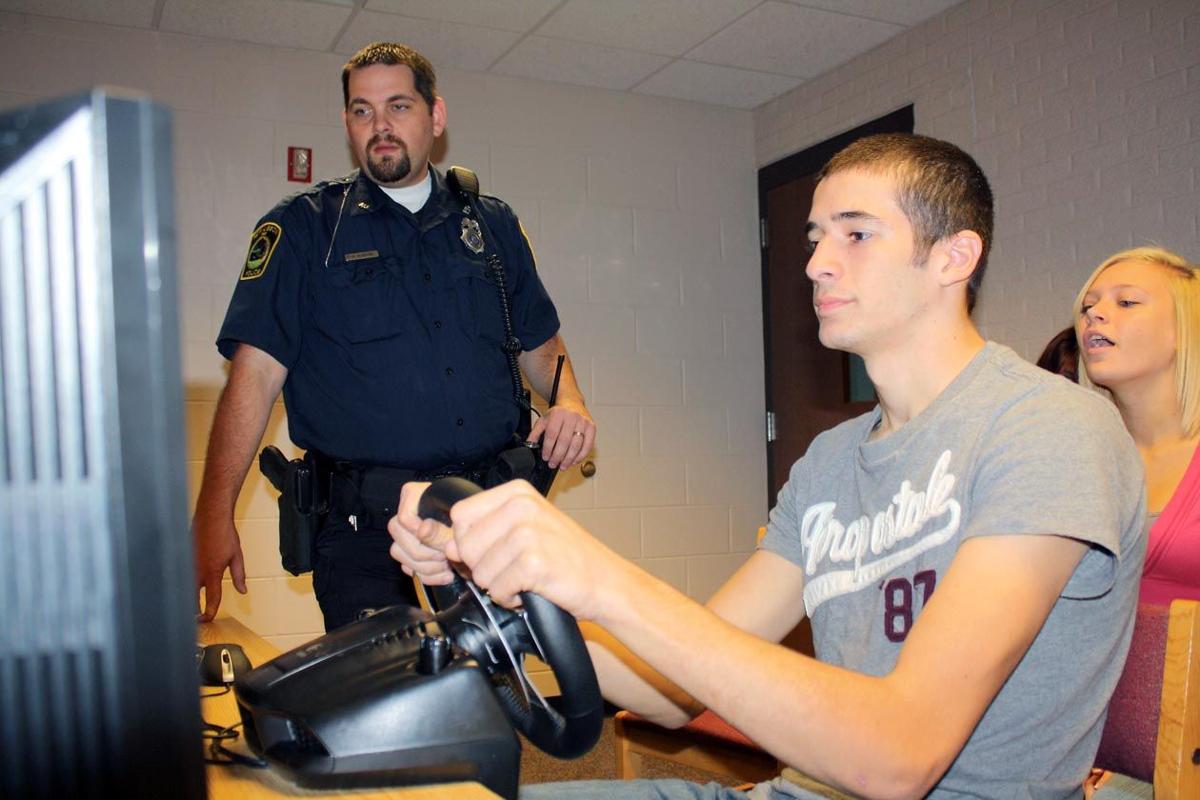 Texting while driving kills and, if they didn't know it before last week, a group of New Lisbon High School students know it now.
"I am a better driver than that," said junior Thomas Berndsen, who has had his driver's license for about four months. "I didn't know where I was going (while texting)."
Berndsen was among many New Lisbon students who got a safe but very realistic look at the consequences of distracted driving Thursday, courtesy of the New Lisbon Police Department, the State Patrol Bureau of Transportation Safety and a computerized driving simulator.
"I contacted AAA and the State Patrol," said New Lisbon police officer Kevin Weinschrott. "The state patrol and the Department of Transportation set it up for me to bring the computerized distracted driving simulator to New Lisbon High School."
On Thursday, Weinschrott offered virtual driving challenges to students, who were asked to "drive" a car on a simulated roadway, obey traffic signs and speed limits, use turn signals and stay on their own side of the road while sending a six-word text message to their homes.
The traffic violations started as soon as the students looked at their cell phone to text. A printout of the violations appeared on the simulator screen afterward.
"It is used to educate the students regarding distracted driving and how dangerous it is," Weinschrott said.
Distracted driving, Weinschrott said, isn't just a problem among young people.
"It affects everyone," Weinschrott said. "People of all ages die from distracted driving. It isn't just using the cell phone. It is looking at the GPS, eating, putting make-up on, talking to friends, adjusting the radio or yelling at your kids in the back seat."
Weinschrott said that a little mistake can be a big mistake while driving. "If you are going 60 mph, you look down for less than a second, you could have a head-on collision," he said. "Or if you went on the shoulder, you could hit a tree."
At Thursday's session, one student "drove" while two or three students took seats in back, where they could also see the screens.
"I should have pulled over to text," said senior Joe Zloza. "If I killed someone I could go to prison."
Zloza said when he took the driver's education class, students were required to stand on a street corner and document the distractions they observed in drivers travelling by. "One woman was breastfeeding her baby while driving!" he said.
Berndsen said he was surprised at just how closely the simulator mimics the driving experience.
"I didn't know where I was going (while texting)]," Berndsen said. "I was surprised how sensitive it was. It was more sensitive than a car, but it still could be as bad."
Berndsen said the simulator underscores how bad texting while driving can be, though he doesn't practice that habit. "I do pull over to use the phone, or my dad would kill me," he said.
Weinschrott, 35, has been a patrol officer for 10 years and lives in New Lisbon. He also took the simulator to the New Lisbon Correctional Institution earlier in the week as part of that facility's Health and Wellness Program.
Be the first to know
Get local news delivered to your inbox!