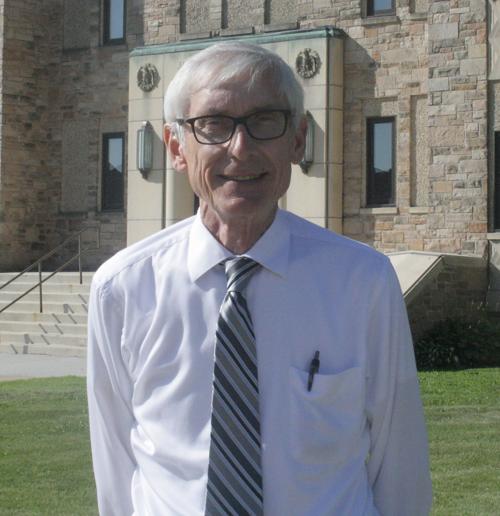 State Superintendent Tony Evers may be the Democratic nominee for governor, but he feels partisanship is not the way forward for the state of Wisconsin.
Evers has served as state superintendent since 2009. He has a PhD in educational administration from the University of Wisconsin—Madison.
If elected governor, Evers is confident he will be able to work with a Republican Assembly. He touted his record of working with Republicans on vouchers and sharing a similar view on transportation and roads.
"I know there's always saber rattling during the election, and that should be expected," Evers said. "There's no Republican that wants to be to be 44th in the country as it relates to the quality of our transportation system, nor Democrat either. It's just a matter of getting people together and looking at all the options and solving it."
Borrowing money to fund roads is something Evers views as unsustainable.
"First of all, we need to make sure we don't continue to borrow," Evers said. "Twenty percent of that budget is debt service."
Some issues are inherently bipartisan, Evers said.
"Republicans want to have good roads," Evers said. "And I believe we're going to be able to sit down and figure it out."
He feels education and health care are the same way.
"Issues around those three areas are not Democrat or Republican issues," Evers said. "They're about Wisconsin values."
Evers was born in Plymouth. He worked as a school principal in Tomah, as both an administrator and superintendent in Oakfield and Verona, and administrator in Oshkosh, before going on to serve as deputy state superintendent.
On the issue of partisan gerrymandering, Evers said he would promote competitive districts designed to avoid favoring either political party.
Evers said he would be willing to veto proposed district maps that favor one party over another.
Evers was first elected state superintendent in 2009, securing 57 percent of the vote over Rose Fernandez's 43 percent. He was the only candidate in the Democratic primary to have won a statewide election. Most recently, Evers won 70 percent of the vote in 2017 over challenger Lowell Holtz to a third term as state superintendent.
If elected governor, Evers hopes to focus on reinvigorating public education, environmental protection, transportation and health care.
During his time as state superintendent, Evers feels he has gained skills and experience that will translate well into the governorship. He emphasized the importance of funding for public education.
Evers said he would propose a budget with increased funding for schools.
"The state provides less for our schools now than it did when Scott Walker took office," Evers said. "That has to be remedied."
Evers is confident schools can be better funded without a tax hike.
"We'll be increasing funding for schools there's no question," Evers said. "We can do it without increasing property taxes… explaining my budget to the people of Wisconsin and to legislative leaders is going to be a top priority before inauguration."
Foxconn is a common criticism leveled at Governor Scott Walker by political opponents. Some of Evers' opponents in the Democratic primary threatened to reverse the deal if elected, but Evers feels the best path now is ensuring the deal can be improved.
"What I'm going to do going forward is make sure they meet the strict environmental standards that everybody else does in the state of Wisconsin and make sure that they have good family supporting jobs," Evers said. "We really do have to not have our economic development system based on a hail mary pass in different parts of the state… It should be a 72 county effort and having local people participate in decision making with the state."
Evers was recently endorsed by the Wisconsin State Journal editorial board.
"When they mention that I'm somebody that can unite people, I think that's absolutely correct," Evers said. "I think it is time to try to pull people together and try to make sure we're looking to get rid of decisiveness in this state."
Voters will choose between Evers and Walker Nov. 6.
You can reach Jake Ekdahl on Twitter @JakeaEkdahl or contact him at 608-697-6353