Exploring haunted history: Local area full of ghoulish tales
Whether a believer or skeptic, ghost stories and urban legends can still be fascinating, and the local area has plenty of legends regarding creatures going bump in the night.
From the infamous Mauston "Birdman" to Portage's mysterious "Wisconsin Street Woman," these stories have been passed down through generations. Every Halloween, tall tales get told around the campfire, igniting the imagination and spooking countless children.
While some ghost stories are well known, others are often isolated accounts, told to only friends and family. Either way, these haunted tales give the region a dark mystique that beckons to be explored.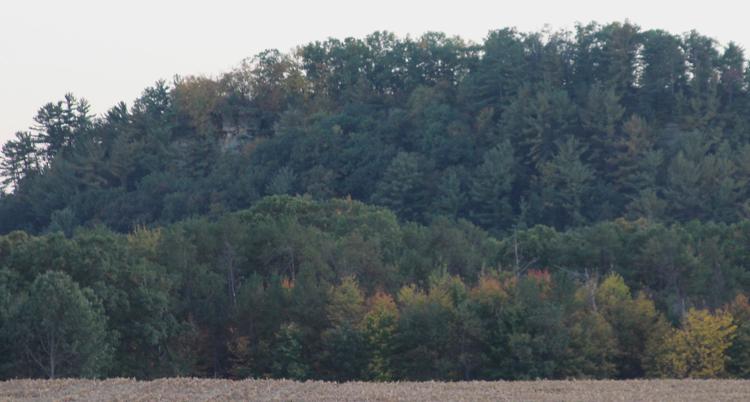 Mauston 'Birdman' arrives from the bluffs
Chad Lewis has spent more than 20 years chasing ghost stories and researching haunted locations. He has published several books on the paranormal, including The Wisconsin Road Guide to Haunted Locations, which he co-authored with Terry Fisk. Lewis will often stop at libraries across the state to promote his books and discuss local ghost stories.
"Most people that have an experience (with a ghost) never report it, they just talk to their friends and family," Lewis said.
He always keeps his ears open for new haunted tales or legends of creatures that have been spotted across the Wisconsin countryside.
In rural Mauston, the story of the "Birdman" materialized in the late 1970s.
"I first got a report from someone that around '77 or '78, his grandmother used to talk about a birdman being at her window and it was around the bluffs," Lewis said. "It was something that was six-feet tall, looked like a man, had a very long beak and had yellowish feathers. It was a biped, it had two feet, but for lack of a better term, they called it a birdman."
The man who contacted Lewis claimed he also spotted the "Birdman" while playing with his sister around 1980. His story is also recounted in the book Weird Wisconsin: Your Travel Guide to Wisconsin's Local Legends and Best Kept Secrets, by Linda S. Godfrey and Richard D. Hendricks. In the story, the man said the bird-like creature scared the living daylights out of his grandmother. His grandparents lived in a trailer on his parents' property about five miles west of Mauston off Highway 82.
In recalling the story, he told Lewis: "One day my grandma started screaming. When we went to see what was going on she was hysterical and screaming about a birdman looking at her through the window. She said she was sitting in her chair, watching her shows and saw something by the window. When she got up to see what it was, there was this tall birdman looking in at her."
A few years ago, Lewis investigated the "Birdman" story, interviewing locals who live among the bluffs west of Mauston. While first-hand accounts of the "Birdman" have been sparse for decades, Lewis said several residents know the story well.
"Stories were circulating, but I just couldn't track down any other person that had a sighting of it," Lewis said.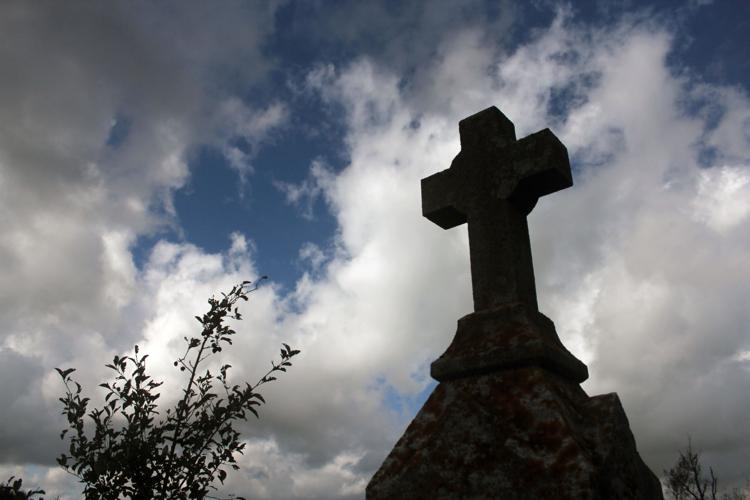 Ladies of the night terrorize Old Baraboo Inn
The Old Baraboo Inn has a checkered past, and some believe former occupants from a century ago are there to stay.
Located along Walnut Street, the 152-year-old building has been remodeled into a bar and grill. In its earliest days, the inn served as a tavern and brothel, across the street from a railway station. After fire gutted much of the building in 1988, new owners renovated the old inn and re-opened it in 2002. Since that time, employees have reported doors opening and closing by themselves, lights being turned on during the night, and dishes, cups and utensils flying off racks — untouched by human hands.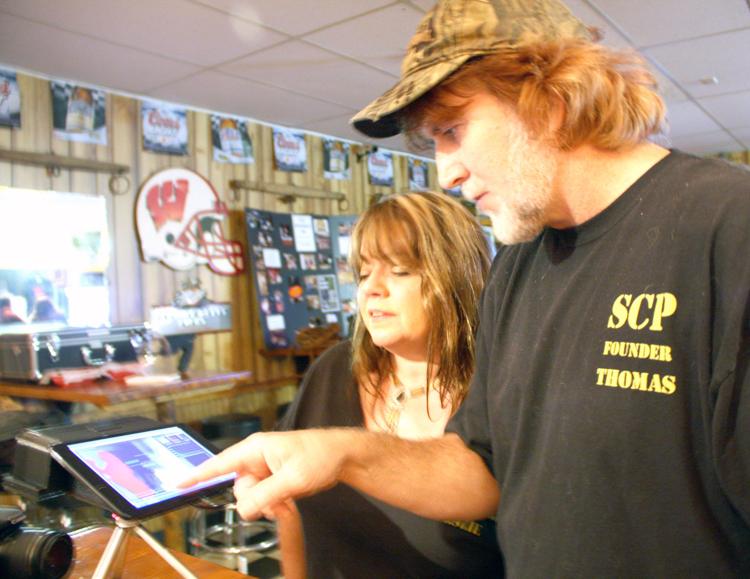 According to the website HauntedHouses.com, three prostitutes died at the inn, including two former owners. Witnesses claim to have seen a woman dressed as a saloon dancer, hanging out behind the bar and dancing to songs from the jukebox. Another woman supposedly haunts the second floor and teases visitors.
Despite the frightening stories, the inn has embraced its haunted history. Lewis said it conducts regular tours of the building.
"It even has a ghost drink that you can get. So they're really going for it with the ghost stuff," Lewis said. "But they have a long history. I remember 20 years ago, when I started doing this, hearing stories of the place being haunted. I've been there several times and the owners have had many people come in and out, from patrons to employees. From what they've told me, they've had a lot of experiences there."
Lewis recommends visiting this 150-year-old building to get a taste of the supernatural experience.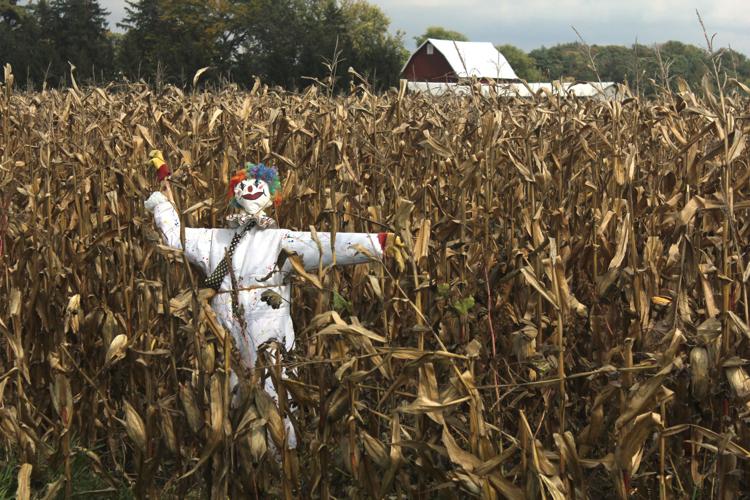 'Vanishing Hitchhiker' patrols Highway 12
If you see a mysterious figure late at night along Highway 12 in Baraboo, you might think twice about stopping to give him a lift.
For years, reports have circulated about the "Vanishing Hitchhiker" walking along the highway, a few miles out of town. Lewis said the vanishing hitchhiker story is nothing new. Nearly every state has a legend of a ghostly hitchhiker, but it's usually a woman.
"What sets this one apart is that it's not only a man, but he seems to always be wearing a green Army jacket. People will be driving late at night, they'll see a man on the side of the road hitchhiking," Lewis said. "Of course they'll slow down as to not hit him, but nobody picks up a hitchhiker anymore. They'll keep going about their way and about 10 miles down the road, they see the same exact guy along the side of the road."
A Madison resident, who formerly lived in Sauk City, emailed Lewis and shared his story of the "Vanishing Hitchiker." He was driving with his son and his son's girlfriend to the Baraboo Walmart when they spotted the man in the green Army jacket around 2 a.m.
The man wrote to Lewis, "We remember him because we were saying how creepy it would be to be out late, get a flat or something, and run into someone wandering about. We didn't think any more of it, but shortly after, we saw him again and we said, 'Didn't we just pass him? How could he get way up here so fast?' We may be one of the few who have ever seen him. I drove a lot, and late at night after that, and never have seen him again."
Another haunted site near Baraboo is the Ringling Road Well. It is believed that a demented mother threw her children down the well, jumped in after them and perished, along with her kin.
"It is reported people will see not only her hanging from a rope by the well, but also hear kids crying from inside the well," Lewis said. "It's a great, spooky Halloween story, but its located on private property."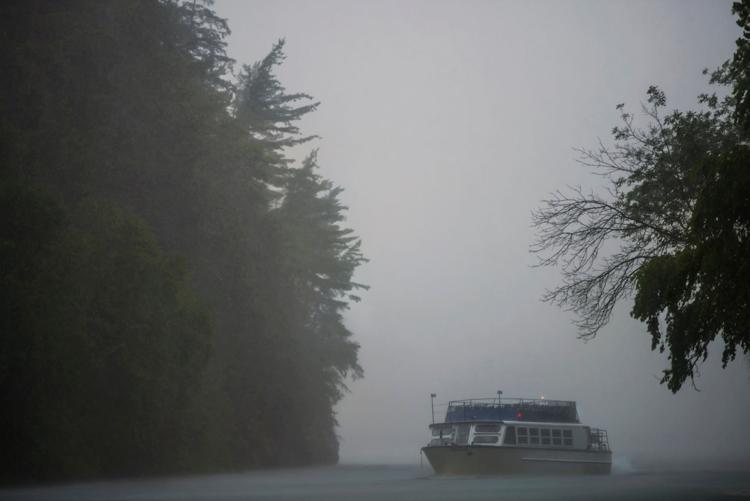 Spirit of Church Road Cemetery
Old cemeteries are notoriously creepy, but Church Road Cemetery in rural Portage is frightening enough to make one physically ill.
The cemetery is located on Church Road, off County Highway O, about six miles west of Portage. It's a small plot of tombstones hidden among a thicket of trees. Church Road is a dead-end roadway.
"The legend is that a young girl committed suicide out there and supposedly when you go out there you see a noose and a vision of a girl hanging in a tree. Others will see balls of light dancing around the trees," Lewis said.
While investigating the property, Fisk, Lewis' research partner, became sick after walking to a spot in the cemetery.
"He said, 'I'm going to throw up, I'm sick. Come over here and see what happens,'" Lewis said. "I walked over there and was fine. He left the area and was fine, walked back in and something just made him feel like he would vomit."
The cemetery no longer accepts burials, but its roots date back to 1859.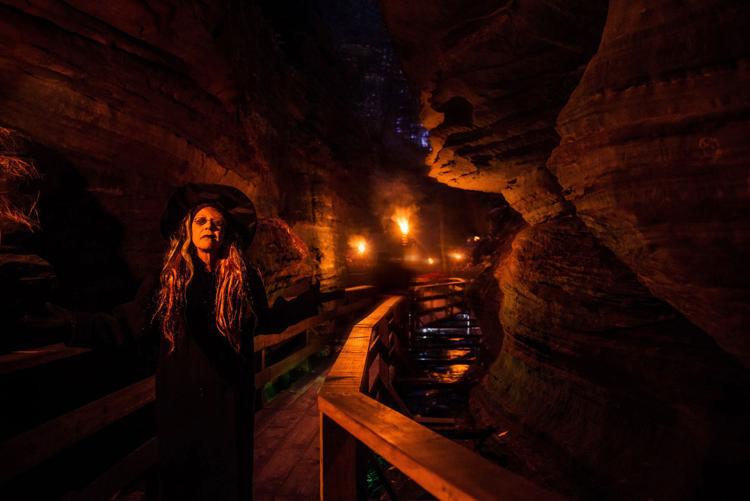 Ghostly woman in Portage
In downtown Portage, the legend of the "Wisconsin Street Woman" has perplexed and fascinated locals for years.
Wisconsin Street, with a mix of homes and businesses, runs through the heart of the city. Residents have reportedly seen a woman, dressed in early 1900s garb, pushing a baby stroller down the street.
"When people slow down they see what looks like a very old Victorian baby carriage. When they slow down to get a closer look, she's nearly transparent and some say she'll disappear right before their eyes," Lewis said.
Molly haunts Showboat Saloon
Similar to the Old Baraboo Inn, Ghost Molly's Showboat Saloon was once known as a house of ill repute.
The former bordello eventually became a popular watering hole in downtown Wisconsin Dells, but the ladies of the night that were once employed there allegedly still frequent the bar. In particular, a ghost named "Molly" has been known to mill around the stage. Witnesses have also seen apparitions in mirrors, walked into "cold spots," and have seen kegs move by themselves in the cellar.
"Bartenders I've spoken to there have heard their name being called as they're closing up and they'll be tapped on the shoulder, spin around, and nothing will be found," Lewis said. "People have seen figures walk into the walls and disappear."
While the stories are chilling, the saloon has embraced its rich, haunted history, rebranding itself as Ghost Molly's Showboat Saloon.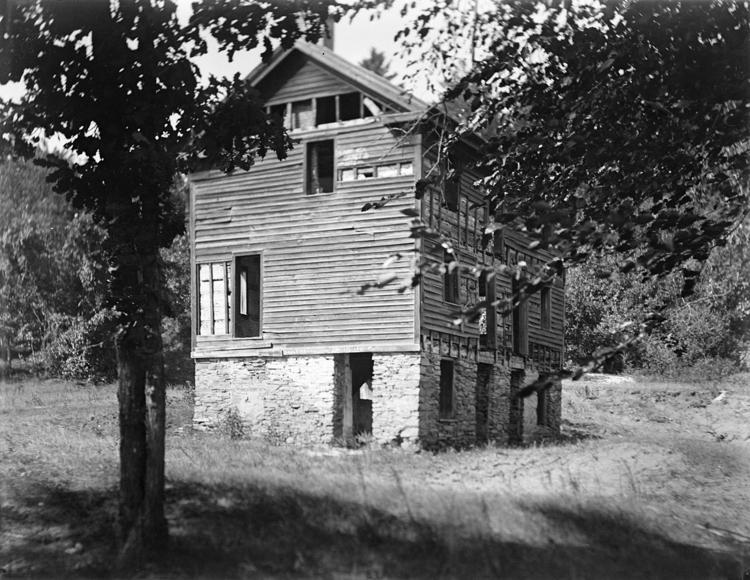 Old Dell House carries haunted mystery 
While there isn't much left of the Dell House in Wisconsin Dells, tales of ghosts roaming the property have been passed on for decades. 
According to the Wisconsin Historical Society, the house was built in 1828 by Robert Allen and eventually became an inn, operated by the J.B. McCuen family. The Dell House, built in a forest glen called the Narrows, was known as a rough-and-tumble place where hardened river men gambled, fraternized with women, drank bad whiskey and slept. Fights were a frequent occurrence at the inn. 
Traffic along the Wisconsin River eventually dried up and the inn was left abandoned by 1900. A fire in 1910 destroyed the interior of the house, leaving just the foundations, fireplace and a towering brick chimney. Today the Dell House is gone, but the forest glen remains.
Apparently, some of the inn's former patrons are still there too. 
For years, visitors have claimed to have heard cursing, laughing, footsteps, breaking glass and other mysterious sounds. Those who dare to venture to the glen at night have reportedly seen shadows bounce through the trees and disappear. 
Monster roams through Devil's Lake
Even Devil's Lake has its share of ghoulish creatures.
According to legend, the Devil's Lake Monster has inhabited the popular summer oasis for years. Devil's Lake State Park, located between Baraboo and Prairie du Sac, also carries a story of a Native American spirit spotted paddling a canoe across the lake.
"People have seen him traveling in a canoe and throughout the park, wearing Native American garb, thinking he's part of a celebration or re-creation," Lewis said. "But he appears transparent and will often vanish into thin air. He'll be seen meandering through the campground.
"I always encourage people when they're camping there to always have the most powerful fire to keep away the spirits. Make sure your neighbor's fire isn't quite as nice as yours."
Mad women haunt Sauk City house
In Sauk City, the house at 315 Water St. is still standing after more than 170 years, and it's got its share of ghost stories.
The story of the house, set far off from the sidewalk and obscured by several lilac bushes, was chronicled in Sauk City author August Derleth's book "Atmosphere of Houses."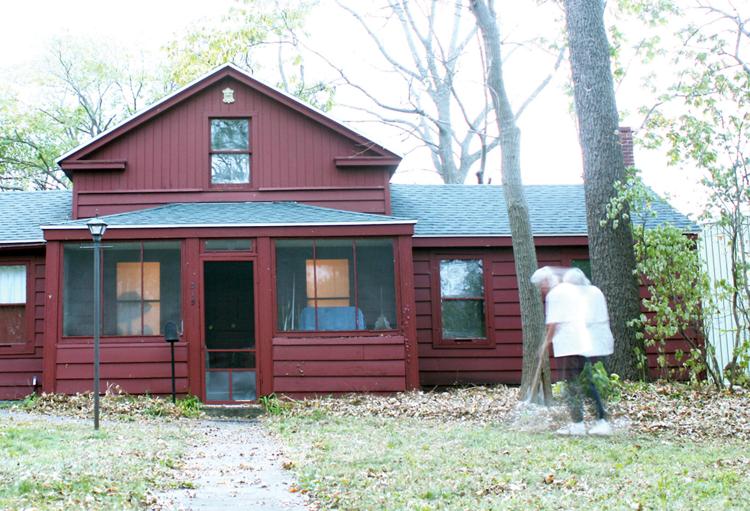 Derleth wrote that the house could only be seen on days when the lilacs didn't bloom, as if to add to the house's mystique. In his non-fiction book, Derleth claims ghosts stalked the house at night, crying and whimpering.
In the 1880s, the house was owned by the Trautman sisters, Barb and Rosa, both unmarried. They were known across town to be eccentrics and members of the Free Thinkers Congregation. The Trautmans were declared insane and forcefully committed to the state mental institute near Madison. They were allegedly abused by physicians during their two-year stay at the facility until finally being released after petitioning the governor.
No ghost sightings have been profiled at 315 Water Street in recent years. Maybe the Trautmans are finally resting in peace.
A city without
When asked to recall a Reedsburg ghost story, Lewis paused for a moment.
"I can't recall one for Reedsburg, but that doesn't mean there aren't any there," Lewis said.
Lewis and Fisk have archived many of their Wisconsin ghost stories at www.unexplainedresearch.com. The author said they are always looking for new stories of the supernatural to investigate.
Lewis will hold a presentation, "Wisconsin's Most Haunted Locations" at the Ruth Culver Community Library in Prairie du Sac on October 17, from 6:30 p.m. – 8 p.m. Call 608-643-8318 for more information.
Follow Kevin Damask on Twitter @kdamask