With spring in full swing, the farmer's market is returning to downtown Mauston. Visitors can stop by the market from 7 a.m. to sold out Saturdays, and from 2 p.m. until sold out Tuesdays, now through October on the Juneau County Courthouse front lawn.
The market opened for the first time this year May 4 to large crowds.
"The crowds were great, the sidewalk was absolutely packed," Allen Garbisch, a vendor at the market, said.
Garbisch's runs his business, ALG Creations, with his wife, Leah. Like many of the vendors at the markets, they sell a variety of items. Visitors at their stall can find wooden crafts, horseshoes, home décor, crochet, and other items Garbisch described as "knick-knacks."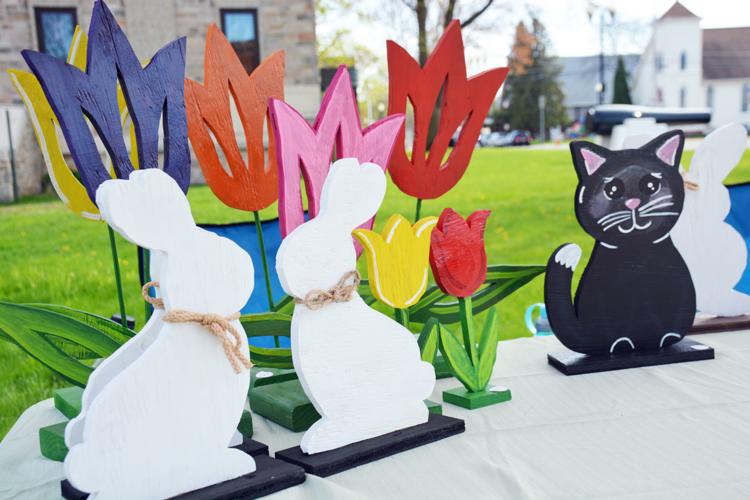 Although it his first year at the market, Garbisch said that he is impressed with the overall experience.
"It's been great, we'll definitely keep coming back," Garbisch said.
The market's motto of "Locally Harvested! Locally Made!" is on display in many of the items available, with stalls featuring fresh, homegrown items from local farmers, including fruits and vegetables, baked goods, eggs, honey, maple syrup, handmade soaps and lotions, crafts, plants, and preserves.
Vendors at the market are charged a one-time $25 non-refundable registration fee, with no other fees charged. Each vendor must also register with the Greater Mauston Area Chamber of Commerce.
Fundraising opportunities are available for non-profit clubs and organizations, with some groups running brat or hotdog stands during the Saturday morning markets.
Those interested in setting up a stall or hosting the fundraiser stand can get more information on the process from the Greater Mauston Area Chamber of Commerce by calling 608-847-4142.