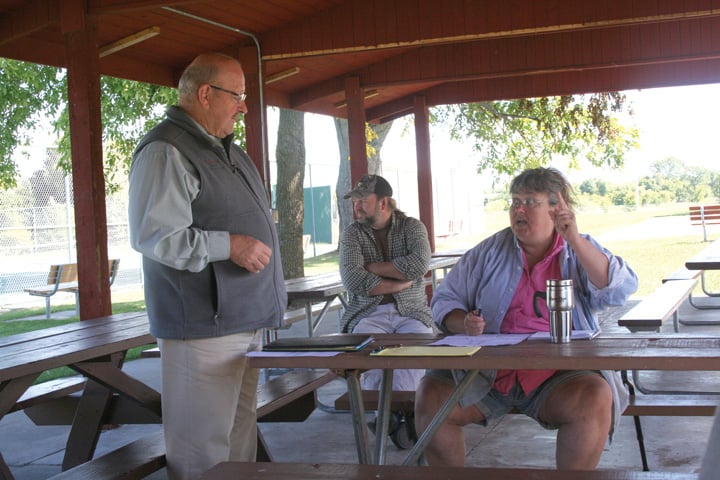 Rep. Ed Brooks (R-Reedsburg) came to Mauston Wednesday afternoon to listen to citizens concerned with a proposed road construction project in Mauston - and he got an earful.
Over 25 people attended an informal meeting at Lions Park regarding the proposed roundabout at the intersection of Division Street and Grayside Avenue in Mauston, as well as the redesignation of highways 58 and 82 within the city.
When pressed for action on the subject, however, Brooks reminded participants that the project was between the city and the state Department of Transportation.
"You have to get to your council people or your mayor if you don't like it," he said. "I'm just the messenger."
Mauston resident John Spaulding, who has conducted regular correspondence with various state officials regarding the project, said the roundabout was an example of the state stepping on local rights.
"We're paying for it and we don't like, but we have no say in it," he said.
Brooks said that while the roundabout may not be a popular option, the state has deemed it the best one.
"I ask you to be open-minded about this," he said. "It is their goal to do what they think is best for your safety."
Kim Pufahl, of Mauston, questioned the safety of placing a roundabout at an intersection heavily travelled by students walking home from school or to the park.
"This is an accident waiting to happen," she said. "I can see it already."
During the school year, there is a crossing guard stationed at the Division-Grayside intersection. Brooks said alternate arrangements would likely have to be figured out once the roundabout is in place.
Bob Frenke, of Mauston, said the roundabout, as currently planned, will prove impassable to heavy farm equipment and trucks with large trailers.
"Have you ever tried putting a 24-ton piece of equipment through a roundabout?" he said.
According to Frenke, the roundabout may cause farmers and truckers to change their routes - and with it their business.
The economy was a particular topic of concern during the meeting, specifically the routing of through traffic around State Street.
According to Pufahl, the project could spell trouble for many downtown Mauston businesses.
"In this economy, can we really afford to put those businesses at risk for the sake of a roundabout?" she said.
Brooks said while the short term concerns about the road project were valid, the state takes a different view to such undertakings.
"The other part you have to consider is what is the traffic going to be like in 10 years, in 25 years, because that's when there'll be the next project," he said. "The Department of Transporation has their plans way out in front."