IN DEPTH: Local businesses turn to past to ensure a bright future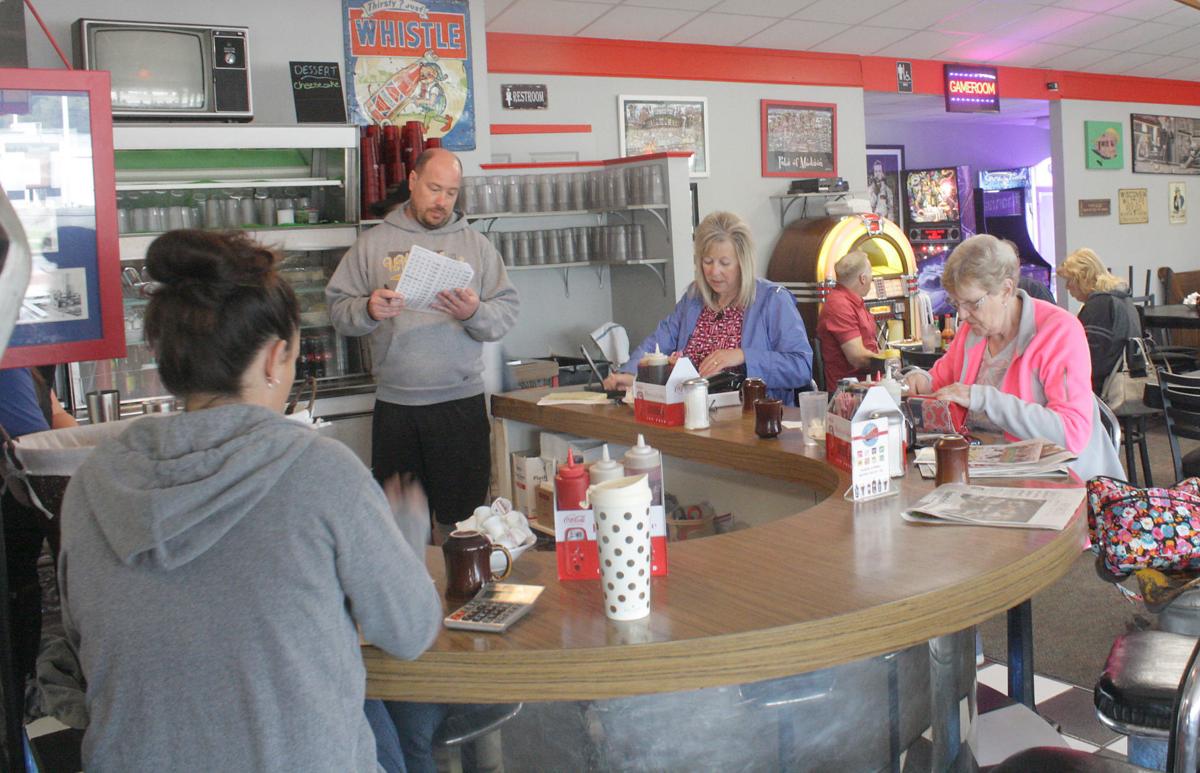 After breakfast at a favorite restaurant in Necedah, Jim and Darlene Markowski walked past a rundown Main Street building and made a decision: they would buy it, remodel it, and turn it into a business.
"We would go past it every Sunday," Darlene Markowski said.
The Markowskis bought the building in 1999 and transformed it into Red Hen Antiques & Collectibles in Necedah.
The shop is loved for its eclectic mix of items and even has customers driving in from out of state. But one type of item in particular has earned the store a widespread reputation: Jim Markowski's custom made wooden tables.
"I've always dabbled," Jim Makowski said of his carpentry experience. "I get my wood from a sawmill that works the wood the old fashioned way with the big saw blades… That's what I'm looking for. I want character in the wood when I build."
Jim Markowski calls the look "refined rustic." He knows what he is looking for when he goes out to find wood for his projects. "A lot of the stuff I buy, a lot of guys don't even look at because it's got wormholes, it's got big knots in it, it's twisted it's whatever, and that's the kind of stuff I look for to a point because it does have that character. You can't reproduce that."
The classic wood is a refreshing change from today's furniture, he says.
"A lot of the furniture today is all mass produced," Jim Markowski said. "They say it's solid wood, but all it has is wood veneer on it and the rest is all sawdust in the middle."
He prefers to build furniture that will last and he can be proud of. All Markowski pieces have a red rooster stamped on them to show where they came from.
Darlene Markowski said she has been told the tables could sell for more than their typical price of about $625, but keeping them affordable is part of what makes them special and accessible to their customers.
For a comparable product at other furniture stores "you're talking anywhere from $1,200 to $2,000," Jim Markowski said.
The Markowskis are not alone in their high regard for quality goods of an older era. Artisan goods and services are becoming increasingly sought after by customers looking for quality that is hard to find today.
A classic cut
Jimmy Kimball was working on motorcycles at Jay's Power Center in Reedsburg when he decided to put everything on the line to re-create an atmosphere forgotten by many: the classic barber shop.
Kimball sold his beloved 1949 Harley-Davidson to buy an old laundromat in Baraboo and transform it into the Baraboo Social Club.
The building was only the beginning. In order to re-create a truly 1950s feel, Kimball needed equipment from the era and searched online every day for six months before he found the grandson of a Detroit barber whose shop was destroyed in the 1967 riots.
"He put everything under his basement in plastic," Kimball said.
And there it stayed until it was bought and hauled to Baraboo.
"We loaded up a 24-foot car hauler and drove round-trip to Detroit and back," he said.
Kimball had long hoped to find the widely sought after Koken President barber chair.
"I thought I would find one or two, I didn't think they'd ever be matching," Kimball said. He found a matching set of three from the former Detroit barber's family. They now seat dozens of customers a day in Baraboo.
Since opening in February, Kimball says business has been "beautiful chaos." He was booked for the first two months six days a week. He recently hired his first employee. The Baraboo Social Club has a mixed clientele, from children to 92-year-olds. Kimball has received positive feedback from older men.
"They are like 'This is it, this is what it was like,'" Kimball said. "That's the best compliment for the shop."
Kimball emphasizes that his shop is not just a place for those seeking a haircut. He wants the Baraboo Social Club to be a part of the social fabric of the city and a place where anyone can feel welcome.
"I have customers that just stop in even when they're not getting their hair cut, they just have a seat, talk about their day or whatever," Kimball said.
The Baraboo Social Club is not alone in its focus on the tried and tested methods of the 20th century.
"I think that our generation is starting to realize we had something really good going," Kimball said.
As more products become mass-produced and less time is spent focusing on individual customer experience, Kimball said he feels more value will be placed on premium, artisan goods and services that take the time to get it right.
Timeless dining
Chad and Kattie Van Schoyck focus on getting it right at Denny's Dinner in Wisconsin Dells. Their parents opened the diner before they took over. The diner has curated the atmosphere of a collector's hall ever since.
"It wasn't always a classic diner, but it morphed into that," Chad Van Schoyck said of the restaurant. The 1960s theme came from the family's personal experience with the era.
The Van Schoycks still find pieces for the diner at antique malls and even have customers bring some in for them. They recently bought a sign from the Riverview Waterpark painted by their grandfather, a piece of local history.
The classic feel of Denny's Diner impacts the menu as well. "We don't try to get too fancy," Chad Van Schoyck said. "Keep blue plate specials."
The timelessness of the diner becomes a more cherished part of the experience as the atmosphere becomes harder and harder to replicate.
"We've seen kids grow up," Kattie Van Schoyck said.
"We've had generations of families here," Chad Van Schoyck said.
They feel people appreciate being able to come to a place that hardly changes even as their lives do.
More to the metal
Creating something appreciated for generations is something David Timberlake focuses on with his metalwork. He produces art and tables out of metal he gets from a wide variety of suppliers.
"I've got a Harley guy I get parts from. I've got a transmission guy I get parts from. I've got two engine rebuilders, a guy who rebuilds tractors and a guy who works on semis," Timberlake said.
Timberlake even bought old railway iron from Sauk County for his projects. He prefers metal from older eras.
"I'm more old school," he said.
He says metal from older eras might be harder to work with but result in a better product. He estimates he has about 40 tables in his workshop currently.
Timberlake made tables assembled from the the Badger Army Ammunition Plant, which supplied equipment to US armed forces in World War II, the Korean War and the Vietnam War.
"I've got a few pieces of steel out of there and I like the history of that," Timberlake said.
After retiring as a carpenter two years ago, he found a new craft.
"I was a carpenter all my life, and all of a sudden I found metal and I switched," he said.
Farm fresh
In Lime Ridge near Reedsburg, Lisa Buttonow also found a love for the artisanal through a career change.
"I was middle management accounting. When the recession hit in '09, my bank account was just emptying," Buttonow said. "So I decided to open my own business… It's been a journey."
Buttonow opened Branding Iron Roadhouse in 2011 and focuses on locally produced food.
The menu includes wood fired oven pizzas on the first and third Wednesday every month.
"On those days, it's what's available, what's in season," Buttonow said. Brussel sprout petals, ham, grilled asparagus, morel mushrooms, spring potatoes and green onions are all ingredients incorporated seasonally.
"It's just whatever is in season and what we can find," Buttonow said. "That's how we design our menu and it's really fun."
Branding Iron Roadhouse recently incorporated taco nights, with beef, green chili pork and fish all being options.
"We buy from our neighbors and use their food here, and in exchange they recommend us and they come here," she said. "It's just a community kind of thing."
Buttonow feels farm-to-fork options are not exclusive to the city.
"If you live in the country you have access to the freshest food available," Buttonow said.
Buttonow said she thinks it is easier to craft that experience in rural areas.
"In the cities it's kind of restricted to the five-star restaurants, L'Etoile and things like that," Buttonow said. "But out in the country, we can do farm-to-fork for the average person."
Branding Iron Roadhouse is part of a growing trend of smaller farmers turning to the artisanal model in order to stay competitive. Focusing on offering what larger farms can't: a premium yet local product.
"Instead of the large farm, you're finding people reinventing what the rural community looks like and you'll find these artisanal hidden gems," Buttonow said.
You can reach Jake Ekdahl on Twitter @JakeaEkdahl