Having clean water is not something people always can take for granted.
In the northern Juneau County town of Armenia, residents worry about one contaminant in particular: nitrates.
Of the 104 wells recently surveyed in the Armenia and Port Edwards areas, more than 40 percent contained nitrate levels exceeding the 10 milligrams per liter safety standard set by the Environmental Protection Agency.
The median level of nitrates in surveyed Armenian wells exceeded 20 milligrams per liter.
There is "an unspoken agreement that this problem has something substantial to do with the agricultural uses that are in the area," said Juneau County Corporation Counsel David Lasker. "And exactly what the connection is will have to come into further focus as time goes on."
According to the Centers for Disease Control, "high levels of nitrate in drinking water can be hazardous to health, especially for infants and pregnant women." A Wisconsin Department of Natural Resources handout warns, "Some researchers suspect that consuming nitrate-contaminated water may increase the risk of thyroid disease, diabetes, and certain types of cancer."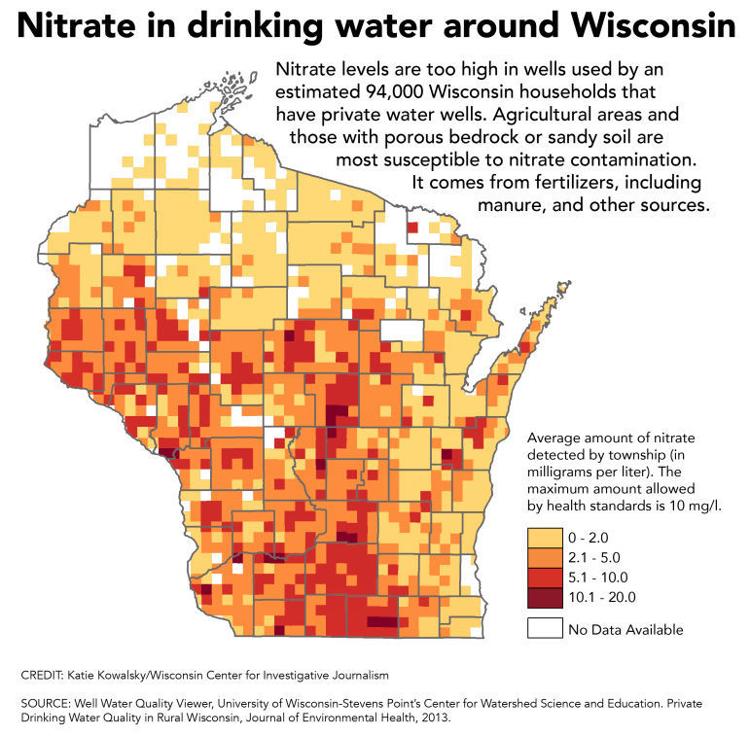 A memorandum of understanding was agreed upon in January between Juneau County, Wood County, the Department of Natural Resources, the EPA and the Armenia Grower's Coalition formed by Wysocki Produce Farms, B&D Farms and Okray Farms.
The memorandum requires the Grower's Coalition to supply local residents who have contaminated wells with bottled water and reverse osmosis treatment systems to reduce nitrate levels.
But for lifelong Armenia area resident Ken Winters, who in 2018 had 32.4 milligrams of nitrates per liter in his well, reverse osmosis treatment would be ineffective because his concentration exceeds the 30 milligrams osmosis systems can handle.
He currently is using bottled water.
Stuck in the gap
Keith Iverson moved to Armenia from Milwaukee in 2000.
"I make my coffee every morning with the water from the well," Iverson said. "Nobody has offered us bottled water yet."
Iverson, who has 35 milligrams of nitrates per liter in his well, worries the water quality will affect property values in the area.
After receiving the test results, he told his neighbors who have young children to have their water tested as well.
"Nitrates is one of the most common contaminants in private wells and has been for many decades, unfortunately," said DNR Groundwater Section Chief Bruce Rheineck.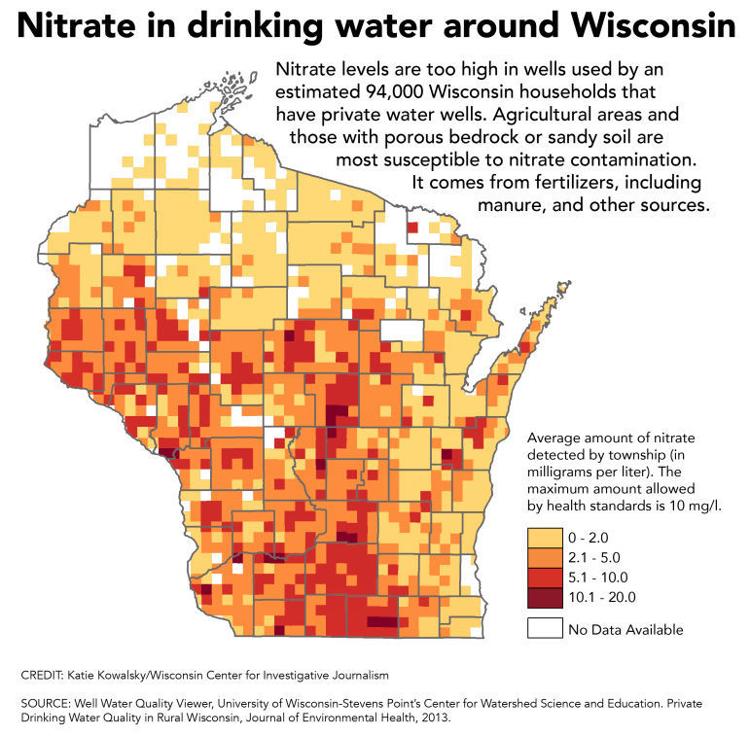 The DNR offers a well compensation grant program to help install new wells for landowners whose wells are contaminated, but "the rules governing that that the legislature passed restricted availability for nitrate (contamination)," Rheineck said.
"To be eligible for well compensation, besides income requirements, your (nitrate) levels have to be four times the health standard, not just above the (EPA) standard (of 10 milligrams)."
For property owners like Winters and Iverson, who have more than 30 milligrams per liter of nitrates in their wells but less than 40, reverse osmosis filtration is ineffective yet they can't qualify for assistance from the DNR to receive a new well.
"We estimate that there are around 800,000 private wells in use," Rheineck said. "Overall, 10 percent of them test over the standard for nitrate… Increasing agriculture is tied with increasing (number of) private wells above the standard."
Dave Preston attributes rising nitrates to the dumping of raw sewage on farms in Armenia. He named Wysocki Produce Farms in particular.
"They put a hose on a tractor and drag (it to lay) sewage on their fields," Preston said. "Their ability to discharge their toxic waste, their sewage, has really increased."
Lasker said devices capable of reducing nitrate levels beyond 30 milligrams per liter exist, but have yet to be approved for use by the state of Wisconsin.
"The ones that are at or below 30 (milligrams per liter) can be addressed satisfactorily with these reverse osmosis systems that are being installed," Lasker said. "At this point in time, there is no purifying device that has been approved by the state department… but there are such devices in existence and there is an effort to have them tested and approved by the department as soon as possible. And then they would be available to us."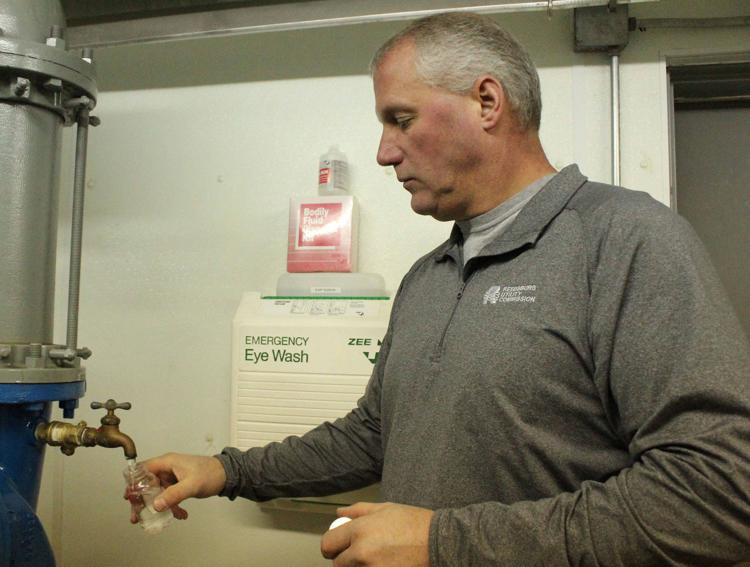 Rheineck said another potential solution is to drill deeper wells, but questions remain about the effectiveness of doing so.
"We did an analysis in-house that if people drill wells deeper than meets the minimum requirements, (they) have much lower nitrate levels in them," Rheineck said.
The DNR has yet to determine whether the higher nitrate levels eventually would reach the deeper water and how long that might take. It's also unclear whether deeper wells would be a cost-effective solution.
Testing water
Wisconsin Dells Water Foreman Scott Holzem, who worked as a well driller for 10 years, urges everyone with a private well to test for contaminants at least "every couple years."
In municipalities like Wisconsin Dells and Reedsburg, responsibility for water quality is the full-time job of at least one person, often more. Residents don't have to think about their water as much.
"Our job here is to supply the best quality water to our customers at the most reasonable rates possible with what we have to work with," said Reedsburg Water Supervisor Jon Craker. "Water quality is our main goal."
Reedsburg tests more than 1,300 samples of the city water each year.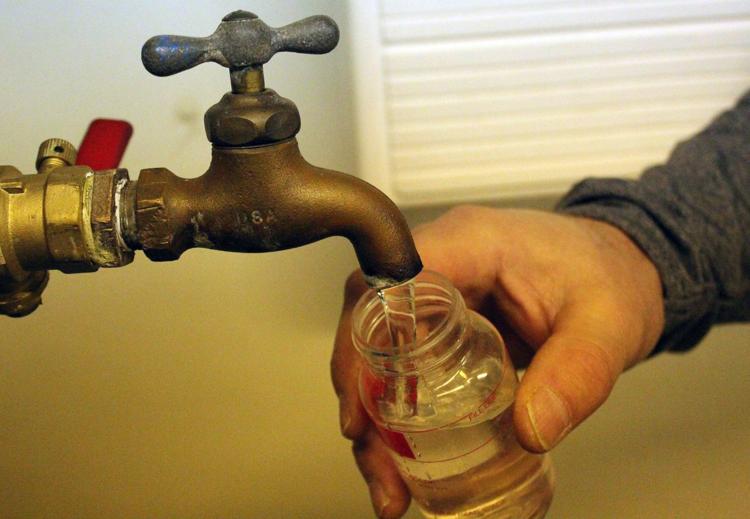 "You want to be checking your water quality for nitrates, bacteria… any contamination that could be harmful," Craker said. "The way technology is now, it makes it a little better to stay on top of things."
For the homeowners in rural Juneau County with contaminated wells, a reverse osmosis system may help some, but the equipment in some cases requires plumbing updates before the filters can be installed. 
The memorandum of understanding between the groups there does not state who will pay for any needed plumbing updates.
"We have had situations come up already, where the coalition and its consultants are working with the property owner to determine what needs to be done," Lasker said. "So far, the costs have been picked up by the coalition. I think it is their intention to cooperate in that regard unless it is something that is unusually expensive or unreasonable."
An old problem
About 70 miles south of Armenia, the Badger Army Ammunition Plant is a source of concern for residents in the Merrimac area regarding their water quality.
Built in the 1940s, the plant produced gunpowder for artillery and small arms during World War II, the Korean War and the Vietnam War.
Chemicals and wastewater were pumped into Lake Wisconsin while the soil grew to be contaminated with the groundwater.
Rather than nitrates, one chemical of particular concern is dinitrotoluene, a chemical used to produce explosives. Exposure has been linked to increased cancer risk and other illnesses.
The U.S. Army has sought to clean up the area and ensure safe water for residents, but Merrimac Village Administrator Tim McCumber believes efforts so far have been inadequate.
"I don't think the Army has taken the best direction," McCumber said. "They were originally (going to) guarantee we wouldn't have a risk at all by building a water system, and now they're no longer doing that."
McCumber said the idea of unsafe drinking water has become a harmful perception for the community, particularly when it comes to trying to sell property or convince newcomers to settle down there.
"It's a stigma around the community," McCumber said. "We shouldn't have to drink those chemicals at all… Most people just buy their own bottled water."
Any solution short of a water treatment system would be insufficient in ensuring clean water, McCumber said.
"We totally believe they could build that water system," McCumber said. "You'd never have to worry about it again from a human risk standpoint."
Next steps
Both Democratic Gov. Tony Evers and Republican Assembly Speaker Robin Vos have listed Wisconsin's water quality as a priority moving forward.
In his first State of the State Address, Evers said 47 percent of wells, relied upon by 1.7 million Wisconsinites -- do not meet health standards set by the Wisconsin Health Department.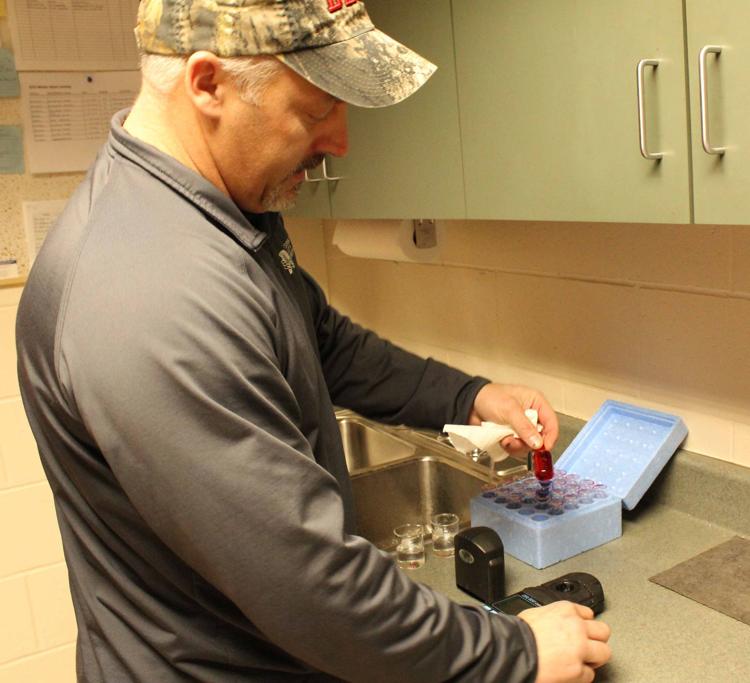 Vos announced the formation of a task force on water quality and emphasized every Wisconsinite should have access to clean and safe drinking water.
"I'm pleased that (this is) getting attention and hoping positive steps come out of it," Rheineck said.