While political diversity slowly evolves at the national level, attracting more women and younger representatives, county boards in the area struggle to garner female board members and supervisors younger than 40.
Is there a lack of interest among younger citizens to serve? In 2016, why aren't more women involved in county government?
Several factors contribute to these issues, but for most young professionals, it simply comes down to a valuable commodity that many don't have: time. And for women, it's often about breaking up the old guard of county government.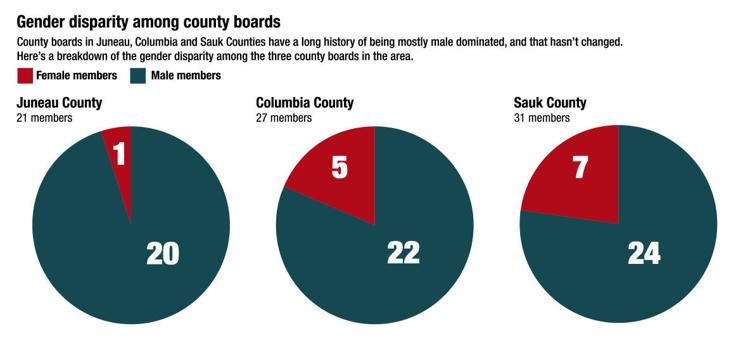 A lone wolf
In her 18 years serving as a Juneau County Board Supervisor, Bev Larson has become used to looking across the meeting room and not seeing many female counterparts. But in the past year, Larson has been the only woman on the county board.
Out of 21 members, Larson is Juneau County's only female representative. In recent years, the county had two other women supervisors that decided to leave the board to pursue other opportunities.
Larson doesn't feel intimidated by her male colleagues though.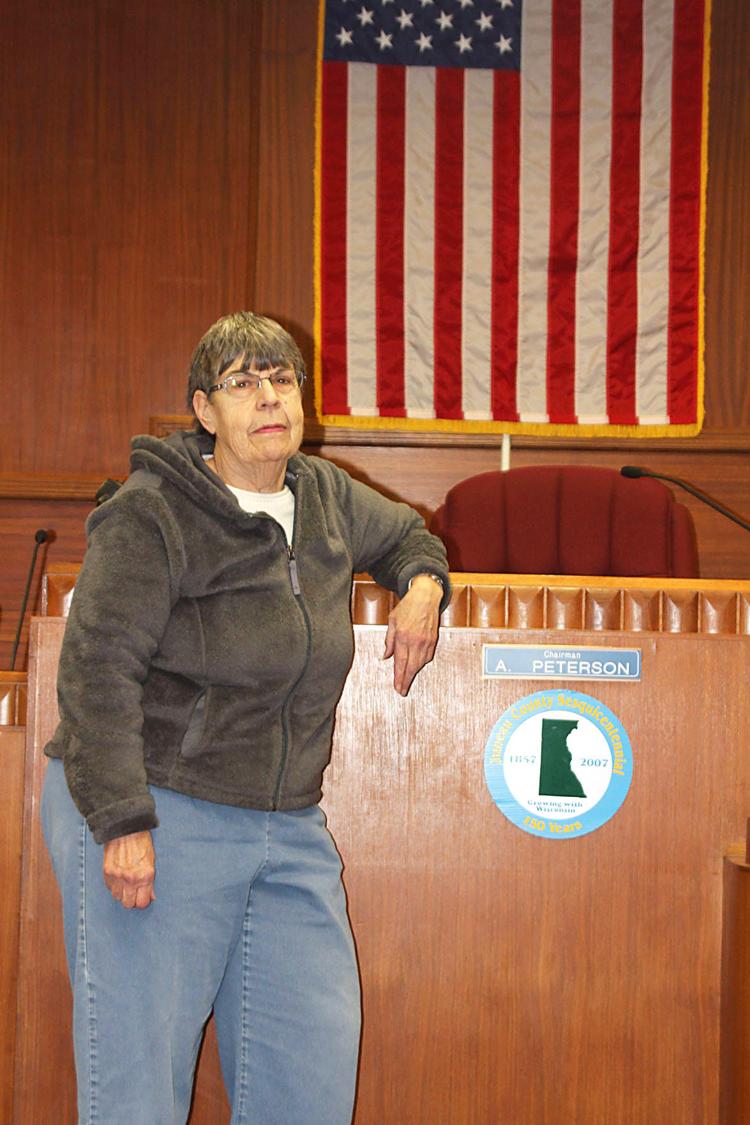 "No, absolutely not," Larson said. "I have the philosophy that I'm just as strong as they are; maybe not physically, but my opinions count just as much as they do. They do not intimidate me; in fact they treat me as if I'm just one of the boys. It doesn't bother me at all."
Larson, who lives near Wonewoc, serves District 6, composed of a portion of the Town of Wonewoc, Village of Union Center and a segment of the Town of Plymouth. She's served on the county's human services and parks, forestry and zoning committee since she took office in 1998, and has also served on the personnel committee the past few years.
Larson never really intended to spend her golden years on the board when she retired from teaching in 1996. She planned to enjoy retirement traveling with her husband, Gene. Unfortunately, Gene, a former county board supervisor, passed away in June of 1997. By that time, Larson was serving on the school board in Wonewoc and was already bit by the community service bug.
"Gene and I never really talked much about county board — he always said, 'You have your business going and I got mine,'" Larson said. "But I kind of wondered what it was like. Now I really enjoy it. After you retire, you have to keep going and be involved in things to keep you active because before you know it, you're going to feel older than you really are."
In the past 18 years, Larson has seen the board ponder several stressful building projects, such as the Juneau County Justice Center and the highway department building. The county seems to be satisfied with Larson's work on the board — she hasn't faced a challenger during a reelection bid since her first run at the District 6 seat in 1998.
"I think a lot of the mindset is, unless people are really upset with you or don't think you're doing your job, nobody (challenges you)," Larson said.
She isn't sure why more women don't run for county seats. During her time on the board, female friends have told Larson they were pleased she voted a certain way on a topic to show a strong women's perspective, but why they won't throw their hat in the ring baffles Larson.
"I can tell you that county board is a lot easier than school board," Larson said. "Because so much is done at the committee level before an item even comes to the board."
Ed Brown III, of Elroy, who recently stepped down from his county board seat after 39 years, said a woman's voice on the board is valuable and hopes more women will run in the future.
"There's certain areas where ladies tend to be more in-tuned to issues than men are, especially in the health and social service fields where they were the ones raising the children and are more focused on those issues than I would be," he said.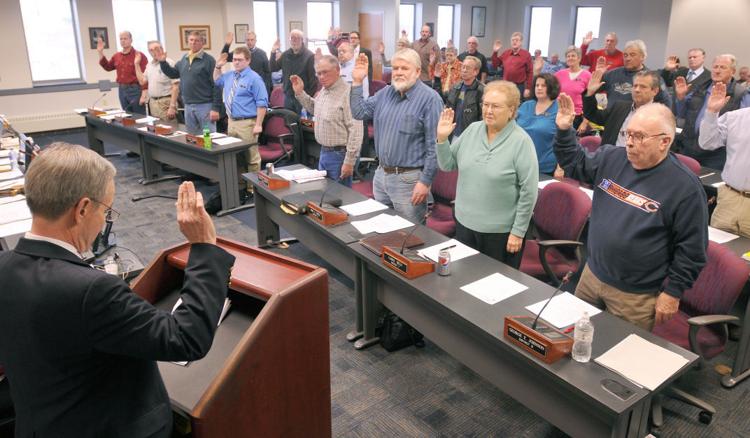 A minority, but not forgotten
In Columbia County, the gender disparity isn't as great, but there are still only five female members out of 27 supervisors.
Mary Cupery has served on the Columbia County board for the past 10 years. She has spent time on several committees and is the board's vice chairwoman. Cupery joined the board's youngest member, 25-year-old Matt Rohrbeck on an ad-hoc standing rules committee to modify guidelines that have governed the board for more than 20 years. Cupery represents district 3, which is the towns of Fort Winnebago and Marcellon.
"Prior to that time I was town clerk for Fort Winnebago and was interested in county government," Cupery said. "A friend was retiring and asked if I would be interested in his seat."
For generations, rural county boards have been male dominated and Cupery believes that's a tough hurdle to overcome, even in 2016.
Despite being in the minority, Cupery has felt respected as a female board member. Her views and decisions are admired and her time on the board has been worthwhile.
Sauk County had eight women on its 31-member board until Tut Gramling decided to retire last month, dropping the total to seven. She chose to leave the board after one term to enjoy retirement.
Gramling said she never would have thought about running for the Sauk County Board without being persuaded by one of its supervisors.
"My first response was, 'Oh, I'm not qualified, I don't know enough.' But once we talked through all that, I said I would consider it. I then attended some county board meetings and realized I was capable," Gramling said. "But, had someone not specifically asked me, it never would have crossed my mind. I liked being on the board because I've always liked being civically engaged, and it's been extremely fulfilling work."
In Gramling's opinion, county government has a perception of being the "invisible layer" of government and few people truly know what supervisors do. During her two years on the board, Gramling covered District 21, a widespread district in Sauk County.
"What we really need on the board are people of vision," Gramling said. "One of the areas where Sauk County really blew it is they didn't jump on getting broadband (internet access) countywide, fast enough. In our county, we're seeing a number of millenials who are leaving and never returning. Having broadband and internet access is very important, not just for social needs, but for business development."
For Marty Krueger, who has served as Sauk County Board Chair for 10 years, gender has little effect on decision-making during board meetings.
"Our vice chair for the last three terms (six years) has been a women, so I really don't discern differences in contribution whether they're male or female," Krueger said. "It depends on their approach to the job and how seriously they take it. We have some awfully good supervisors and we got some folks who really need to do more homework and it doesn't depend on gender."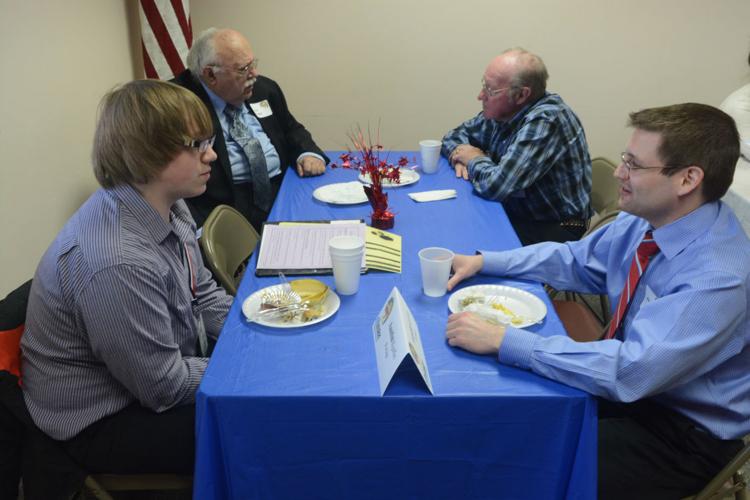 Finding time a problem
Youth is another area where county boards lack diversity. Most of the supervisors are seniors who have served for several terms.
Juneau County holds monthly board meetings, but they are during the day, every third Tuesday of the month. That schedule makes it difficult for young professionals with full-time jobs to commit and serve county government.
"The board, at one time, tried to have their meetings at night to try and get more (young) people, those that were working, to be interested and to come… total failure. It didn't work," Larson said.
Many of the committee meetings are during the day as well to allow department heads to attend during regular business hours. It would likely cost the county overtime salary to allow department heads to meet during the evening.
Some employers are generous enough to allow employees serving on county boards to take a break from work to be present at regular meetings.
Juneau County Supervisor Scott Wilhorn, of Necedah, works for the Wisconsin Department of Natural Resources, but is allowed time off to cater to county business. Larson said people may be interested in serving local government, but are often afraid to ask their employers for time off.
"A lot of people just can't get away and participate," Brown said. "I've been lucky because I've had my own business for 51 years, the Brown Bus Company. For me, I could attend these meetings during the day and go home at night and work."
For those who dedicate time to county government, the balance between professional work and civic duties can be difficult to maintain. Nonetheless, if the passion is there, people will make time.
"Quitting time didn't mean anything for me," Brown said. "For those 51 years running the buses, I probably averaged 60-80 hours a week of work, but I enjoyed working and just did it ... For younger people, a lot of times, if they do have free time, it's spent with their families."
When Brown made the decision to retire from the board last year, he discussed his pending vacancy with about 25-30 friends to gauge interest.
"I told them they could get on the board and give it a try and I couldn't find any takers who were willing to try and make it work," he said. "Most of the ones who were mildly interested said they didn't want to make the time commitment."
Gramling thinks better access to committee meetings might attract younger people to the county board. Sauk County doesn't have teleconferencing set up to allow supervisors to participate remotely, if necessary.
"There are so many businesses at this point that use teleconferencing," Gramling said. "Our board wasn't willing to change the rules to allow that and that's not forward thinking. County boards need to be looking forward and work proactively."
Similar to both Juneau and Columbia County, most of the heavy lifting is performed at the committee level. Gramling feels county boards need to become more autonomous in making decisions.
"We are a board and it's important supervisors feel they are part of a whole; we don't want to feel we're just a body that rubber stamps committee action," Gramling said. "Part of that is being informed about what's going on in all the committees. The county boards are here to act on legislation, but also to represent the people of our county and let the state know what's best for them."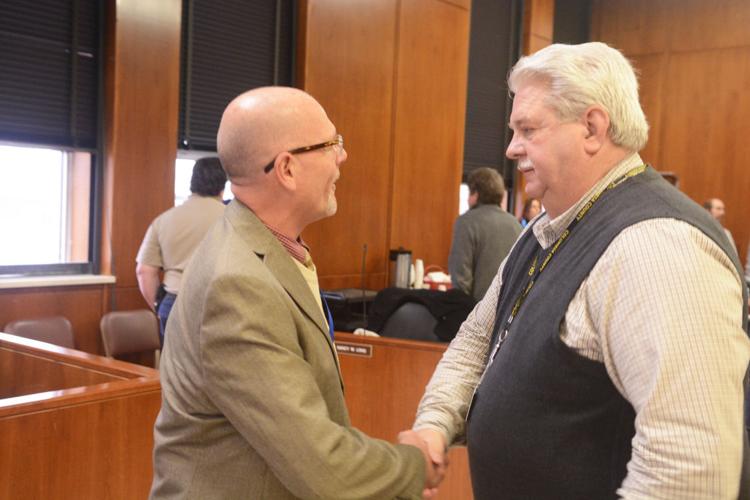 Cupery said time is also an issue in Columbia County. The Board has an interesting meeting schedule, convening for daytime meetings from November to April and nighttime sessions from May through October.
"They have busy lives with jobs and families," she said. "When we did the standing rules, we discussed having all night meetings, but there were a majority of board members who didn't like that; they liked having daytime hours, especially in the winter. The board felt that if people were really interested in serving, they would find a way."
Both Cupery and Rohrbeck believe important issues deserve different voices and perspectives. The board is currently overseeing a huge $45 million expansion and renovation project to county government buildings in downtown Portage. Cupery said the plan wouldn't have gone through without the dedicated work of several supervisors at the committee level.
Krueger admits getting younger people to serve in Sauk County is challenging. The county recently had a millennial task force developed to find ways to attract younger talent to the area. Overall, he sees long-term tenures on county boards dwindling.
"Statistics are showing that people aren't serving county government as much as they used to," Krueger said. "The 20 to 30-year commitment to county government is disappearing. The three people who chose to not run for reelection on our board this year; two were there for two years, and one for three and it used to be people would serve an average of about 15 years."
Another factor that may deter citizens from running for county seats is the stipend seldom matches the time commitment. Sauk County recently spent $123,000 to pay its supervisors, but as Krueger pointed out, the pay is divided across 31 members, with the chair receiving the most, and includes travel reimbursement, meals and lodging fees.
"I think that's why you're seeing less long terms on the boards due to the demands of the job — it's a challenge today to raise a family and, in essence, volunteer for local service," Krueger said.
For young professionals, spending time on county boards is often a labor of love and it's something Rohrbeck can attest to. Rohrbeck, who is currently pursuing a master's degree and working for State Representative Keith Ripp, has been a leading voice for Columbia County since accepting the position at 23.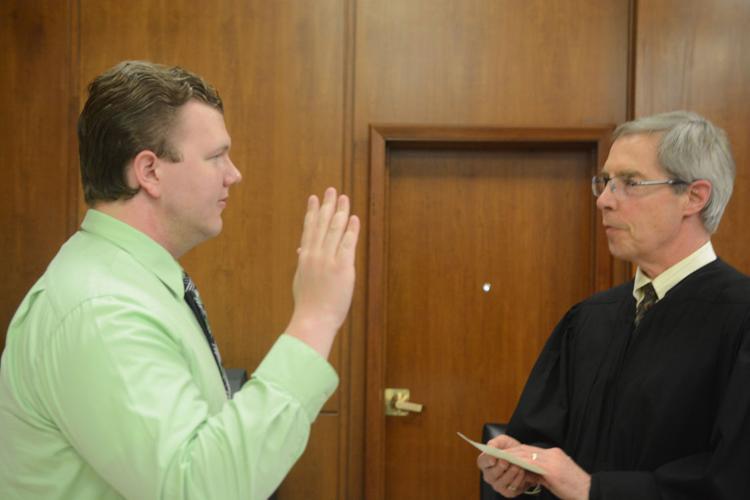 Sometimes it's difficult for veteran supervisors to break out of old habits. Rohrbeck's goal was to present new ideas to members who had become stuck in their ways. He was met with some resistance, but over time has won the respect of his colleagues. While studying for his bachelor's degree at Ripon College, Rohrbeck had the opportunity to work under House Speaker Paul Ryan, meet various congressmen, and get to know Governor Scott Walker during a semester in Washington, D.C.
"Building up those connections and getting to the forefront of politics really helped me get to where I am now," Rohrbeck said.
One of Rohrbeck's proudest achievements as a freshman supervisor is helping to get Portage's large $45 million infrastructure plan into motion.
"That was one example where I brought a different perspective to the county board," Rohrbeck said. "It's definitely a learning curve, and I'm not trying to step on anybody's toes, but when I came on the board a lot of people told me, 'Hey, they're kind of stuck in their ways, so just be prepared for that.' It was just a matter of my perspective working with theirs to create a great compromise and that's how I look at that."
Rohrbeck would like to see more people in their 20s and 30s in local government, but he said it comes down to flexibility and the desire to make an impact in the community.
"I wouldn't be able to do all of this if my employer didn't allow me to fit this into my schedule. It's a matter of your boss saying, 'Hey, if you can work your 40 or more hours a week and handle this on the side, go for it,'" Rohrbeck said. "It's not like my generation doesn't care about politics, it's more of a question of how can we be active when it's always older people who are doing it? They don't care about what we care about. Working on a county board isn't about politics because it's non-partisan, whereas at the state legislature, I deal with politics every day."
It's about different platforms for Rohrbeck, but the feeling of contributing at a young age has been satisfying and could motivate other millenials to serve.