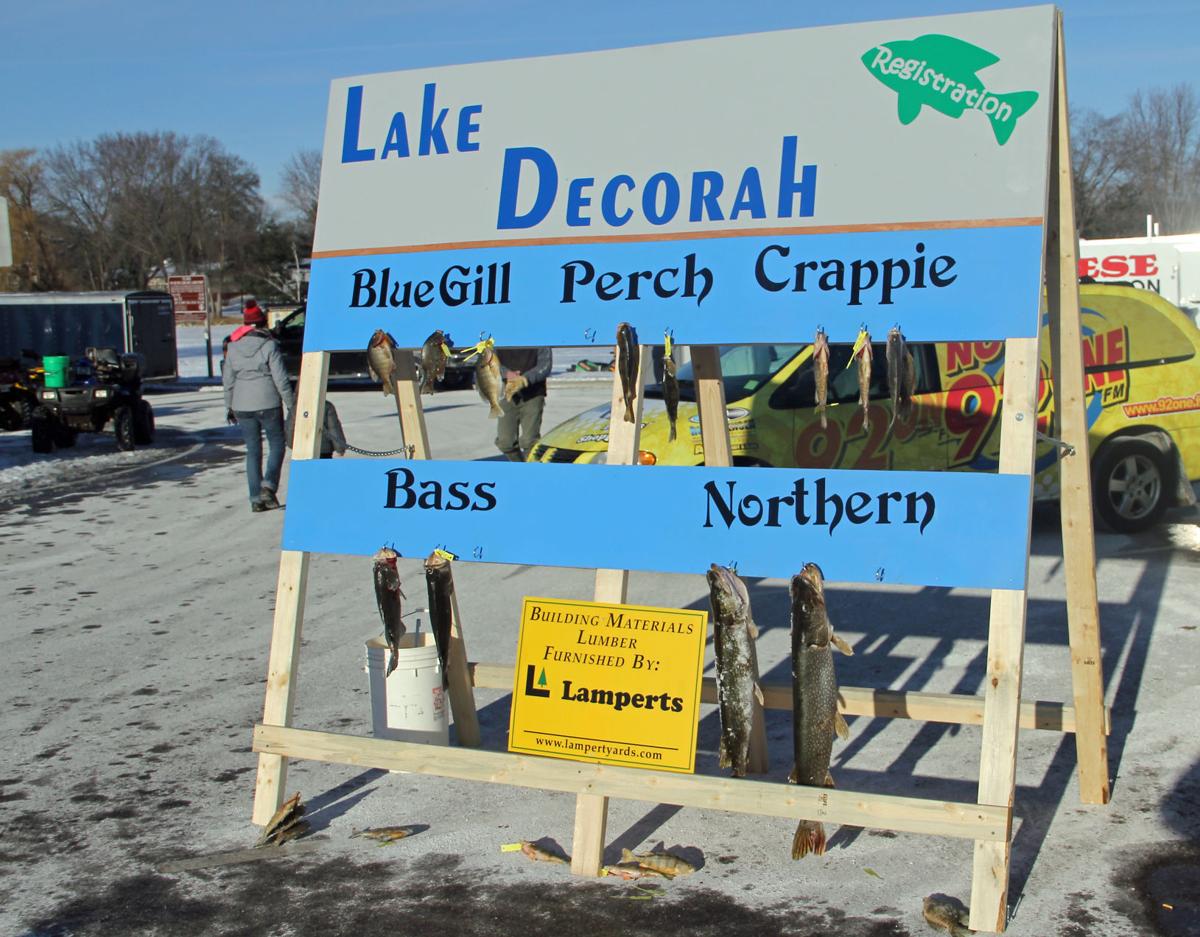 Anglers can get out on the ice this Saturday and attempt to catch some prize winning fish at the Fourth Annual Lake Decorah Restoration Ice Fishing Tournament.
Held each year in January, this year's event is scheduled for 6 a.m. to 2 p.m. Jan. 9 at Lake Decorah. Registration opens at 6 a.m. and runs until 11 a.m. at the city boat launch in Riverside Park. Entry costs $20, and pre-registration is open at Mauston City Hall daily from 8 a.m. to 4 p.m.
Those fishing this year can expect better ice than last year's event, said event organizer and Mauston Superintendent of Parks, Forestry, and Cemetery Jordan Wilke.
"We are fortunate," said Wilke. "The ice is a lot better than last year, a lot of the bay by the old dump and off of (Highway) 12/16 measures anywhere from 4-7 inches, which is good, but it's still not recommended to take any vehicles or UTVs out there yet. The channel is moving water, so you always have to be aware of that. It appears to be closed over, but I do not recommend crossing it."
Cash prizes are available for first through third places in each of the five fish categories, including perch, crappie, bluegill, northern, and bass. First place pays $75, second place pays $50 and third place pays $25. All DNR fishing rules will be enforced and anglers must be in line to have their fish registered by 2 p.m. to count towards the prizes.
"The event is being scaled down a little bit this year to coincide with COVID guidelines," Wilke said. "We will not be having as many on site raffles, the classic bucket raffle we will not be having this year."
Wilke says the event will still have the "major ticket raffle," consisting of ice fishing gear, firearms, tools, Yogi fishing rods and archery gear, and a Packer football raffle. Drawings begin at 2 p.m. and tickets are available in advance from City Hall and at the event. Unlike previous years, there will be no beer tent or food sales, but the fire pit will be running.
All proceeds from the tournament go towards Lake Decorah restoration efforts. Funds from the past three years went towards a Department of Natural Resources cost-sharing grant for a lake management study.
"It consisted of taking water and vegetation samples from over 200 points in the lake, and gaining past and present information of our watershed," Wilke said. "It will enable us to put it towards a 9-key element plan. Once you have all the elements of the plan we can start obtaining and applying for federal money. Once we can get that federal money, hopefully we can start making the physical changes to our lake."
The Guardians of Lake Decorah are sponsoring this year's event in conjunction with the city of Mauston. Wilke says they have been working with the DNR and Juneau County Land Conservation Service to work on restoration efforts.
"It's a long drawn out process," Wilke said. "We're trying to get some politicians to help our cause… we have a lot of good key players that are all working together to try and make this watershed and our lake better."
For more information, visit Mauston.com or search for 4th Annual Lake Decorah Restoration Ice Fishing Tournament on Facebook.
Reach Christopher Jardine on Twitter @ChrisJJardine or contact him at 608-432-6591.