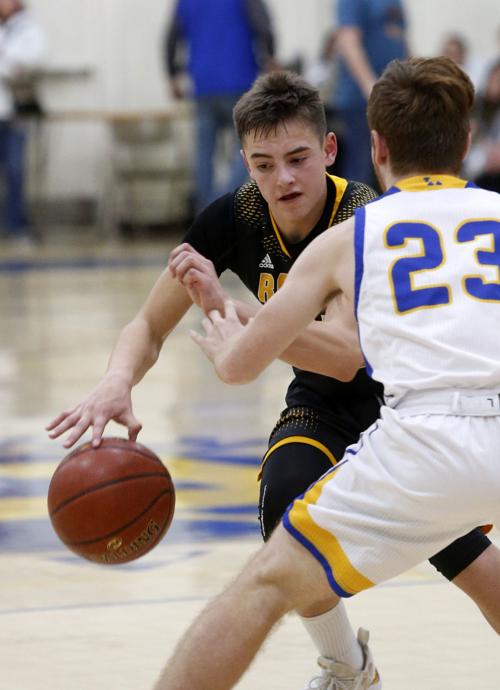 For one of the state's more prominent high school basketball coaching families, this holiday season was a particularly unique experience.
Royall head coach Scott Uppena led his Panthers to Lancaster during the final weekend of 2019 for a basketball tournament that also served as a Coaches vs. Cancer fundraiser and an Uppena family get together.
Royall, Lancaster, Potosi and Darlington all took part in the two-day tournament Friday, December 27 and Saturday, December 28. Scott's three brothers all serve in the high school coaching ranks. Tom Uppena is the Darlington boys' head coach and Mike Uppena serves in the same capacity for the Potosi boys. Mike Uppena coaches the Lancaster girls' team and thus didn't coach in the event, but his son, Jackson, did play for the Flying Arrows.
The four brothers, along with sister Laura, are all the children of Dennis Uppena, who won three state championships during his Hall of Fame coaching career at the helm of the Cassville boys' basketball program.
All proceeds for the event went to Coaches vs. Cancer, a program that's a collaboration between the American Cancer Society and the National Association of Basketball Coaches. It's a cause that near and dear to the Uppenas. Family matriarch Jane Uppena passed away in November 2017 after having battled cancer for over 30 years.
Mauston got back on track with another superb showing from Cade Hall to knock off Viroqua in non-conference action.
The Golden Eagles (6-3) outscored the Blackhawks (6-3) by eight in both the first and second halves in a 63-47 victory Tuesday, January 7 in Mauston. It marked the fifth win in the last six games since a 1-2 start to the season for head coach Gil Saylor's squad.
For Mauston, Hall went off for 27 points, Gage Kobylski finished with 18 points and Adon Saylor added 10 points.
A 13-point halftime deficit proved to be too much for Necedah to overcome in a non-conference loss to Nekoosa.
The Papermakers (3-4) led 27-14 at halftime on their way to a 54-44 road win against the Cardinals (5-3) Tuesday, January 7 in Necedah. The loss snapped the Cardinals' three-game winning streak.
Necedah's Jaron Murphy scored 14 points, Emanuele Giovi added 11 points and Landen Murphy chipped in 10 points in the defeat. Nekoosa's Jace Lobner finished with a game-high 20 points and was the only Papermaker with double-digit scoring.
North Crawford 54, Wonewoc-Center 45
Wonewoc-Center could not extend its winning streak to three in a loss to North Crawford.
The Trojans (8-3) got the better of the Wolves (4-4) in a 54-45 victory in non-conference play Monday, January 6 at Wonewoc-Center High School in Wonewoc.
Senior small forward Dawson Miller went off for 21 points, while senior shooting guard Tucker Needham and junior power forward Kaden Sprotte contributed 10 and seven points, respectively in the loss.
Much like Wonewoc-Center, Necedah began the 2020s with an emphatic victory over La Farge.
The Cardinals blew past the Wildcats (1-8) in a non-conference matchup to extend their winning streak to three games Friday, January 3 in Necedah.
Necedah's Isaiah Herried scored game game-high 17 points, Jaron Murphy added 16 points and Emanuele Giovi chipped in 11 points in the blowout victory. No La Farge player finished with more than six points.
A rough second half on the offensive end quashed Royall's hopes of picking up wins on back-to-back nights.
Kickapoo (8-3) erased a 33-27 halftime deficit by outscoring Royall (5-2) 25-16 in the second half to escape with a 52-49 win in non-conference action Friday, December 3 at Kickapoo High School in Viola.
Kickapoo's Colten Sevede posted a double-double with 21 points and 13 rebounds while Owen Cauffman added 10 points. Royall's Brenden Ziems and Nathan Vieth finished with 15 and 11 points, respectively. While Kickapoo was just 6 of 12 at the free-throw line, Royall struggled in a 6-of-17 showing at the charity stripe.
The Golden Eagles began the new year with a non-conference loss that snapped their four-game winning streak.
After leading by just two at halftime, the Railroaders (6-1) pulled away over the last 18 minutes to defeat Mauston 66-54 Friday, January 3 in Altoona.
Altoona was led by a well-balanced offensive attack, with four players finishing in double digits: Chris Ray had a team-high 16 points, Keshawn Harris scored 12 points and both Evan Moss and Brayden Turk added 11 points apiece. For Mauston, Cade Hall tallied 20 points and Gage Kobylski contributed 16 points.
The Panthers flipped the page to the 2020s with a dominating win in non-conference play.
Royall breezed past the Chieftains (2-8) 57-32 Thursday, January 2 at Riverdale High School in Muscoda. The Panthers' 25-point margin of victory was their biggest yet of the season.
You have free articles remaining.
Royall's Nathan Vieth led the way with a double-double, scoring 21 points and reeling in 12 rebounds in the win. Brenden Ziems tallied 10 points while Keith Schnurr and Brady Uppena finished with eight points apiece for the Panthers.
Wonewoc-Center 61, La Farge 49
The Wolves kicked off the new decade with a second straight win to improve to 4-3 on the season.
Wonewoc-Center scored a double-digit non-conference road victory by beating the Wildcats Thursday, January 2 in La Farge. The Wolves got another well-rounded effort on the offensive end in the win.
Senior guard Chase Novy scored a team-high 18 points, sophomore center Ashton Spencer finished with 16 points and senior small forward Dawson Miller added 13 points for Wonewoc-Center.
In an all-Uppena showdown, Scott's Royall Panthers got the better of Mike's Potosi Chieftains at the Lancaster Tournament.
Royall carved out a seven-point victory in a 54-47 win against Potosi (5-4), who fell 81-44 to undefeated Darlington (10-0) in its Friday contest, Saturday, December 28 at Lancaster High School in Lancaster.
Keith Schnurr and Bryce Gruen each scored 20 points to power the Panther victory. Nick Edge finished with 17 points to lead the way for the Chieftains.
Necedah 54, Pittsville 53
At halftime against Pittsville, it looked like Necedah might be heading into 2020 with a loss. A second-half rally ensured that wouldn't be the case.
After trailing 33-26 at the break, the Cardinals outscored the Panthers (5-4) 28-20 in the second half to close the decade on a high note with a 54-53 victory in non-conference play Saturday, December 28 in Necedah.
For the Cardinals, Jaron Murphy and Landen Murphy finished with 22 and 19 points, respectively. Pittsville's Matthew Kissner dropped a game-high 27 points, but no other Panther reached double digits scoring.
Cassville 61, New Lisbon 50
In the consolation game at the Ithaca Tournament, the Comets got the better of the Rockets.
Cassville (1-7), who fell 56-40 to host Ithaca in its opening game of the day, bested New Lisbon 61-50 for its first win of the season Friday, December 27 at Ithaca High School in Richland Center.
Cassville's Robert Roe flirted with a triple-double with 20 points, 11 assists and eight rebounds while Cameron Schmitz added 15 points for the Comets. New Lisbon's Gunnar Pedersen tallied a game-high 21 points to go along with seven rebounds, TJ Oens finished with 13 points and Ashton Pfaff recorded four points, 10 assists and seven rebounds.
In Royall's first game of the Lancaster Tournament over the holiday week, the Panthers were upended by the host Flying Arrows.
Lancaster (4-3), who went on to fall to Tom Uppena's Darlington 82-57 in the tournament's championship game, built up an 11-point halftime lead on its way to a 62-42 victory Friday, December 27 in Lancaster.
Royall's Keith Schnurr scored a team-high 12 points, Nathan Vieth recorded nine points and seven rebounds and Brenden Ziems finished with seven points and nine rebounds. For Lancaster, Dawson Bowen tallied a game-high 24 points and Hayden Wagner added 10 points.
In its first game of the day at the Ithaca Tournament over the holiday break, New Lisbon came up just short against Argyle.
The Orioles (6-4), who went on to defeat Ithaca (3-6) in the tournament championship game, held on to defeat the Rockets 58-56 in dramatic fashion Friday, December 27 at Ithaca High School in Richland Center.
TJ Oens led the way for New Lisbon with a team-high 20 points, Coltin Zellmer finished with 12 points and seven rebounds, Gunnar Pedersen had 11 points and six rebounds and Ashton Pfaff added 10 points, seven rebounds and seven assists.
Wonewoc-Center 62, Riverdale 57
Wonewoc-Center closed out the 2010s on a high note by snapping its losing skid with a non-conference win.
The Wolves held on to top Riverdale 62-57 to bring an end to a three-game losing streak in their final game of the decade Thursday, December 19 in Wonewoc.
For the Wolves, senior shooting guard Tucker Needham scored 18 points, senior small forward Dawson Miller tallied 17 points and senior guard Chase Novy chipped in 10 points in a well-balanced offensive effort.
Kickapoo 66, Wonewoc-Center 49
The Wolves dropped a third straight game since a 2-0 start to the season with a non-conference road loss to Kickapoo.
The Panthers led 35-20 at halftime and cruised to a 66-49 win over Wonewoc-Center Tuesday, December 17 at Kickapoo High School in Viola. Kickapoo's Colten Sevede posted a double-double with 22 points and 11 rebounds while Owen Cauffman added 19 points, eight assists, six steals and four rebounds in the win.
For Wonewoc-Center, senior guard Chase Novy and senior shooting guard Tucker Needham scored 16 and 14 points, respectively.
Follow Zach Rastall on Twitter @zrastall17 or contact him at 608-697-7943.