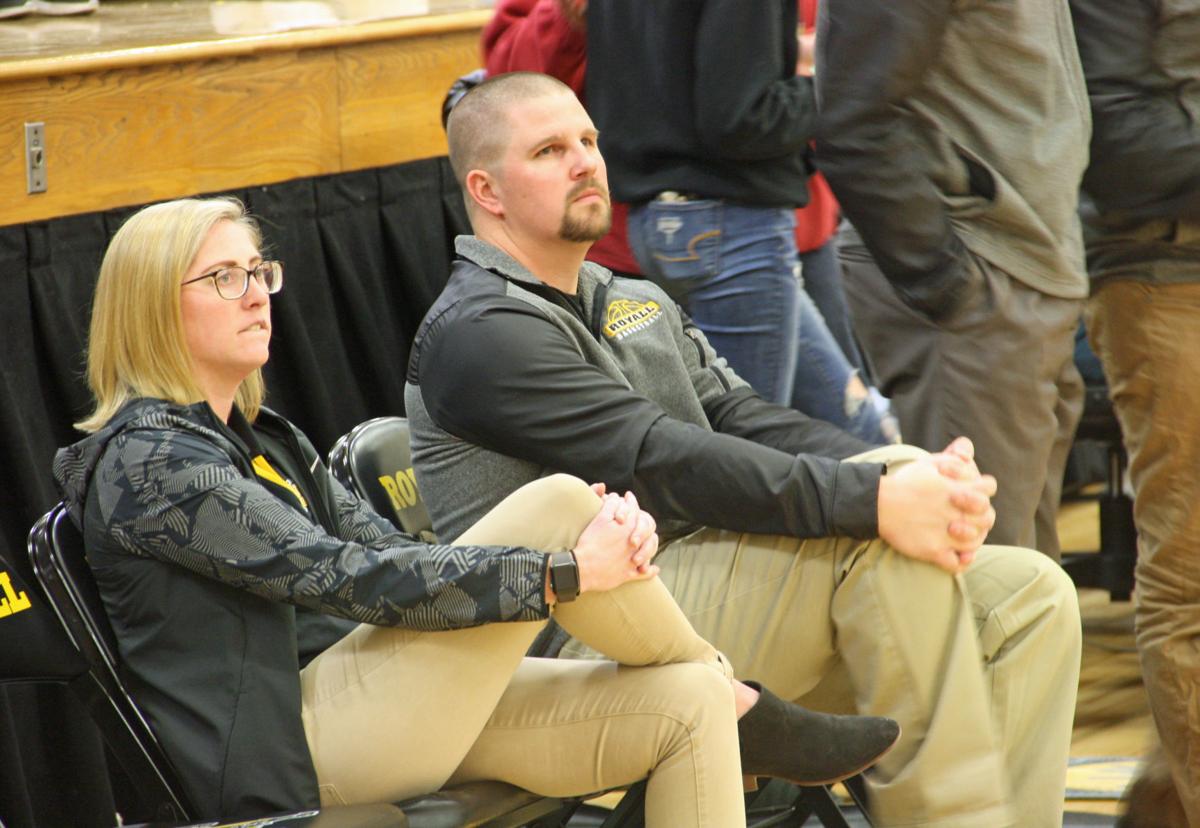 The 2019-20 high school girls' basketball season will transition into a new decade with the various Juneau County teams all headed in different directions.
Mauston, New Lisbon and Wonewoc-Center are all trying to right their ships to varying degrees. Necedah is working through the kinks as it seeks to get back in the mix of the Scenic Bluffs race. And Royall will try to keep its undefeated start rolling as it looks to remain in the top tier of conference title contenders.
Necedah 46, Pittsville 22
A well-balanced offensive attack and a stingy defensive effort allowed Necedah to close out the 2010s on a winning note.
The Cardinals (5-3) stifled Pittsville (2-8) on their way to a 46-22 victory to end the decade with a second consecutive win Saturday, December 28 in Necedah. No Pittsville player reached double figures scoring. Julia Redmond led the Panthers with seven points.
Meanwhile, Kyra Saylor, Danielle Becker, Miah Hansen and Kylee Moore all finished with 10 points to provide plenty of balance for Necedah on the offensive end.
Adams-Friendship 58, Mauston 14
Despite a competitive second half, in which the Green Devils outscored them 18-12, Mauston's winless start pushed into the holiday break.
Adams-Friendship (3-4, 1-2) rode a 37-2 halftime lead to a 58-14 victory over the host Golden Eagles (0-9, 0-3) in a South Central Conference matchup Friday, December 20 in Mauston.
Anetha Gbur scored a game-high 17 points while Kallysa Farrell and Kyra Bula each scored 11 points for the Green Devils. Amelia Gunther led the way for Mauston with five points.
Royall 56, Wonewoc-Center 40
A strong first half was more than enough for the Panthers to breeze past Wonewoc-Center and end 2019 with a six consecutive victory.
Despite being outscored 17-11 in the second half, Royall (6-0 overall, 3-0 Scenic Bluffs) held a 45-23 lead at halftime and wound up beating the Wolves (1-5, 1-2) 56-40 Tuesday, December 17 in Wonewoc.
Royall's Madeline Wainwright flirted with a triple-double with 14 points, nine rebounds and nine steals. Emma Gruen added 13 points and six steals and Jessica Brueggeman posted a double-double with 12 points and 13 rebounds.
For Wonewoc-Center, Shelby Justman had 11 points and six rebounds, Kailey Ertl added eight points and eight boards and Riley Nielson finished with eight points and six rebounds.
After a pair of tough losses to Royall and Bangor to open conference play, the Cardinals got back on track with their first win of the Scenic Bluffs season.
Necedah held Brookwood (1-6 overall, 0-3 Scenic Bluffs) in check all night and did more than enough on the offensive end en route to a 47-25 win Tuesday, December 17 in Ontario.
No Necedah player reached double digits scoring, but Danielle Becker posted nine points, 10 rebounds and four steals, Miah Hansen recorded nine points, five rebounds, five assists and four steals and Kyra Saylor chipped in eight points. Brookwood's Shelly Powell finished with a game-high 17 points.
The Rockets ended 2019 with their second straight blowout loss and third consecutive defeat overall in conference play.
The Cardinals (7-1, 3-0) flew past New Lisbon (4-3, 0-3) to a convincing 89-34 victory in a Scenic Bluffs Conference matchup Tuesday, December 17 in Bangor.
Bangor's Taylor Jacobson dropped a game-high 27 points, Karsen Kershner added 15 points, Andrea Olson scored 13 points and Haley Jones finished with 12 points. Morgan Sanders led the way for the Rockets with 10 points on the night.
De Soto 53, Wonewoc-Center 49
Wonewoc-Center was barely denied its second win of the season in a non-conference loss to the Pirates.
De Soto (2-5) outlasted the Wolves on its way to a 53-49 victory Monday, December 16 in Wonewoc. For the Wolves, Lindsay Peters, Riley Nielson and Shelby Justman each scored 12 points while Kailey Ertl notched six points and 12 rebounds.
La Crosse Logan 78, Mauston 14
Mauston dropped to 0-8 on the season with a blowout loss at the hands of La Crosse Logan.
The Rangers (7-2) dominated on both ends to rout the Golden Eagles 78-14 in their non-conference matchup Saturday, December 14 in Mauston. La Crosse Logan's Ashley Janisch scored a game-high 19 points, Jenna Davis added 16 points and Claire Borsheim finished with 10 points.
For Mauston, Samantha Kobylski scored seven points and Kayla Dominguez added five points.
The Panthers' strong start rolled on with their most dominating performance yet of the relatively young 2019-20 season.
Royall overwhelmed the Rockets on both ends of the floor on its way to a commanding 73-15 victory over its conference foe Thursday, December 12 in New Lisbon.
Emma Gruen led the way for the Panthers with a career night. She scored 31 points, going 12 of 19 from the floor and 7 of 8 at the free-throw line, while also adding eight rebounds, five steals and four assists. Jessica Brueggeman added 16 points as well for Royall.
Cashton 64, Wonewoc-Center 23
Coming off their first win of the year, the Wolves were handed a big defeat at the hands of Cashton.
The Eagles (6-1 overall, 3-0 Scenic Bluffs) had little trouble on their way to a 64-23 win over Wonewoc-Center in Scenic Bluffs play Thursday, December 12 in Cashton.
Braylee Hyatt and Adelynn Hyatt scored 20 and 18 points, respectively to lead the way for the Eagles. Lindsay Peters finished with a team-high nine points on the night for the Wolves.
Neillsville 63, Mauston 4
The low point of Mauston's rough start to the season came in a blowout loss at the hands of Neillsville.
The Golden Eagles only scored four points in a 63-4 loss at the hands of the Warriors (6-1) Thursday, December 12 in Neillsville. For Mauston, Bridget Gunther and Amelia Gunther scored two points apiece. Neillsville's Bella Opelt and Alli Schoengarth finished with 17 and 11 points, respectively.
Necedah 52, Richland Center 47
Sandwiched between a pair of conference losses to Royall and Bangor, the Cardinals had one of their better offensive showings in a non-conference win over Richland Center.
Kyra Saylor went off for a game-high 22 points, including a scintillating 5-of-5 showing from 3-point range, as Necedah outlasted the Hornets (3-7) 52-47 Tuesday, December 10 in Richland Center.
Elsewhere for the Cardinals, Gabby Wilhorn scored 10 points, Miah Hansen finished with nine points, five assists, four rebounds and four steals and Danielle Becker added seven points, 10 rebounds and five steals. Lexi Mieden led the way for Richland Center with 14 points.
Mauston trailed by 11 at halftime, but saw any hope of making it a game slip away in the second half of its loss to Wautoma.
The Hornets (1-9 overall, 1-2 South Central) pulled away to beat the Golden Eagles 49-20 in their South Central Conference clash Tuesday, December 10 in Mauston.
Diana Duran scored a game-high 19 points to lead the way for Wautoma. Mauston's Bridget Gunther tallied six points, six rebounds and four steals while Ruth Hammer added four points and six rebounds.
Wonewoc-Center 51, New Lisbon 42
Wonewoc-Center notched its first win of the year while also handing the Rockets, who started the season 4-0, their first loss of the Tasha Ragan era.
The Wolves topped New Lisbon 51-42 to open Scenic Bluffs Conference play Friday, December 6 in Wonewoc. Wonewoc-Center got contributions across the board in the win: Shelby Justman and Lindsay Peters each scored 12 points, Nicole Totzke finished with seven points and seven rebounds and Kailey Ertl and Lauren Johnson hauled in 12 and seven rebounds, respectively.
Wisconsin Dells 63, Mauston 23
Mauston's early-season woes continued into conference play, where it fell victim to a blowout loss at the hands of Wisconsin Dells.
The Chiefs (5-4 overall, 3-0 South Central) cruised past the Golden Eagles 63-23 in both teams' South Central Conference opener Friday, December 6 in Mauston.
For Wisconsin Dells, Kayla Gray scored a game-high 16 points, Hailey Anchor added 11 points and Kristina Warren chipped in 10 points. Elle Horn had five points and Amelia Gunther and Kayla Dominguez each finished with four points for Mauston.
Follow Zach Rastall on Twitter @zrastall17 or contact him at 608-697-7943.