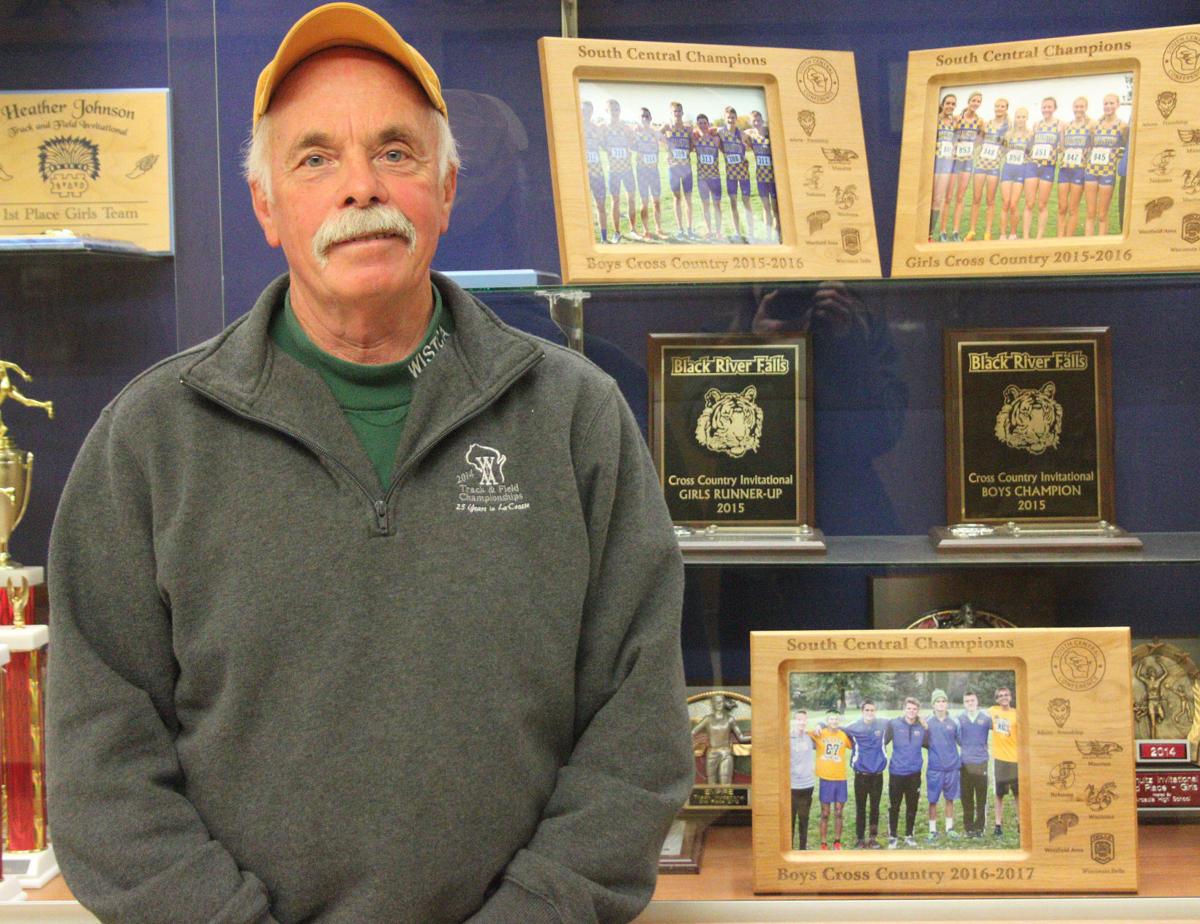 When Bill DeVoe took over as head cross country coach for Mauston High School, he said he "didn't know anything about cross country." He hadn't even been to a cross country meet until he took the job and had to turn to one of his athletes for guidance in learning a new sport.
"I literally asked him 'What are those flags for?'" DeVoe said. "I didn't know how far we were going to run."
Thirty-three years after that first meet, DeVoe has turned the cross country program into what he said is "one of the best cross country teams in Division II." He's led the Golden Eagles girls cross country team to 23 South Central Conference championships and seven boy's championships. Out of those 33 years, thirty of them included athletes qualifying on an individual or team level for the WIAA state cross country meet. He also led the girl's team to a runner-up state title in 1998.
He will be inducted into the Wisconsin Cross Country Coaches Association Hall of Fame Jan. 6.
In high school, DeVoe played football and ran track as a sprinter. When he took his job as an Emotional Behavior Disorder teacher at Mauston High School in 1972, he started coaching football and wrestling. He got interested in running longer distances years later for two reasons: his interest in cross country skiing, and when one of the teachers he coached with and employee for DeVoe's painting business died of a heart attack at 34 years old.
"I thought at that time I said 'I got to start doing something here,'" DeVoe said about his starting running to keep healthy.
After his first year of coaching cross country in 1983, he attended a clinic where he learned more about how to coach cross country and still has those notes from the event. He also talked to as many coaches as he could to get advice on coaching cross country.
You have free articles remaining.
"I wanted to show the kids if you really believe in something you'll do what it takes to get as good as you can be, without worrying about failing," he said.
DeVoe isn't afraid of failure and he tells his athletes to not be afraid to fail but to use it as a learning experience. During his 33 year teaching career, he also told the same thing to his students.
"That's how I approach working with kids," he said. "What can you do to get better for 10 minutes for 15 minutes?"
He approaches his coaching through the philosophy of coaching athletes first and events second, which is what he learned when getting his Level II coaching certification in USA Track and Field. He also applied the same aspects to his teaching.
"I found out if I get kids to believe in themselves and believe in their team and their training you can get a lot of stuff done," he said. "Their importance as a person is more important than what they do as an athlete."
Outside of coaching, DeVoe likes to spend time with his grandchildren, traveling with his wife, teaching fitness classes and cross country skiing. He is a retired member of the National Guard where he served for 22 years and 11 years ago retired from teaching. He owns a painting company, DeVoe's Painting and Deck Cleaning.
He said his favorite part of Mauston Cross Country is the traditions and family concept of the sport. For the last 26 years, the team has done a mud-run season opener at Mirror Lake and has a team camp in Door County where they run a meet and camp out.
"It's one of those things that makes us who we are," DeVoe said.
Follow Erica Dynes on Twitter @EDynesSports.