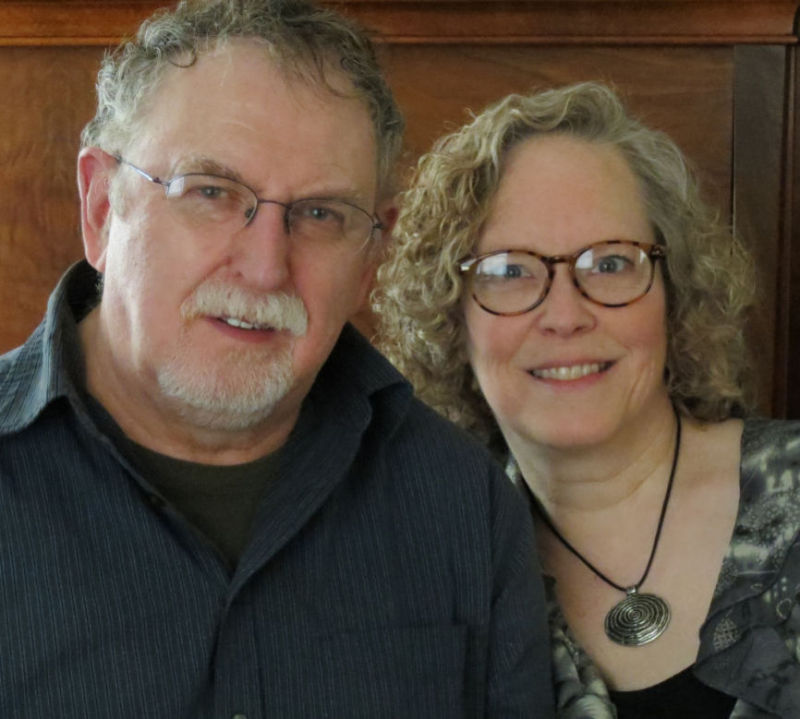 Erin Hart and Paddy O'Brien will present an evening of Irish traditional music and mystery at 7 p.m. Thursday at the Baraboo Public Library, 230 Fourth Ave. The program is free and open to the public. There will be a book signing following the program with books available for purchase.
Hart is the author of four crime novels, including her latest, "The Book of Killowen." The books take place in Ireland for the most part, blending archaeology and forensics with Irish history, folklore and traditional music. Her debut novel "Haunted Ground" was nominated for the mystery genre's top awards, the Agatha and the Anthony. Hart also sings in the traditional Irish style called sean nós — solo, unaccompanied and unamplified. She and her husband, Paddy O'Brien, live in St. Paul, Minn., and frequently visit Ireland.
O'Brien is an Irish traditional musician and legendary tune collector. He recently published his first book, "The Road from Castlebarnagh," a memoir of his upbringing in rural Ireland and his introduction to music. He is a master of the two-row button accordion and received Ireland's Gradam Ceoil Traditional Composer of the Year Award in 2012. The couple met in 1981 when O'Brien's trio was playing at an Irish pub in the Twin Cities and, when told there was a fine Irish singer in the audience, he called Hart up on the stage to join them.
This accomplished creative duo will both read and perform during their visit to the library. They recently answered some questions about reading and writing … and Ireland.
Q: Who is your favorite Irish author, and why?
O'Brien: I like Edna O'Brien, because she's a courageous writer and dealt with issues that shook the conscience of Irish society. I think she contributed to a new awareness in the country, especially among younger people.
Hart: I love Edna O'Brien as well — she uses language so brilliantly. But to pick a favorite — I'm not sure I can do that, because there are so many! James Joyce and Samuel Beckett, and William Butler Yeats and Oscar Wilde. So I might just leave fiction altogether, and say Seamus Heaney for his poetry, and Brian Friel, the playwright who gave us "Translations" and "Dancing at Lughnasa."
Q: What are you reading now?
O'Brien: I just finished "Hard Cases," true Irish crime stories written by Gene Kerrigan. Very revealing, and very well written. He also writes crime fiction — I recently read one of his novels, "The Midnight Choir."
Hart: And I just finished reading "The Secret Scripture" by Sebastian Barry — a moving story, so simply and beautifully told. Now I'm reading a book for research called "Dublin Nazi No. 1," by Gerry Mullins, about Austrian archaeologist Adolf Mahr, who was head of Ireland's National Museum in the early 1930s — all the while he was also a member of the Nazi Party in Germany.
Q: Tell me about a library you love — and why it's wonderful.
Hart: The first library I ever fell for was the old public library in my hometown of Rochester, Minn. It was a Gothic building, with thick walls and mullioned windows made from the most beautiful golden limestone. I spent so many hours there, tucked up on a window seat, breathing in the smell of old books, immersed in and living all the stories those books contained. It was bookworm heaven!
Q: Ireland of course has a long tradition of oral history and storytelling, and the Baraboo Library recently offered a week-long storytelling "camp" for children. As storytellers yourselves, the "campers" would like to know if you have any advice on how you choose a story to tell, and how do you engage your audience?
O'Brien: The story you choose depends on the audience! But in general it's important to tell a story that has a bit of humor — that always helps to engage people. I try not to overload a story with too much detail, and I like to pause a little here and there, partly to test the effect my story is having on the audience, and partly to build a bit of suspense and anticipation.
Hart: I love stories where something exciting happens! All of my mystery novels are about some artifact or person turning up in the bogs of Ireland, and all are based on true stories. Starting off with an exciting discovery makes me want to find out what happened — how that person ended up in the bog — and I hope the people who are reading or listening want to find that out as well!
Q: Hart, are you working on a new mystery? And is there advice you would give to a young writer that you wish someone had told you?
Hart: I'm working on a fifth mystery novel, set in Ireland, involving history, archaeology and folklore — no surprise there, I guess! But for some reason this book is demanding to be set in the 1930s, so I'm not sure whether it's connected to the previous four in the series. I will say that I'm finding the early 1930s an absolutely fascinating time in Ireland. No publication date lined up just yet, so I'm afraid it'll be a while before this one is out …
Maybe (I wish I had known) the importance of getting words down on paper. I always tell people that I'm not a writer, I'm a re-writer. Everybody has their own way of working. But it's very important to get something down, so that you can set about the business of shaping your story, making it better and better. A novel always seems so brilliant when it's a series of disjointed images inside your head. But every pass, every draft is another chance to bring your story closer to that brilliant dream.
Q: O'Brien, how are day-to-day Irish and American cultures different? And what do you miss about living in Ireland?
O'Brien: There's a different attitude about the art of conversation in Ireland than there is here in the United States. (In Ireland) there are lots of things we understand in a conversation that don't have to be spoken aloud at all. In America, I find I have to be very specific and precise — in the Ireland I grew up in, everyone knows all about you already, so in conversation we just try to amuse each other! Ireland used to be a lot less materialistic — an easier way to be when nobody had two shillings to rub together, I suppose. There are places in Ireland where language and music and traditional culture are still valued, where wit and humor are very much a part of people's everyday lives.
One thing I don't miss is the cold and damp! I love the central heating in the U.S. I suppose I do miss the Gaelic sports, the hurling and football. The opportunity to travel to where I can find good Irish traditional music. I miss the wheaten bread and bacon and cabbage like my mother and sisters used to make, and the way we used to sit around the fire, drinking tea and chatting with the neighbors. There's not much of that goes on any more—I suppose a lot of what I miss is the way things were in the past.
Robin Whyte is the Director of Development at the Baraboo Public Library. She can be reached at (608) 356-6166.