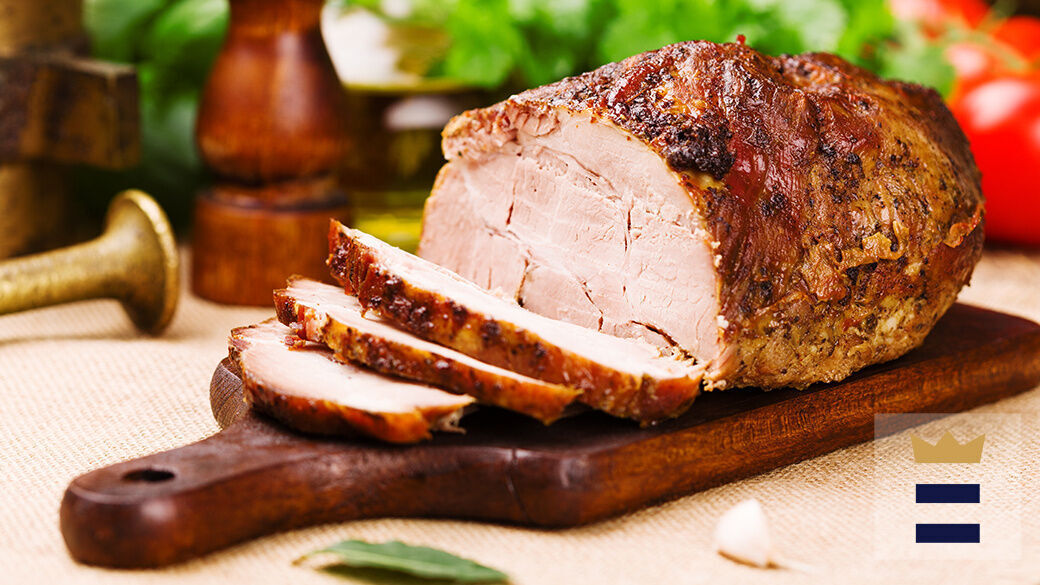 Making a pork roast in a slow cooker
Not only is a pork roast flavorful and delicious, it's also simple to prepare. While there are several ways to cook a pork roast, using a slow cooker allows you to set it up and forget it, taking almost all the work off your plate.
If you've never cooked a pork roast before, you may have a few questions about the process, cooking time or best cut of meat.
Considerations when cooking a pork roast in a slow cooker
Slow cooker vs. oven
While slow cookers and ovens are very similar in the way they cook, there are a few differences. The main difference is the evaporation process. Any dishes with liquid will evaporate more in an oven than in the sealed environment of a slow cooker. So you'll have to pay closer attention to the amount of liquid in dishes cooked in the oven.
A slow cooker on low should be about 190 to 210 degrees, while a slow cooker on high will run between 280 to 300 degrees. If you're concerned about the slow cooker heating to the accurate temperature, run a test.
Fill the slow cooker halfway with water. Turn it on low and allow it to cook for 8 hours. Remove the lid and take the water temperature immediately, since the temperature will drop almost instantly when you take the lid off. The temperature should read between 185 to 200 degrees. If the temperature is less than 185 degrees, it may not be keeping your food at a safe temperature for eating.
Types of pork roast
The most common types of pork roasts found at the grocery store are pork tenderloin, pork rib roast, pork shoulder and pork butt.
Pork tenderloins are very lean while still being moist. This makes them a popular pork roast option. However, if you plan to cook low and slow, a tenderloin is not the best choice. Because it's so lean, it can easily dry out.
Pork rib roasts, also called pork center loin roasts, are flavorful and juicy. Although not as lean as a tenderloin, it is not too fatty either. It's a great choice for slow cooking, but it might not be as easy to find.
Pork butts and pork shoulders are the best choices for slow cooking. They have more flavor than the previous types of roasts mentioned. They are a tougher cut of meat, so slow cooking is the best way to cook both a pork butt and pork shoulder. They need to be cooked for a long time to become tender, but the extra fats help them retain moisture. These will also be easy to find at your grocery store.
What size pork roast do I need?
If the pork roast is your main dish, you'll want to cook between a ½ pound to a pound of meat per adult. If you're making tacos or pulled pork with your roast, you could probably get away with a 1/3 to a 1/2 pound per adult.
Pork roast recipe for a slow cooker
How long to cook a pork roast in a slow cooker
The time to cook a pork roast is calculated by weight. First, decide how big of a roast you need based on the amount of people. Then you can calculate the cook time. If you can poke a fork into the roast and easily tear away some meat, the roast is done. If it's not done cooking, add another hour and check the roast again. To be safe, you can always check your food with a meat thermometer. The internal temperature of a pork roast should be between 145 and 160 degrees.
2-4 pounds: 7-8 hours on low or 5 hours on high
4-6 pounds: 8-9 hours on low or 6 hours on high
6-8 pounds: 9-10 hours on low or 7 hours on high
8-10 pounds: 10-11 hours on low or 8 hours on high
Slow cooker pork roast recipes
Pork roast, potatoes and vegetables
Pork roast
Red or russet potatoes, sliced in large chunks
Carrots, sliced in large chunks
Onion, sliced in large chunks
2 cans cream of mushroom soup
1 packet onion soup mix
1/2 cup water
Season roast with salt and pepper.
Sear roast on all sides.
Place veggies on the bottom of the crock pot.
Put roast on top of the veggies.
Mix together cream of mushroom soup, onion soup mix and water. Pour over meat and vegetables.
Hawaiian kalua pork and cabbage
Pork roast
1/2 tablespoon of sea salt per pound
1/2 tablespoon of liquid smoke per pound
1/2 to 1 head of cabbage, chopped
Place pork roast in a slow cooker.
Season with salt and liquid smoke.
When there is 2 hours left, add chopped-up cabbage and continue cooking.
Best slow cookers
All-Clad 4-Quart Slow Cooker: available on Amazon
A high-end slow cooker with a 20-hour programmable timer and easy-to-read display. It's dishwasher safe for easy cleaning.
Hamilton Beach 6-Quart Digital Programmable Slow Cooker: available on Amazon
With the included temperature probe tracks, this slow cooker will automatically turn to warm once your food reaches the correct internal temperature. It will also keep at temperature for 24 hours.
Crock-Pot 6-Quart Slow Cooker: available on Amazon
This slow cooker is simple and reliable. It's large enough to cook for the whole family and includes a dishwasher safe ceramic insert and glass lid.
Bre Richey is a writer for BestReviews. BestReviews is a product review company with a singular mission: to help simplify your purchasing decisions and save you time and money.
BestReviews spends thousands of hours researching, analyzing and testing products to recommend the best picks for most consumers. BestReviews and its newspaper partners may earn a commission if you purchase a product through one of our links.
Distributed by Tribune Content Agency, LLC.