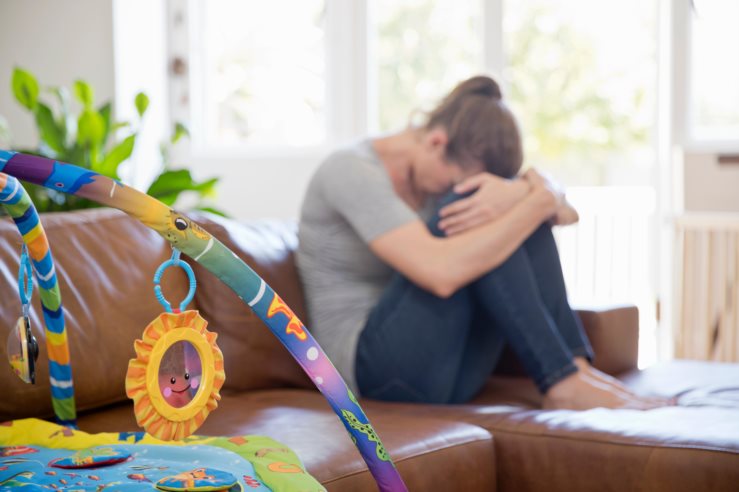 Photo Credit: Alamy Stock Photo
While the U.S. has long been a global leader in healthcare and medicine, the nation is losing its battle with mental health. According to data from the Centers for Disease Control and Prevention BRFSS Survey, almost one in five Americans have been diagnosed with depression at some point in their lives.
The number of Americans diagnosed with depression has been on the rise over the past few years, with an increase of 17.8 percent between 2016 and 2017 alone. Unfortunately, this may underestimate the problem, since more than half of those with a mental illness receive no treatment.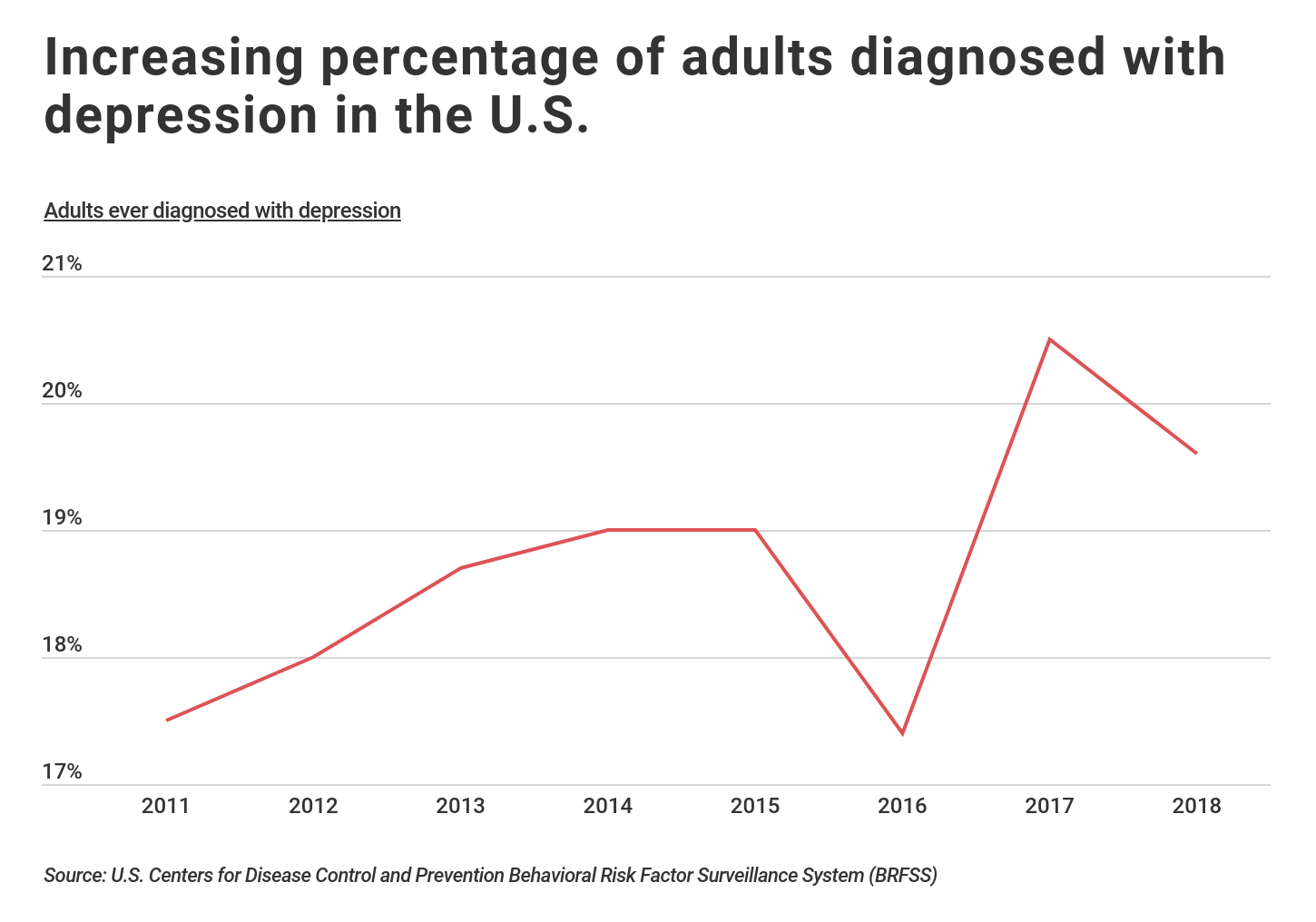 Mental health is a complex phenomenon affected by myriad factors, such as genetics, stress, environment, and physical health. For example, stressful life events are associated with an increased risk of mental health problems.
At the city level, CDC and Census data show that higher divorce rates generally correspond to higher rates of depression. However, whether people suffering from depression are at higher risks of divorce or whether divorce itself increases the risk of depression is debated in the scientific literature.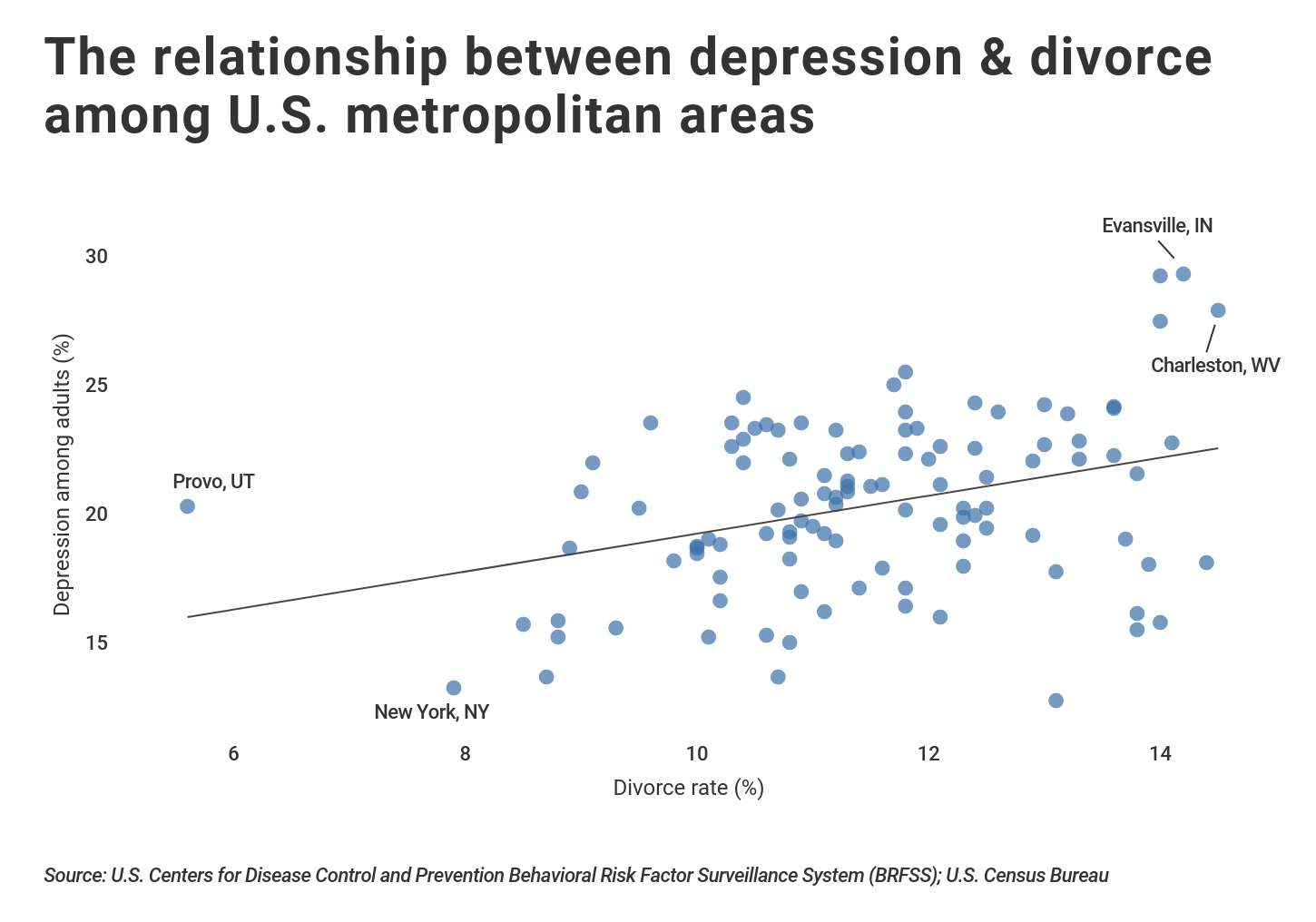 Furthermore, unchecked mental illness can directly affect physical health. Research has found that mental health diagnoses were linked to higher rates of infectious diseases, respiratory diseases, and weight gain. Among major U.S. metropolitan areas, there is a positive correlation between depression and obesity.
The relationship between depression and obesity might be mutual and even reinforcing, since physical and mental health are so closely linked. Those with depression might have difficulty exercising and maintaining a well-balanced diet, increasing the risk of obesity. At the same time, obesity itself may cause or increase the severity of depression due to the associated medical ailments, movement difficulty, and social stigma. Similar to weight gain, the stress and discomfort caused by a physical disability are strongly associated with depression.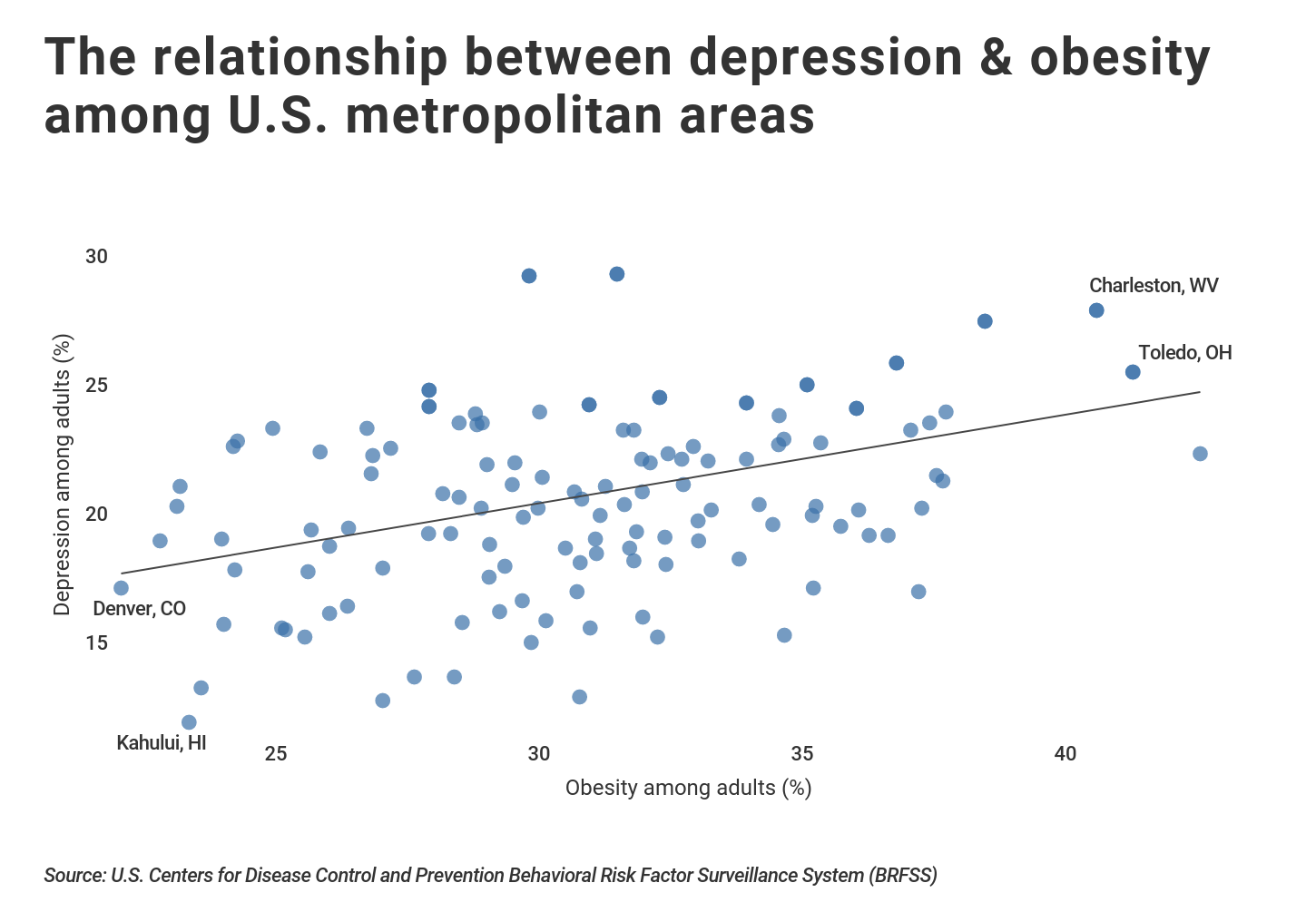 In addition to physical health, financial circumstances and mental wellbeing are also closely intertwined. In a review of 115 studies across 33 countries, medical researchers reported that almost 80 percent of studies looking at poverty and mental illness found positive correlations. In the U.S., rates of depression are closely correlated to average household incomes across metropolitan areas. The average household income in the U.S. is $84,525 per year, and depression tends to be more prevalent in cities with incomes below that threshold.
As with obesity, the relationship between financial health and mental health are often reinforcing. Lack of funds for rent, healthcare, or food increases stress, which triggers or exacerbates mental health issues. At the same time, depression can hinder job performance, worsening one's financial conditions. Furthermore, low-income individuals are often unable to afford adequate mental health treatment.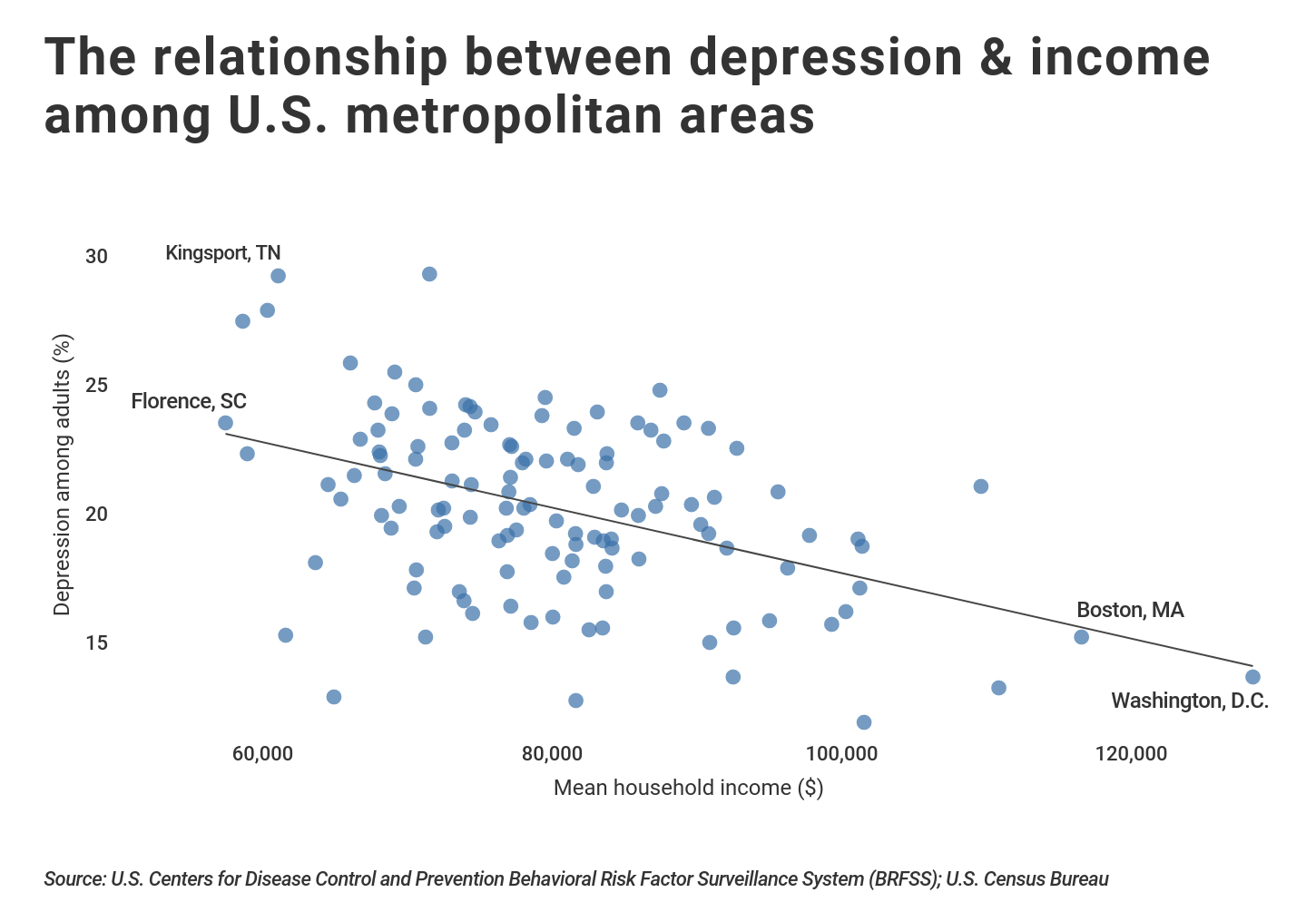 Given the variation in mental health access across the country and the recent spike in depression, researchers from InsuranceProviders.com wanted to find cities that suffer the most from the disease. The researchers analyzed data from the Centers for Disease and Control Prevention SMART Survey to find the percentage of adults in each metro area who have ever been diagnosed with depression. They also used data from the U.S. Census Bureau to analyze a variety of social, economic, and physical health factors associated with depression.
Here are the large metropolitan areas (1,000,000 people and above) with the highest and lowest rates of depression. For additional information on the analysis and complete results for all locations included in the CDC survey, see the Methodology section.
10 metros with the highest rates of depression