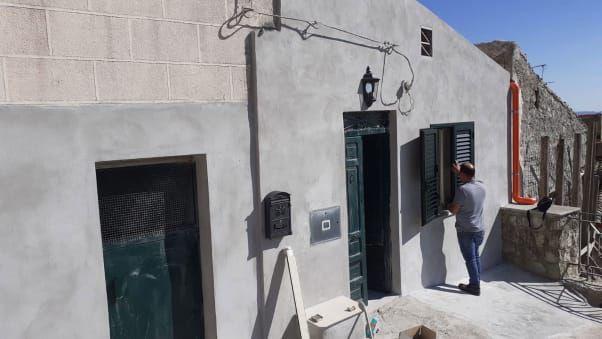 While Tabbone may have found the process relatively simple, things have been less smooth sailing for New Yorker Kenny Sanchez, who purchased a home in Zungoli, Campania earlier this year.
Sanchez says he put in a bid on one of the town's €1 homes on a whim and never thought it would be approved.
"I knew a lot of people would be doing the same and thought I had little chance," he admits. "I did not expect to be granted a home in Italy. It was quite a surprise."
Sanchez visited Zungoli during the summer, and says locals were very welcoming.
However, the home he is now the proud owner of may not be habitable for a few years yet.
"The house seemed like it needs a lot of work," he says. "There are some major things that need to get repaired, including the roof.
"We were able to make the arrangements to renovate it within three years. That time frame should be ample for us to fix the necessary things and make it livable."
The paperwork side of things has also been moving slowly, which means he hasn't been able to move forward with any of the repairs.
"We are still waiting for the contract of sale," he says. "Since we don't have that yet, we haven't been unable to start anything."
Once the renovations are complete, Sanchez plans to travel to Zungoli with his family every year.
"Right now, we are looking to have it as a summer house or a place were we can get some respite from the US in Italy,"
"Zungoli is absolutely beautiful and we're very excited to have this opportunity. "
Many newcomers are considering settling down for good in Italy.
Another purchaser, UK-based Pakistani businessman Muhammad Ramzan, says he would like to enroll his kids at the local school in Mussomeli.
Like Janssen, he too opted for a slightly more expensive house, which he plans, for now, to use as a summer home for his family.
"Television reports were talking about this appealing initiative, I wanted to take a closer look," he said. "I had never been to Sicily nor Italy so had no idea what to expect. After seeing the poor conditions of a dozen €1 houses, I decided to spend more and bought one for €4,200 in need of minimal repair.
"It just requires some painting and my dad, who does that as a job, will be taking care of it."
Ramzan says the real estate agency helped him navigate through the whole process, easing paperwork which took months to complete.
"It can be a bit hard if you come from a different country or area," Ramzan says. "The agency personnel made it all feel more trustworthy, they were really helpful given I needed a translator and the notary deed had to be drawn up also in English."
His three-story dwelling in the historical center features a balcony with a great view of Mussomeli's hilly landscape and the spectacular cliff-hanging fortress, known locally as the Castle in the Sky.
"My wife loves art and the beauty of this place is so inspiring," he said. "Lovely weather. It's silent and peaceful."
He took several trips to Mussomeli before making a final decision.
"I had to see for myself so I met people, the neighbors, we went out for drinks together and became friends. I visited the local school for the kids and took long strolls late at night to see if the place was really safe..
"There's no mafia, people tell a lot of bad stories. There's this prejudice that Sicily is all about 'The Godfather' movie. But during my nights out I saw no danger, everything was quiet and safe."
Sprout new ideas
With our home & garden newsletter!