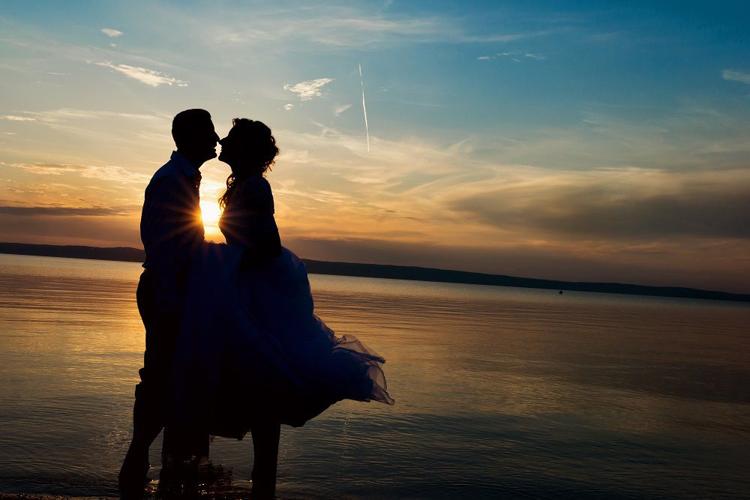 Getting married, buying a home and starting a family have long been major milestones in American life. However, millennials are pushing back these major life decisions, especially when it comes to marriage. According to the U.S. Census Bureau, the median marriage age for women is currently 27.8 and the median marriage age for men is 29.8. In the 1950s, the median age for marriage was significantly lower: about 20 for women and 23 for men.
There are many reasons why millennials are delaying marriage. For example, cohabitation has become more socially acceptable among millennials than among previous generations. Today, 15 percent of adults ages 25-34 currently live with an unmarried partner. In addition, many of these young adults suffer from a lack of economic security, driven by underemployment and lower incomes resulting from the aftermath of the Great Recession. It's understandable that millennials want to be on firmer financial ground before committing to a marriage. The hesitation to tie the knot, though, has contributed to a widening socioeconomic gap among married and unmarried households.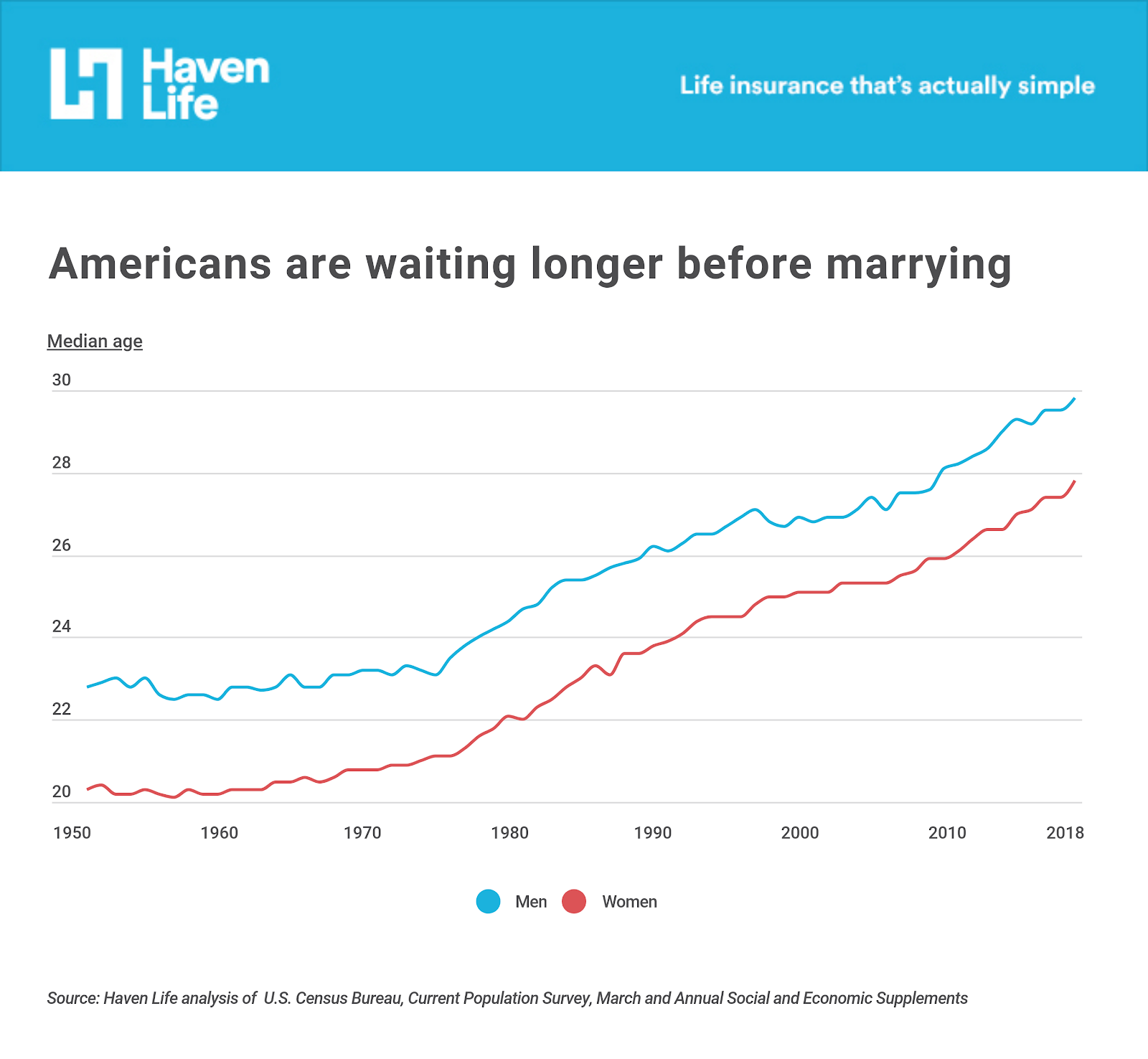 As marriage rates decline, the wealth gap between single millennials and married millennials increases. Research by the Federal Reserve Bank of St. Louis showed that even after adjusting for household size, married young adults' wealth has been consistently higher than that of either single adults or cohabitating partners. (Note: Neither Haven Life nor the information provided in this blog post have been reviewed or endorsed by the Federal Reserve Bank of St. Louis.)
U.S. Census data shows that the median household income for married millennials was $75,000 in 2017, compared to $40,000 for unmarried millennial households and $57,652 for all households.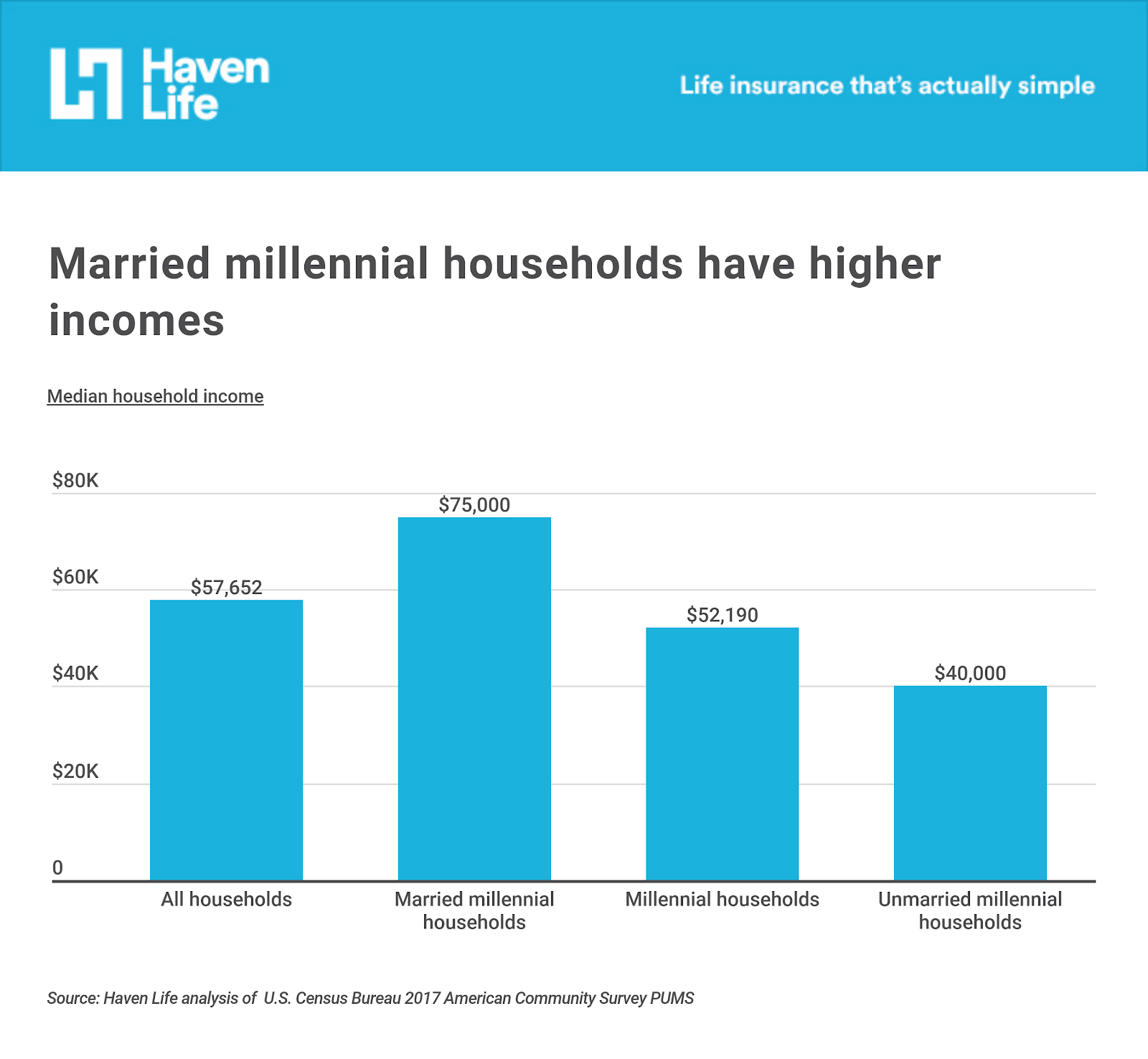 With married millennials benefiting from higher median household incomes, they are also more likely to own a home than unmarried millennials. While the 56.3 percent homeownership rate among married millennial households still trails the national homeownership rate of 63.4, it's more than double the unmarried millennial rate of 22.7 percent.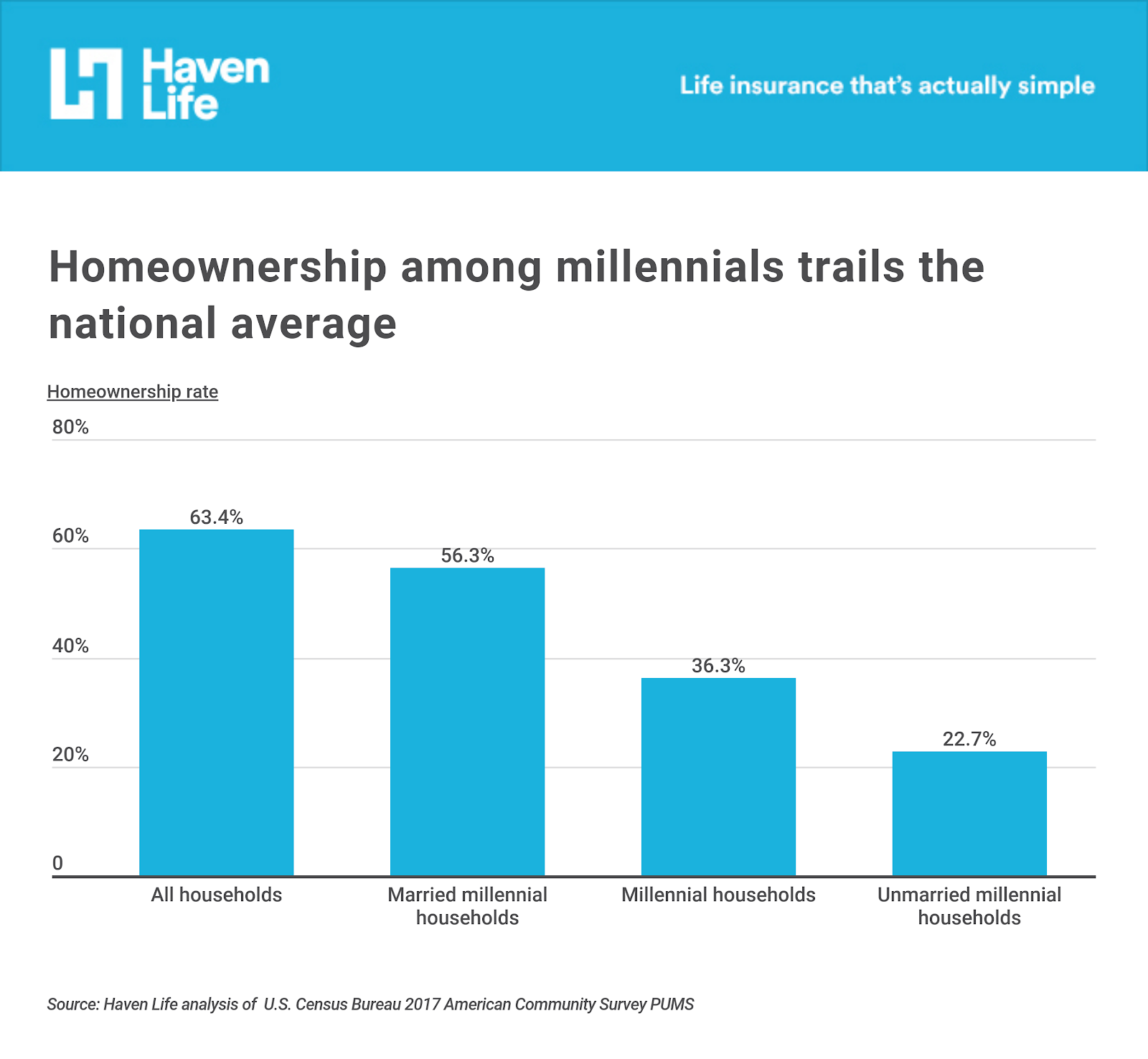 Similar to wealth and homeownership, marriage rates skew higher among the highly educated. According to Pew Research, as of 2015, 65 percent of college-educated adults over the age of 25 were married, significantly higher than the 50 percent marriage rate among those with a high school education. By contrast, in 1990 the marriage rate was above 60 percent for both of these groups.
Nationwide, 32.9 percent of all millennials are currently married. However, in certain cities, the millennial marriage rate significantly outpaces the generation's average. To identify these cities, researchers at life insurance agency Haven Life analyzed data from the U.S. Census Bureau American Community Survey. For each metropolitan area—grouped into large, midsize, and small metros based on population—Haven Life, an online life insurance agency that sells term life insurance, looked at marriage rates, homeownership, income, and the proportion of households with kids. Here's what they found: