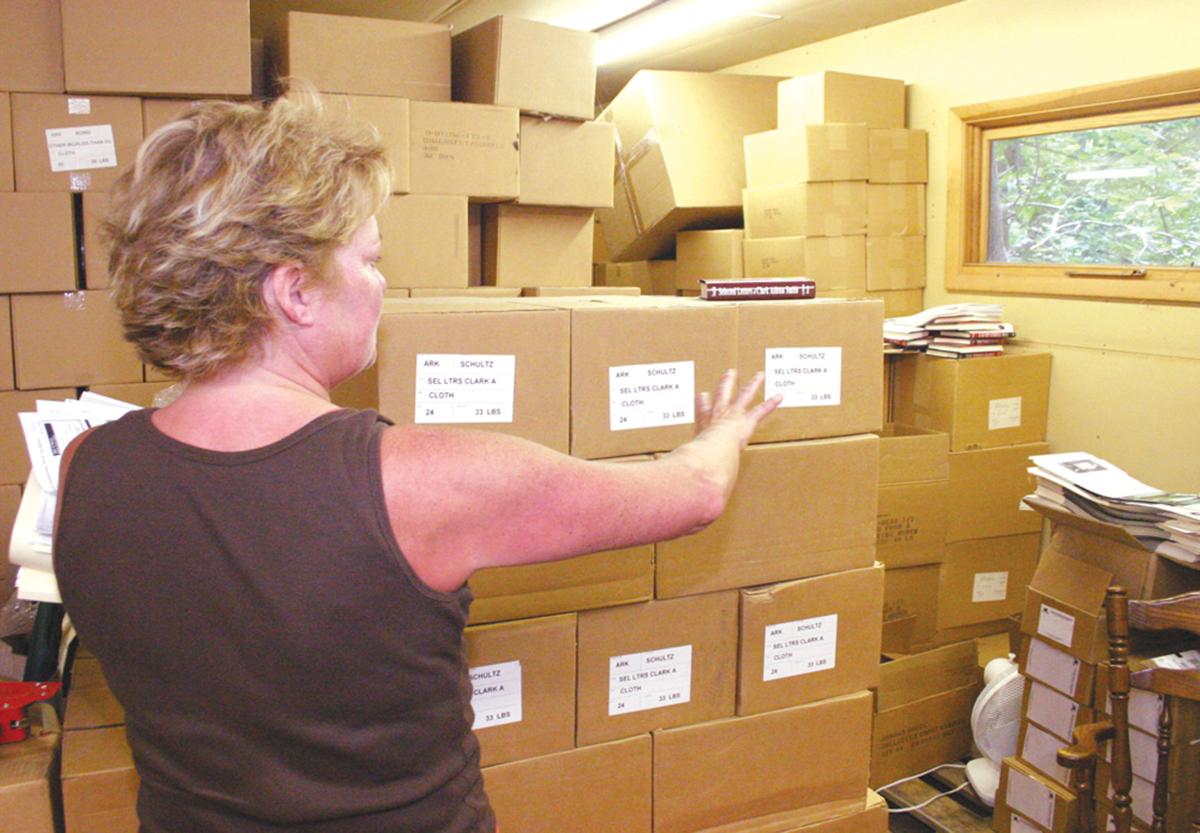 The Arkham House publishing firm plans to resume releasing horror and science fiction books after taking a few months off to adapt to the unexpected death of its president April Derleth, daughter of the company's co-founder Wisconsin author August Derleth.
April, 56, was found dead in her Sauk City home March 21, said her mom Sandra Kiser, who lives in Phoenix. Kiser said April lived alone in the home her father named the "Place of Hawks" when he built it early in his career at the end of a long, secluded driveway across from St. Aloysius Cemetery.
Kiser said April suffered from high blood pressure and her health had been in decline in recent years. April's brother, Walden Derleth, said she died of natural causes.
Sauk County Coroner Greg Hahn said he investigates the cause of most home deaths in the county and said he would be surprised if the cause of death was due to anything but natural causes.
Walden said April's children, Damon Derleth and Danielle Jacobs, both adults, would inherit their mother's majority ownership of Arkham House Publishing, Inc. Walden said he has a minority stake in the company.
"They do plan at some point in the near future - right now everything is temporarily suspended - that once probate is finished they can get (Arkham House) back and up running," Walden said. "Once we finalize everything dealing with April's death, they will continue the business."
April began overseeing Arkham House in the mid-'80s and became the company's majority shareholder and began running its day-to-day operations in the '90s when she quit her job as vice president for sales and marketing at Mueller Sports Medicine.
In a 2008 interview with the Eagle, April said she tried to maintain a schedule of publishing one to two books a year, but that the book industry was volatile and she hadn't maintained that pace. Like her father, she filled book orders herself and ran the business out of a long, rectangular shed her father had built behind the house.
At the time, April said the books of H.P. Lovecraft accounted for nearly 80 percent of the company's sales. August and co-founder Donald Wandrei started the company in 1939 for the sole purpose of publishing the works of the horror author they helped make one of the most famous authors of the 20th century.
"He thought if he didn't publish (Lovecraft's work), it would end up in an attic or basement and never be seen by the public," April said in 2008.
When April hired Arkham House's current editor George Vanderburgh in 2009, the company hadn't published a book in three years. Although the company no longer was as influential as it had been in its prime, Vanderburgh said the name Arkham House retains its cachet.
"I have been absolutely fascinated by the brand identity Arkham House has, virtually every writer of horror and science fiction read Arkham House books as children and they all think very fondly of August Derleth publications and the ability of Arkham House to draw collections together," Vanderburgh said.
The company has published a long list of notable authors including Robert Bloch, author of "Psycho," Ray Bradbury, Robert E. Howard - creator of Conan the Barbarian - and Clark Ashton Smith.
Vanderburgh said April encouraged him and his business partner, Bob Weinberg, a book seller who specialized in Arkham titles, to pursue a plan of publishing one new book of fiction every year and one book from Arkham's extensive back catalog.
"I think basically my plans would be to carry on the proud traditions of Arkham House publications to the best of my ability and to the best of Bob's ability," Vanderburgh said.
Kiser, who married August in 1953 and divorced six years later, said that although running Arkham was a struggle for April, she enjoyed it.
"Arkham House was what August wanted to be his legacy, and I think April did a good job (continuing it)," Kiser said.
- Emily Bialkowski of the Sauk Prairie Eagle contributed to this report.