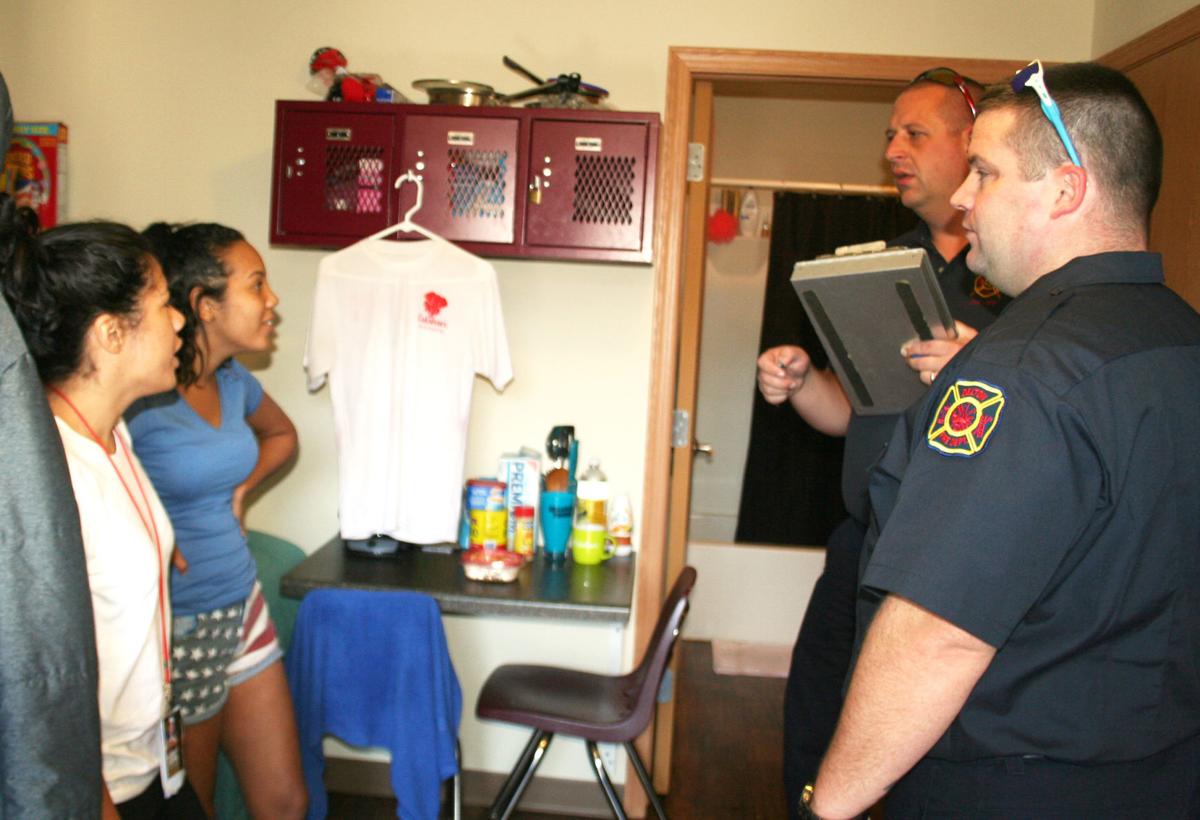 WISCONSIN DELLS — Dan Bullock, an executive with Holtz Builders Inc., which manages Hiawatha Residence Hall in Wisconsin Dells, confirmed Friday that two J-1 students at the facility have tested positive for COVID-19.
"We've been working closely with Sauk County Health Department and Lake Delton Emergency Management and others to ensure proper social distancing, performing medical evaluations on all of the students and arranging for proper quarantining for any students or staff who may have been exposed," Bullock said.
J-1 student visas are facilitated through a program meant as a cultural exchange in which international visitors live and work in the United States.
Bullock said one of the people who tested positive for COVID-19 was living at the dormitory when it was discovered and the other student was no longer living there.
Sauk County Health Officer Tim Lawther said the first case was positive Monday and the second found to be positive on Tuesday. Health officials were on site Wednesday morning, he added. The county health department contacts anyone who has been potentially exposed once they learn of a positive case.
Of about 190 Hiawatha residents, some people are presenting symptoms consistent with COVID-19 while others are not.
They are not testing anyone for the virus, Lawther said. A shortage of available tests is partially to blame. The county does not possess enough tests to conduct one for each person at the facility, he said. None of the staff or students are currently experiencing severe enough symptoms to qualify for a test.
Occupants of the dormitory were broken down into three categories: isolation due to symptoms, quarantine due to potential exposure but without symptoms and those with no exposure nor symptoms for the last two weeks.
Those without symptoms and who have not been possibly exposed to the coronavirus are part of the largest group, Lawther said.
Quarantine for 14 days began after officials interviewed individuals, Lawther said. Those in isolation may be released within a few days, he added. They are required to isolate for seven days after they exhibit symptoms and be symptom-free for 72 hours before they are released.
The facility generally houses up to four students in a room. Students were moved to individual rooms unless family members indicated they wanted to be together. Bullock said none of the students have been removed from the property.
Food is being supplied through community support to the 180 students being kept at the dormitory building. The students have a refrigerator, freezer and microwave in their room for meal preparation, according to the Delton Fire Department. They are being kept safe, Bullock added.
Lawther said officials are consistently monitoring their symptoms to ensure public safety. Some of the international students may be able to return to their home countries once they finish their time in isolation or quarantine, he added.
Delton Fire Department Chief Darren Jorgenson also serves as director of the Lake Delton Emergency Management department. A social media statement posted by the department announced a need for "Facts Not Fear" late Thursday.
"There is some misinformation out there about the J-1 students currently residing at the Hiawatha Housing dormitories," according to the statement. "Get the facts straight from the source and help us dispel any crazy rumors please."
Lawther noted that the county has been "constantly" dealing with rumors about COVID-19.
"There's lots of misinformation out there," he said. "The major message for us is, 'You know, yeah, this is serious and you should take it seriously and you should stay home whenever possible.' … You should assume it is on your street and act accordingly."
Follow Bridget on Twitter @cookebridget or contact her at 608-745-3513.
Concerned about COVID-19?
Sign up now to get the most recent coronavirus headlines and other important local and national news sent to your email inbox daily.