Traditions of African tribes and the American supper club coincide this summer in Portage.
Exhibited from now until the end of August at Trail's Lounge Supper Club is "The Land of 1,000 Hills," showcasing African carvings and photographs from the three years Portage residents Melody Brooks-Taylor and her husband, Stewart, spent living and working in Rwanda.
Patrons seated in the supper club — perhaps enjoying the mobile salad cart or prime rib or homemade grasshopper pie — might contemplate in the dimmed lighting the ceremonial masks and freestanding figures used in rituals of the Congo.
"They're fantastic, high-caliber pieces, and our customers so far have been very impressed," Trail's Lounge co-owner Pat Madani said.
It might be easy for residents to sometimes forget the supper club offers art exhibits, but it has offered them regularly for more than 20 years, said Madani, herself an artist.
"It helps us; it helps them. They make the joint look classy," she added with a laugh. "There aren't many places for artists to show their work."
In 2012, the Taylors joined a program called Human Resources for Healthcare started by the Clinton Health Access Initiative, the program involving 17 U.S. universities. The Taylors partnered with Rwandan medical schools in an effort to improve medical education in the country, Brooks-Taylor explained.
Stewart Taylor is a retired orthopedic surgeon — the fifth generation in his family on his mother's side to practice medicine in Portage, tracing back to the Civil War surgeon named Dr. William Meacher. Brooks-Taylor is a retired operating room nurse and current executive director for the Museum at the Portage.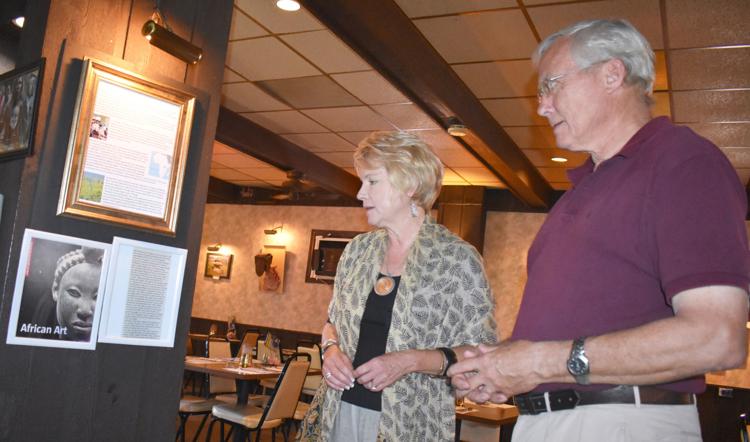 "I really fell in love with these pieces," said Stewart Taylor, a frequent visitor of natural history museums since childhood. "They open a lot of latitude for interpretation, but it is always helpful to have tangible evidence of the sophistication of other peoples.
"You'll see the work of their hands — the superiority of their craftsmanship. You'll see it has value."
About 18 exhibit spaces allow for contemplation of the roles that art and religion play in African society — "important because Africans are largely abandoning their religions of the past," Taylor said.
Trademarks of the modern world, such as the mass production of goods, have drastically reduced the ability of natives to connect to their past, and that makes preservation and review of ceremonial materials especially meaningful.
"I think the main thing we want people to see is the artistic quality of the creations they have," Brooks-Taylor said. "We want people to get a better appreciation of the beauty of their cultures and art.
"But for the Congolese who made these objects, this was not art. They are ceremonial, ancestral pieces, and you could spend a lifetime studying them."
The enormity of the Congo and its hundreds of ethnic groups and languages informs exhibit pieces, Brooks-Taylor said. Twentieth-century sculptors and artists like Pablo Picasso were greatly inspired by the ceremonial objects of African tribes — the objects seen as abstract and centered primarily on the human form.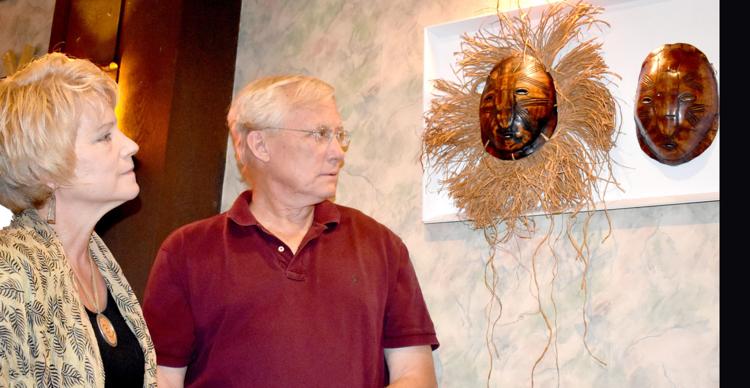 "We learned so much there. We made really good friends, and what I value is the quality of those friendships," Brooks-Taylor said of living in Rwanda, which was continuous apart from their traveling home for Christmas.
"We're far more conscientious citizens; we think more globally."
Rwanda is well known in America for genocide that occurred there in 1994 — the Health Access Initiative considered by many to be the "mea culpa" of then-President Bill Clinton, Brooks-Taylor said — and many Rwandans still live in extreme poverty. None of this, however, is emphasized in the exhibit.
"That's not what they're about. They're about family, community," Brooks-Taylor said, remembering how the people would get together each month to work on various community projects. "I tell people all the time that we learned more from them than they learned from us."