Members of AmeriCorps' National Civilian Community Corps removed fencing along a boundary of Ho-Chunk Nation lands and Devil's Lake State Park on Wednesday to promote healthy ecosystems and wildlife movement between the properties.
The project was one of several the team of seven will complete during a seven-week stint in Sauk County. The group also is assisting with trail maintenance, home construction and environmental restoration alongside nonprofit, state and federal organizations.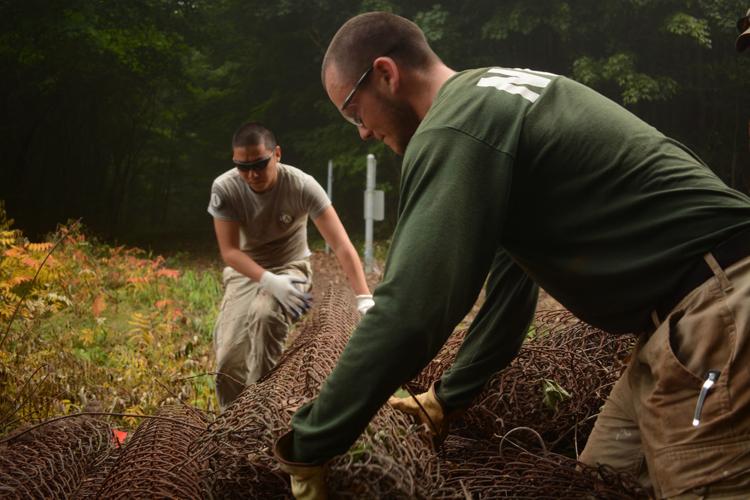 "We're meeting a lot of really passionate people," said NCCC outreach liaison Casey Booth. "Working with these groups, it's refreshing to see how involved people are. It makes the work worth it when you talk to these people and see how much it means to them, and how much it means to the community."
The AmeriCorps team is assisting the Nature Conservancy, Ho-Chunk Nation, Wisconsin Department of Natural Resources, U.S. Dairy Forage Research Center, Baraboo Range Preservation Association and Habitat for Humanity of Wisconsin River Area with a host of projects.
The crew is repairing and maintaining trails at Devil's Lake State Park, the Hemlock Draw Preserve and the Sauk Prairie State Recreation Area by installing new tread and water control structures, and clearing debris and vegetation.
The team is also restoring the grasslands and oak savanna ecosystems of the Badger Lands by posting boundaries and survey point markers, and removing barbed-wire fencing and invasive plant species. The team's final project will help build two new, energy efficient homes.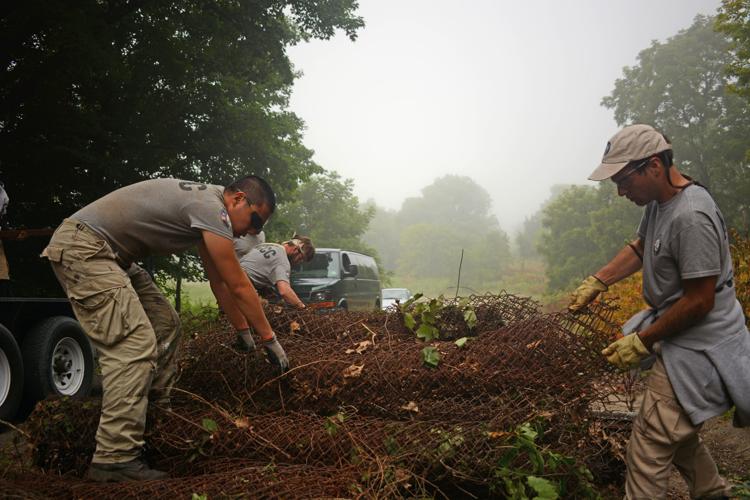 "These young people are super dedicated and they have a great work ethic," said Randy Poelma, Ho-Chunk Nation environmental science program manager. He oversaw the fencing removal between Devil's Lake and Ho-Chunk property Wednesday.
"They're very respectful of me, the project and themselves," Poelma said. "They're not afraid to do the work, and they have a good attitude about it."
AmeriCorps NCCC is a full-time program for young adults. Members from across the country develop leadership skills and strengthen communities by completing service projects during a 10-month period. The projects address community needs with an emphasis on disaster relief.
Members of the Nature Conservancy filled out the application to bring the AmeriCorps team to Sauk County. Nature Conservancy Project Coordinator Ann Calhoun said several staff members served with the organization in the past and believed the area and collaborating groups could benefit from its volunteer work.
"This crew really is helping provide valuable management and stewardship to some of these beautiful places in Sauk County where lots of people recreate," Calhoun said. "It also provides opportunities for those young individuals to grow and build their skills and knowledge about these places as well."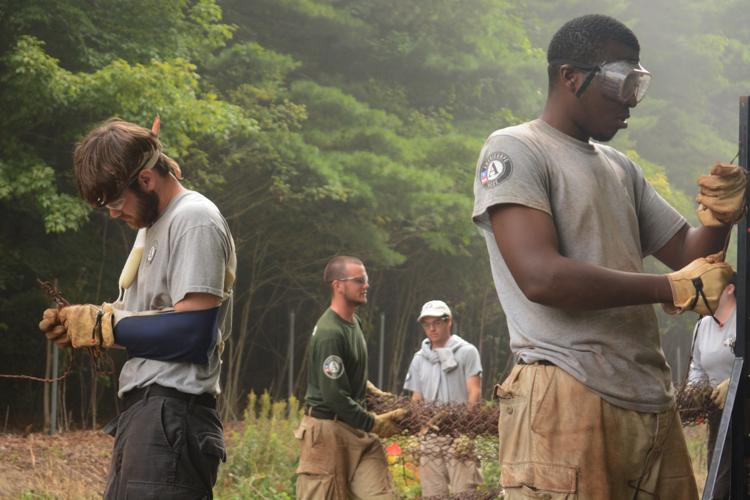 The group also is conducting independent service projects in communities across the county. Members volunteered at a Sauk City relay for life, constructed infrastructure at Baraboo River Equine-Assisted Therapies and helped out at the Reedsburg Arts Crawl. Team members are planning an additional service project from noon to 4 p.m. Aug. 26 to remove invasive plant species at the International Crane Foundation.
"It's really nice to come back to these communities and say I worked here for seven weeks and people actually know who you are," Booth said. "We're getting to have fun while also volunteering and helping people out."