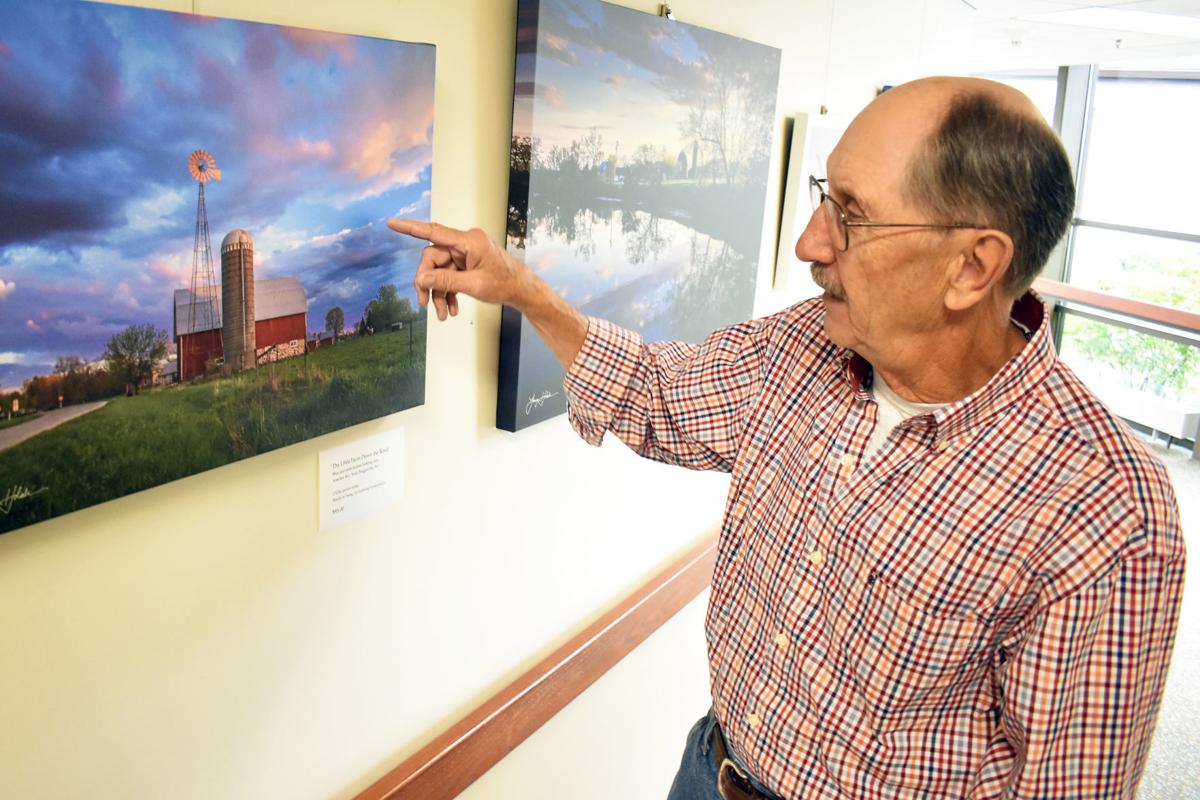 People often forget how beautiful their home state is, but Larry Holak is not among them.
In his new exhibit at Tivoli nursing home in Portage, Holak displays photographs taken within a few miles of his home in the Portage-area countryside.
They include the fawns that played right outside his window, sunsets at Lake Mason and the old farm on Anacker Road near Briggsville.
"Every time I go there, the picture is different," he said of "The Little Farm Down the Road," admiring, once more, how the sun hit the barn on that particular day. "Sometimes I stay for an hour and watch the colors change."
He titled his exhibit "Nature's Textures" — two-thirds of the 44 photographs were taken in Wisconsin.
One day, Holak photographed three baby badgers that emerged alongside Highway 51 near Poynette. On another day, he photographed hundreds of swans at Goose Pond Wildlife Area near Arlington, and on another he photographed dancing sandhill cranes near Briggsville.
Holak finds beauty in the rock formations of Wisconsin Dells, the bridge at Durward's Glen in rural Baraboo and Hyde's Mill in Iowa County.
"I think sometimes people forget what's around us," said Kathleen Jahn, the visual arts committee chairwoman at Portage Center for the Arts and the entity that oversees the 3-month-long galleries at Tivoli. "The landscapes in this part of the country really are amazing."
Holak, 75, has taken pictures since the late 1950s when he acquired a Brownie box camera with a tiny lens that took black and white photographs. His passion for the visual arts carried on through the decades, he said, including his 37 years as a graphic designer for Oscar Mayer in Madison, where he designed the product packaging. He and his wife travel often, evidenced by his photographs of Mount Rainier and Yellowstone national parks.
The beauty of Wisconsin is "not hard to see if you have an eye for it," Holak said of the photographs printed on canvas. Autumn is the time of year when Holak frequently takes his fishing boat to the Upper Dells to admire the rock formations, but there's really no way of predicting what he'll find when he exits his front door.
He once spent 2 hours photographing snowy owls in Stevens Point, he said, an experience that reminded him of what it means to stay diligent. "You look down for one second and that's when they decide to take off," Holak said of photographing owls. "That happens a lot."
A piece of advice he offers aspiring photographers is to get up early, both for the colors at sunrise and capturing Wisconsin wildlife you don't regularly see in the daytime.
"I also tell people to look behind you," Holak said of sunsets, in particular. "You'll often get a more beautiful picture when you do that because (the sun) is lighting up the clouds or the trees."
Many of his photographs are priced "not much more than the cost of a sweatshirt," Holak said, encouraging the community and travelers alike to consider purchasing them as Christmas gifts for their loved ones. "I don't want to lug them all home with me," he added with a laugh. "I think you'll enjoy them."
Follow Noah Vernau on Twitter @NoahVernau or contact him at 608-695-4956.
Get local news delivered to your inbox!
Subscribe to our Daily Headlines newsletter.