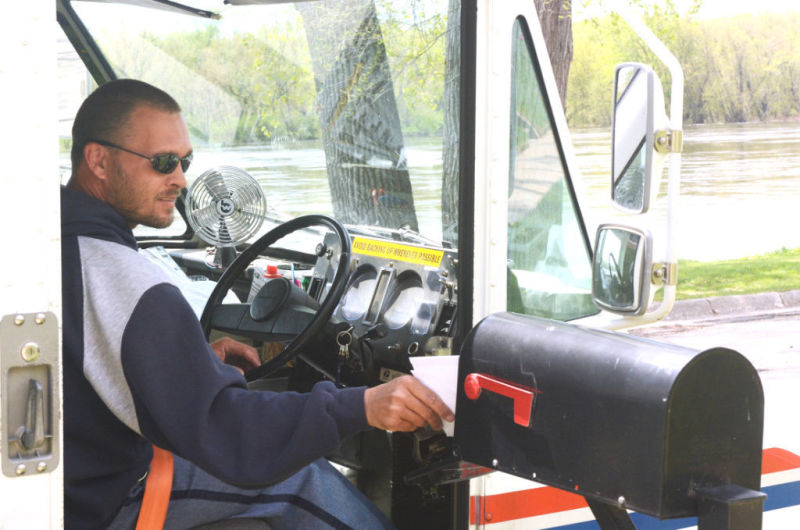 WISCONSIN DELLS — Neither rain nor sleet nor snow nor a runaway rental truck stopped a postal carrier from making his appointed rounds in Wisconsin Dells on Saturday.
But James Little of Portage said he doesn't consider himself a hero for jumping into the truck's empty cab and braking it to a stop before it hit any people or other vehicles.
"I just did what I thought I had to do, I guess," Little said.
On Saturday, Little was on foot, delivering mail on Church Street in Wisconsin Dells.
Driving behind him was his fiancée, Ashlee Schell, who was helping him collect donations for area food pantries as part of the U.S. Postal Service's annual Stamp Out Hunger campaign.
The truck — that kind that people rent to haul large items — had been parked at the curb, when all of a sudden, it started rolling backward.
Little saw something else, too — a boy, age about 10 or 11, grabbing onto the truck's front bumper in an attempt to stop it.
Little said he yelled for the boy to get out of the way, which the boy did.
Then, Little tried the driver's side door of the truck and found it unlocked, so he jumped into the cab, steered the vehicle and applied the foot brake, then the emergency brake — not an easy feat, since the keys weren't in the ignition.
After rolling about 10 feet, the vehicle was stopped — sticking out slightly into the road's traveled portion, but safely stopped without striking anyone or anything.
Little said he knocked on the door of the house nearest where the truck had been parked, and found someone who had the keys, and could drive it back to the curb.
Then, Little finished delivering the mail on his route.
Wisconsin Dells Postmaster Stephanie Warren said Little — a city carrier associate who also sometimes delivers mail in Portage — told her about his little adventure shortly after he got back from making his rounds.
"I heard bits and pieces of the story," she said.
It remains to be seen whether Little might be in line for some kind of formal commendation from the U.S. Postal Service.
But for sure, he has the gratitude and admiration of his boss.
"Jim's an awesome, amazing carrier," Warren said.