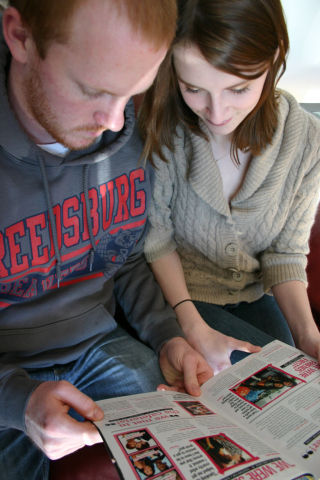 When Jordyn Schara and Kevin Sorenson met in their high school cafeteria, it was like a cliché 80s movie scene. She was a freshman and he was in his senior year at Reedsburg Area High School.
"It's almost cheesy how we met," Schara said.
That "cheesy" story won the couple a spot in a teen magazine.
The two were recently featured in Seventeen magazine as one of four "Best Couples in America." The article, "Find Your Real Love," written by Lindsay Schallon, is in the February issue of Seventeen, currently on newsstands.
Schara, 19, and Sorenson, 22, didn't start dating right after their initial meeting because he was planning on going away to college in Platteville. A few years later, he was home on a break and he texted Schara.
"We reunited after that," Sorenson said, and, in a move that would make Molly Ringwald proud, the couple stayed in touch by writing letters.
"It's old school," Schara said. "It's nice getting something in the mailbox."
She said they text, email and sometimes her boyfriend sends her flowers.
"It's a lot of communication," Sorenson said.
Schara, who is now a college freshman at UW-Madison, knew she was in a great relationship, but decided to enter the contest on a fluke.
"I subscribe to Seventeen magazine and I saw the call for nominations in it," Schara said.
She said the original contest was calling for the "best boyfriend in America," so she didn't hesitate to let the magazine know about Sorenson. Later, the focus of the article changed to couples – and their story charmed the magazine editors.
"We were chosen as one of the four cutest couples in America," Schara said.
Her boyfriend added, "There were hundreds of applications."
"We thought it was funny," Schara said of winning the contest.
She said the article was written for other girls to help them find their "own true love."
This romantic couple is planning a trip to nearby Baraboo for their upcoming Valentine's Day celebration.
"We are planning to go to the Barn Restaurant, then to the Broadway Diner for dessert," Schara said.
When her friends found out about the article, they couldn't resist a little teasing.
"We get teased over the article, about how cute it is," Schara said.
Her boyfriend, who plans to attend the police academy next summer, said, "Nobody teases me."
In the future, the two plan to move to the Sauk Prairie area and, Schara said, "We're just planning on staying one of the cutest couples in America for a long time."
Be the first to know
Get local news delivered to your inbox!