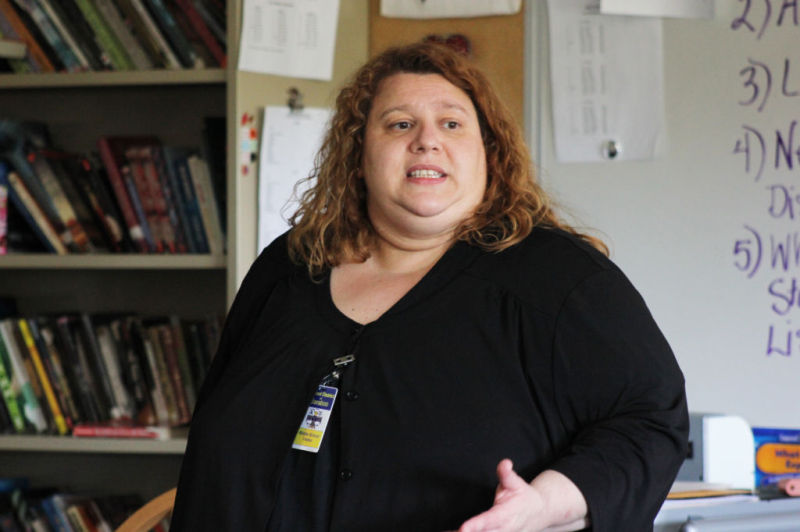 Local middle and high school students received a visit Friday from Madison-based author Emily Kokie, who read from and discussed her debut young adult novel "Personal Effects."
The book provides a glimpse into the life of a teenage boy, Matt, whose older brother, T.J., was killed in Iraq. After T.J.'s belongings arrive at the family home, Matt's journey through grief takes several unexpected turns that result in a deeper understanding of the soldier and a meeting with his partner, Curtis.
Kokie, who writes under the name E.M. Kokie, read the last few pages of the book to middle school English teacher Jane McMahon's tiered intervention group at the end of the school day. Kokie had spoken to about 50 Baraboo High School students earlier.
The opportunity came about after McMahon attended a 50th anniversary celebration for the University of Wisconsin-Madison School of Education's Cooperative Children's Book Center and decided to bid on a silent auction package that included some copies of the book and a visit from Kokie.
"I had read the book," McMahon said. "I knew it was fabulous, and I knew that I was going to get that item, and so I bid until I did."
The teacher said she knew the novel, which has been chosen as a Read On Wisconsin title, would resonate with her students. They have been listening to her read selections from it.
"When you can bring an author in and add that extra layer of insight, I just feel like it's such a powerful experience," McMahon said.
Kokie, an attorney who works as an investigator for the State of Wisconsin, answered questions about topics ranging from character development to research, the writing process and getting published.
"How did you have such clear insight into the mind of a teenage boy?" one student asked.
"I think we're all more similar than we are dissimilar," Kokie said.
She talked about her process for understanding the character of Matt, getting in touch with his experiences, his feelings and his anger over his brother's death.
"It's OK to be angry," she said. "I thought it was OK to show that."
Kokie said she also invited several male friends to read her work and offer suggestions about how to make Matt's character as authentic as possible.
She offered some advice for youngsters who want to pursue their own writing.
"Write everything that you can," she said, encouraging the group to experiment with different themes, forms and styles of writing.
Take time to read, Kokie advised. "When you read, you're exercising the same muscles as being a writer."
The first draft of "Personal Effects" took Kokie 10 months to write, and she wrote about 10 more drafts before the book was finally ready for publication.
"After years of writing but never finishing anything original," Kokie said, she had challenged herself with finishing a novel-length piece. The young adult genre felt like a natural one to pursue.
"I feel like it chose me," Kokie said of her audience. "My partner is a librarian, and there is a never-ending flow of books through the house that are written for kids and teens, and I read a lot of them. And then I got hooked and started reading everything I could."
Kokie said teens' lives are filled with important milestones, transitions and discoveries.
"I'm attracted to stories about those moments where we define ourselves," she said. "And that happens more for teens than it does for anyone else on the planet."
Kokie said Friday's visit allowed her to interact with her readers, to hear their feedback and see firsthand some of the ripples the novel has made in their lives.
"You can see the connections it's made between (the students) as much as the connections it's made between them and the text," Kokie said. "And that's really incredibly neat."