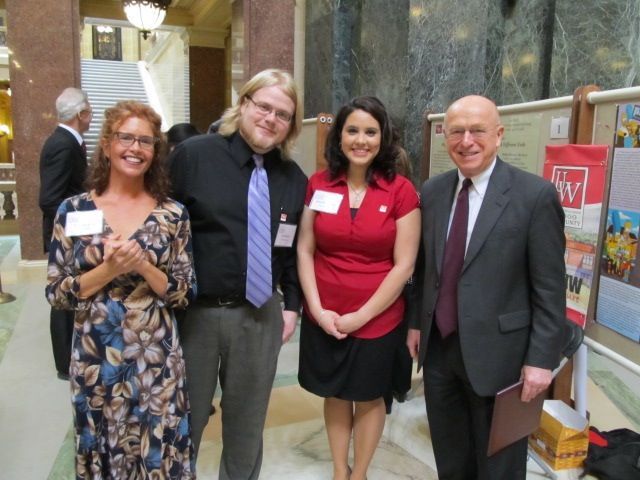 What would happen if everyone simultaneously threw away their weapons and joined hands across the globe?
Some might say a period of world peace would ensue. Others may counter that the weaponless population would be left vulnerable to attack.
Writers of the long-running Fox TV show "The Simpsons" mock the latter argument in an episode that aired in 1991. After the weapons are trashed, poorly armed aliens invade, and the people of earth are powerless to defend themselves.
"Really? If we have world peace, aliens are going to take over with sticks and rocks? Really?" said Gina Gomez, a UW-Baraboo/Sauk County student who researched the hit show along with classmate Jay Klamer.
Gomez said the sarcasm in that episode has a clear message, and is just one example of the type of biting humor writers have used throughout 23 seasons of the show — a satirical depiction of a middle-class American family.
What started as a literary analysis of the cartoon series for an English Composition class evolved into an honors project that dug deep into the symbolism of "The Simpsons" and its commentary on American culture.
Their report, "Ignored Warnings: Horror and Humor in The Simpsons," was one of two UW-BSC projects on display at the state Capitol last week as part of an annual event that highlights the research of UW System undergraduates.
Gomez said she was surprised to learn during her research that some of the show's writers previously had penned articles for national publications, and many had attended Ivy League schools.
"What (Gomez and Klamer) found was there's just an enormous amount of cultural symbolism in 'The Simpsons,'" said UW-Baraboo/Sauk County Assistant Professor of English Frances Auld. "It's smart humor and it's beautiful cultural commentary. There was one critic who said 'The Simpsons' is like the cave painting of the 20th century. What they were really getting at was: This is something that really deserves our attention and analysis."
Auld and Stephen Getsinger, a UW-BSC senior lecturer in psychology, were faculty advisors to the students that presented at the Capitol last week.
Gomez and Klamer say the show's characters represent 20th century American stereotypes: Lisa the overacheiving student, Bart the teenage troublemaker, Marge the loving mother and Homer the middle-class father.
Another UW-BSC project that appeared at the ninth annual Posters in the Rotunda in Madison used theories of developmental psychology to explain why Queen Elizabeth I and Marilyn Monroe met such different ends.
UW-BSC student Lisa Smith said she chose to focus on the lives of those two characters because they represented two very different points in history.
"They seem to be polar opposites in some ways," Smith said.
While Queen Elizabeth I bonded with her tutors and developed a coherent sense of identity, Marilyn Monroe knew her mother only briefly, bounced around to foster homes and had a fabricated identity.