Challenges present for premature birth in rural Wisconsin
Having a baby can be one of the most joyous times for any family, but if a child is born too early it can spin a jubilant moment into uncertainty and chaos.
"A lot of people have a plan in place and when a baby starts to come early it isn't part of it," said Ashley Mucek, senior development manager for the March of Dimes western Wisconsin market.
According to the March of Dimes website, a baby is considered preterm if it is born under 37 weeks gestation. Those born between 36 and 34 weeks gestation are classified as late preterm while those born between 32 and 28 weeks gestation are considered very preterm. A baby born less than 28 weeks gestation is considered extremely preterm.
Recent data released from the Centers for Disease Control shows preterm birth rates increased two percent throughout the nation in 2016. Preterm and late preterm birth rates have risen in 17 states, including Wisconsin.
According to the March of Dimes, each year in Wisconsin one in 11 babies are born premature and 417 will die before they reach their first birthday.
When a preemie is born, parents are thrust into the world of the neonatal intensive care unit for weeks or months while their baby overcomes setbacks from brain bleeds to lung complications. Many of these effects may continue long after a family has left the NICU.
Besides possible medical setbacks, families of premature babies face other challenges from access to medical care to transportation to NICUs – especially those who live in rural areas.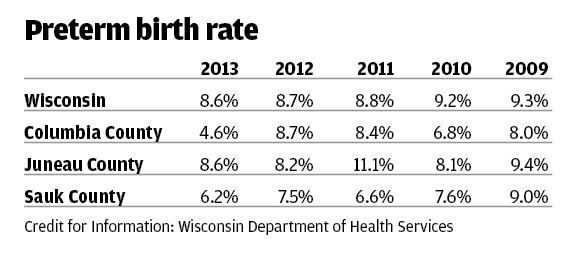 Causes
While some causes of preterm birth can be preventable, for others there isn't a clear answer.
Dr. Suzanne Welsch, an OB-GYN at Sauk Prairie Healthcare Hospital in Prairie du Sac and Prairie Clinic in Sauk City, said about 15 percent of the patients in her practice are categorized as a high-risk pregnancies. She said there are many ways for women to be considered at high risk, from a preexisting medical condition to other circumstances.
"It's not a same recommendation for everyone because there's so many different ways people can be considered high risk in a pregnancy," Welsch said.
While smoking and alcohol use have been shown to contribute to preterm labor and preterm birth, she said the most common cause is considered "idiopathic."
"Meaning we have no idea," she said. "That's really hard to try to deal with and all we can do as obstetricians is really be on the lookout and educate our patients what to look for at visits."
Welsch said some "relatively common categories" for preterm deliveries are twin pregnancies, previous preterm delivery and miscarriage. Hypertension and high blood pressure disorders may cause preterm delivery.
"The only way to deal with severe high blood pressure in a pregnancy is to deliver the baby," Welsch said.
Jodi Tomaszewski of Mauston developed hemolysis, elevated liver enzymes, low platelet count syndrome and preeclampsia, which caused her to have her daughter, Charli Tomaszewski, 15 weeks early. According to the March of Dimes, both complications can lead to high blood pressure and organ failure. About two in 10 pregnant women who develop preeclampsia have low platelet count syndrome.
"My hands were swollen, my face was swollen and I looked like the Stay Puffed Marshmallow Man," Jodi Tomaszewski said.
The doctors couldn't give her a clear answer why she developed the symptoms.
"They (the doctors) said, 'Your body is just not made to incubate babies,'" Jodi Tomaszewski said.
Kally Kohl, of Portage, had a normal pregnancy for about 18 weeks. Then her doctor said she already was six centimeters dilated. She was transported to Meriter Hospital in Madison and, three days later, her son Mason was born at 23 weeks gestation, weighing 1 pound, 8 ounces.
"It was my body that wasn't tolerating the pregnancy," Kohl said. "That was harder for me to wrap my head around and to not be able to carry past 24 weeks was really tough."
Medical obstacles
When a baby is born too early, there are several medical obstacles that may have life-lasting effects.
Because the lungs are one of the last components of the body to develop in the womb, a breathing tube is inserted as preemie babies' lungs develop.
Paola Fliman, medical director and neonatologist at St. Mary's in Madison, said Respiratory Distress Syndrome is common because preemies lungs can't produce surfactant, a protein to keep the lungs expanded. Because preemies can't receive medication orally, they have to receive surfactant through the breathing tube.
Fliman compared the experience of a when a preterm baby takes its first breath to blowing air into a balloon.
"You need to use a lot of effort to get that balloon to open," she said. "If a baby doesn't have surfactant, every single time they take a breath it's like blowing into a balloon for the first time."
Dr. Jason Ankumah-Saikoom, a pediatrician at St. Clare Hospital in Baraboo, said if a child is born under 30 weeks gestation, illness can be a greater threat than for other infants.
"The main thing is they are more susceptible to being sick, some general respiratory illnesses and they tend to get sicker more severely," Ankumah-Saikoom said.
Ankumah-Saikoom said former preemies also may have challenges with growth and development when they come home from the NICU.
Fliman said preemies born below 32 weeks may have other significant medical challenges such as brain bleeds, anemia of prematurity and Necrotizing enterocolitis.
After she was born, Charli Tomaszewski received two blood transfusions and was resuscitated twice. She had bradycardia, a collapsed lung, pneumonia spells, a heart murmur and other pulmonary complications. She was treated at American Family Children's Hospital in Madison and later taken to Children's Hospital of Wisconsin in Milwaukee for additional surgeries.
While she is full of confidence at five years old, because the functional heart murmur and chronic lung disease, Charli Tomaszewski can have challenges handling heat in the summer. She also has gestational intestine complications from a feeding tube and is attending a feeding clinic in Milwaukee to assist her with properly ingesting food. She is taking occupational therapy to help her grow and develop.
"There are some muscles they are working on to stretch and get stronger," Jodi Tomaszewski said.
Extended hospital stays
Stephanie and Steven Anderson, of Reedsburg, were living in St. Louis at the time their son Elijah Anderson, now 6, was born. Elijah Anderson was born 10 weeks early, weighing 3 pounds, 12 ounces and 17 inches long.
In order to leave the NICU, he had to gain weight, bottle feed on his own, sleep in an open crib and maintain his body heat. Stephanie Anderson said before coming home, Elijah had complications with maintaining his body heat in a crib and also had a heart murmur.
"He ended up having a balloon angioplasty at nine months," she said.
While medical setbacks were "very stressful" in the NICU, Stephanie Anderson considers him "very lucky." Stephanie Anderson recalled one family who had a set of twins in the NICU for 10 months due to digestive and feeding complications. The only major setback Elijah Anderson had was growth challenges and last year he had hernia surgery.
"There were kids that were almost a year old that were still (in the NICU) when we left," she said. "There were kids going home on oxygen … we feel very lucky and blessed that he did not have a lot of things that other babies had."
Kally Kohl and her husband Ben, would commute to Madison for all 118 days Mason Kohl was in the hospital. One of the most "traumatic looking" procedures for Kally Kohl to watch was holding her son through eye exams for retinopathy of prematurity, a disease where abnormal blood vessels can cause loss of vision.
"You can't explain to a baby that they need to sit very still and they need to keep their eyes open," she said.
Throughout every exam Mason Kohl would cry and his oxygen and breathing levels would decrease. While a lot of the procedures were difficult, Kally Kohl said it was very important for her and her husband to be there for him.
"We wanted to let him know no matter what happens at the end of it we are still going to be there," Kally Kohl said.
Medical expenses
Every battle comes at a cost. When a preemie is fighting for their life in the NICU, the high medical expenses cause a heavy financial impact on families, businesses and even taxpayers.
According to the March of Dimes, a premature baby can cost families up to 13 times more than a baby born at full-term. This ranges from medical care costs in the NICU to any medical costs after the family leaves the NICU. Each year in Wisconsin, the medical and societal costs of preterm birth is around $323 million, with each premature and low birth weight baby costing employers over $50,000 — compared to over $4,300 for a baby born without complications.
Nationally, 11 percent of premature babies are covered under employer health plans with businesses paying up to 12 times as much in health care costs.
Mucek said while medical expenses slightly decrease after a family leaves the NICU, the cost of having a premature baby is "astronomical" for everyone involved.
"If you're employed and you have insurance through your employer, (the employer) ends up paying a lot of that insurance cost of a preterm baby," Mucek said.
Stephanie Anderson estimates her son's stay in the NICU cost about $130,000. The family had insurance and she only saw medical bills for a couple hundred dollars worth of copays.
"If it wasn't for insurance it would be so unaffordable," she said.
Medicaid assistance
Jodi Tomaszewski didn't have insurance and "nearly fainted" when she received a $1.5 million medical bill in the mail. She was told by the social workers at the NICU said her daughter's medical expenses would be covered.
Elizabeth Goodsitt, communications specialists for the Wisconsin Department of Health Services, said in an email if the mother is not eligible for Medicaid and the premature baby meets a certain gestation age or birth weight the baby, "may have met the eligibility criteria" to receive Medicaid, even if parents are covered by insurance.
"Medicaid coordinates with commercial coverage for members who have both Medicaid and private insurance," Goodsitt said. "Medicaid pays after private insurance."
Even though Kally Kohl's insurance through her employer covered a majority of the medical costs, because Mason Kohl was born so small and early, he qualified for Medicaid. Medicaid picked up some of the surgical costs which weren't covered by insurance. In his first year of life, Mason Kohl's care and appointment costs reached $2.3 million.
"Without it we literally would have lost everything," Kally Kohl said.
According to the Wisconsin Department of Health Services Information and Enrollment Benefits web page, to qualify for BadgerCare Plus, recipients must be under the age of 18, with an income at or below 300 percent of the poverty level. The recipient must be a Wisconsin resident and a U.S. citizen.
Goodsitt said based on gestation age and birth weight premature babies may be eligible for Medicaid because they qualify for Supplemental Security Insurance, which is a program administered by the Social Security Administration.
"SSA does take birth weight and gestational age into account when determining if a child meets disability requirements," Goodsitt said.
Jodi Tomaszewski said her daughter is on her father's insurance plan, but it doesn't cover much of her medical needs.
"She's got two health care benefits," Jodi Tomaszewski said. "If the first one doesn't cover the benefits, Medicaid covers it."
Both Jodi Tomaszewski and her daughter still receive SSI benefits because both of them are classified as disabled.
"It's definitely a hard subject to talk about," she said.
But with proposed changes to the nation's health care laws, funding for Medicaid programs could change. The Better Care Reconciliation Act of 2017 – which is waiting to be approved by the Senate – proposes a cap on the amount of money the federal government gives to states for Medicaid. The March of Dimes estimates the cuts could result in an estimated of 6.5 million women of childbearing age losing health coverage.
Mike Murray, policy director for the Wisconsin Alliance for Women's Health in Madison said federal funding of Medicaid would decrease by $800 billion over the next 10 years.
"It would be a very relevant thing to someone who had a newborn in the NICU because those NICU cost can go over what those caps are pretty quickly," Murray said. "Wisconsin would have to make some type of very difficult decision of who they would continue covering under Medicaid and what services they are going to continue covering."
Specialized care
Because most rural hospitals don't have the medical equipment to properly care for babies born below 37 weeks, families will be transported to a hospital in the Madison area with a NICU.
"They require specialized nursing and pediatric care," said Susan Davidson, a high-risk obstetrician at St. Mary's in Madison. "These babies have to be monitored."
When Stephanie Anderson was discharged from the hospital a week after Elijah was born, he remained in the NICU for a month.
She was told she could call any time and the doctors would provide updates on how Elijah was progressing. Even though she knew he was in good hands, she still felt he "wasn't where he was supposed to be."
"After I was wheeled out and got in the car that's when it hit me the most," she said. "I thought 'Wait a minute, I'm forgetting something. Why is he still here? I need to be here with him.'"
In the coming days, she said developed postpartum disorder because of feeling "helpless" for her son being born so early as well as feeling guilty for having not having a "normal" pregnancy.
"I could shut it out, but I couldn't," she said. "You just sit there and cry and be depressed and not speak to anybody. My mom would be asking, 'Aren't you glad you had a baby?' And I couldn't answer her. I just didn't have that emotion."
The Andersons lived 20 minutes away from the NICU and Stephanie Anderson visited her son almost every day.
"My husband would take me up there before he went to work or a friend of mine would," she said. "I would be up there all day until he was done with work so he could come see him."
When her family moved back to Reedsburg, she had to find doctors outside of the Reedsburg area because the nearby hospitals didn't have the staff or resources to accommodate her son.
"We don't have any pediatric cardiologists (in Reedsburg)," Stephanie Anderson said. "Within a bigger city you have so many different options. You do not have to drive an hour away like we have to."
Davidson, who also practices at St. Clare Hospital in Baraboo every other week, said providing childcare also can be a challenge for those who live in a rural area.
"It's hard for them to leave home," Davidson said. "It's hard for them to get to Madison. They don't have anybody to take care of the children they already have. If they have a car they don't have gas money."
Because Jodi Tomaszewski was living in Reedsburg at the time she had Charli, she often stayed at the Ronald McDonald house in Madison.
"At that time it was the ultimate and most safe place for me to heal and rest while she was in the NICU," Jodi Tomaszewski said.
Fliman said a lot of NICUs, including the one at St. Mary's, have developed single patient rooms to help families and babies feel more comfortable. Fliman also said the NICU at St. Mary's has four Ronald McDonald rooms in the hospital for parents to stay if the 18 bedroom Ronald McDonald House in Madison is full.
"It's a special place for the parents to be able to sleep and stay if their babies are in the NICU," she said.
Fighting back
While the recent data from the CDC may seem daunting, organizations at the national and county level are working to reduce the number of preterm births.
The most recent data available on premature birth from 2013 showed Columbia County had the lowest premature birth rate in the state at 4.6 percent, more than a four percent decrease from the year before.
Susan Lorenz, Health Administrator and Public Health Officer for the Columbia County Health Department said one of the reasons for the decrease is the health department offers Women, Infant and Children's clinics in Portage and satellite clinics in the city of Columbus and the village of Cambria.
"So people don't have to drive to Portage," she said. "We're trying to get to the other part of the county."
Health departments from Juneau, Sauk and Columbia counties offer programs to help women have healthy pregnancies through Prenatal Care Coordination. Healthy Beginnings is offered in Columbia County and Sauk County offers additional assistance through a maternal child health program.
All three counties offer WIC programs and Nurse-Family Partnership, a program where a first time, low-income mom living in the county the program is offered are assigned a public health nurse until the child reaches two years old.
The NFP is different from both PNCC and Healthy Beginnings where a public nurse is with the mother and child for two months after birth. Additional NFP agencies in Wisconsin are in Adams, Dane, Madison, Eau Claire, Chippewa, Kenosha and Milwaukee counties.
Lorenz said independent research has shown for every dollar invested in NFP society can yield as much as $6 in return.
Some of the benefits of the program range from a decrease in food share and welfare by age five to a 44 percent reduction in maternal behavior problems due to substance abuse.
Welsch said she strongly advises women who have early signs of preterm labor to immediately seek medical help. She also advises women to have a preconception consultation with their doctor before getting pregnant, especially if patients have underlying health problems such as preexisting high blood pressure and diabetes.
"At that point we can optimize their health before they even get pregnant," she said.
The March of Dimes has launched a prematurity campaign to reduce the percentage of national preterm birth to 8.1 percent by 2020 and 5.5 percent by 2030. Some of the interventions of the campaign include expanding group prenatal care and reducing tobacco use among pregnant women.
For 2017, the March of Dimes Western Wisconsin Market has a goal to raise $592,000. Around 87 percent of the money raised will go towards research and grants to find out why premature birth happens.
"We want to make sure we raise as much funds as we can so we can get answers," Mucek said.
To help raise money for the prematurity campaign, Kristie Maurer, who owns Maurer's Market in the Wisconsin Dells, will be doing a round up campaign. Through the month of September and October, with any purchase made at Maurer's Market customers will be asked to "round up" their purchase to the nearest dollar.
"If its $10.12 they can round it up to the next dollar and those additional cents will go to the March of Dimes Campaign," Maurer, who also serves on the March of Dimes Wisconsin Board of Directors, said.
Maurer's Market will also participate in the Signature Chefs Auction in Madison this coming November, to help raise money for prematurity research and provide awareness of premature birth.
"We (all) know one family whether it's a family member of ours, or an employee of ours, or someone who shops in our store," she said. "If they have a child who is born premature that has an impact. We want to do whatever we can do to end prematurity."
Families are also telling their stories to provide awareness.
Stephanie Anderson, participates in March for Babies events with her family around Wisconsin. She said it's important to tell her and her son's story to educate other families about premature birth.
"All parents need to be educated in case something was to happen because you don't think it's going to happen to you until it does," she said.
Contact Erica Dynes at 608-393-5346 or on Twitter @EDynesSports.