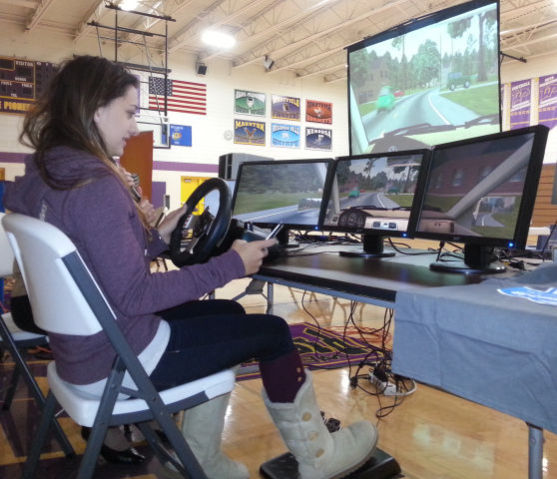 More than 500 Westfield students learned Monday about the dangers of texting and driving and were urged to take the pledge to never text behind the wheel.
Westfield Area High School and Middle School teamed up with AT&T, AAA, the Wisconsin State Patrol and State Rep. Joan Ballweg, R-Markesan, as part of the It Can Wait movement to remind students that text messages can — and should — wait until after driving.
"In today's world of instant communication, we know how tempting it is for our teen drivers to text behind the wheel," David Moody, principal of Westfield Area High School, said in press release from AT&T. "But our students need to know that not only is texting and driving against the law, it is very dangerous and can be deadly."
Students were given the chance to use AAA's distracted driving simulator and were shown a documentary called "The Last Text" that shares real stories about lives altered or ended by someone's decision to text and drive, according to the press release.
The third anniversary of the state's ban on texting while driving was Monday.
"We've taken a strong step forward in making our roads safer by making texting and driving illegal," Ballweg said in the press release. She voted in 2010 for Wisconsin's ban. "But we must continue to educate all drivers, especially our teens, about the dangers. There is no text worth dying for."
Wisconsin's law prohibits sending an email or text message while driving and imposes a fine of up to $400. As a primary enforcement law, officers may stop and ticket drivers solely for texting. Wisconsin is among 41 states that ban text messaging by all drivers.
Texting while driving causes more than 200,000 car crashes on American roads each year, according to the National Safety Council.
Research shows that speaking up against texting while driving works. A connectsafely.org survey sponsored by AT&T found that:
• 78 percent of teen drivers say they're likely not to text and drive if friends tell them it's wrong or stupid.
• 90 percent say they'd stop if a friend in the car asked them to.
• 93 percent would stop if a parent in the car asked them to.
• 44 percent say they would be thankful if a passenger complained about their texting while driving.