At last, the Ochsner Park Zoo's otters have some bling to wear. So do the gates of the Sauk County Fair, a downtown crane sculpture and the Meat Market's trademark bull.
All are sporting jewelry custom-made by Baraboo pastor and artist Lisa Newberry, who opened an exhibit Tuesday at the Al. Ringling Theatre's gallery. She adorned photographer Cliff Nieuwenhuis' images of familiar local sights with custom-made necklaces, pendants and earrings. Titled "You Gotta Love Baraboo," the exhibit will be on display throughout May. A reception is set for Friday evening.
"There's so much to celebrate, why not celebrate Baraboo?" Newberry asked.
She started making jewelry as a girl, stringing beads. Three years ago she got more serious about her hobby, creating an Etsy page, setting up shop at shows and establishing an exhibit at Cornerstone Gallery downtown. "I'm pretty lucky that I get to put my hobby on display," she said.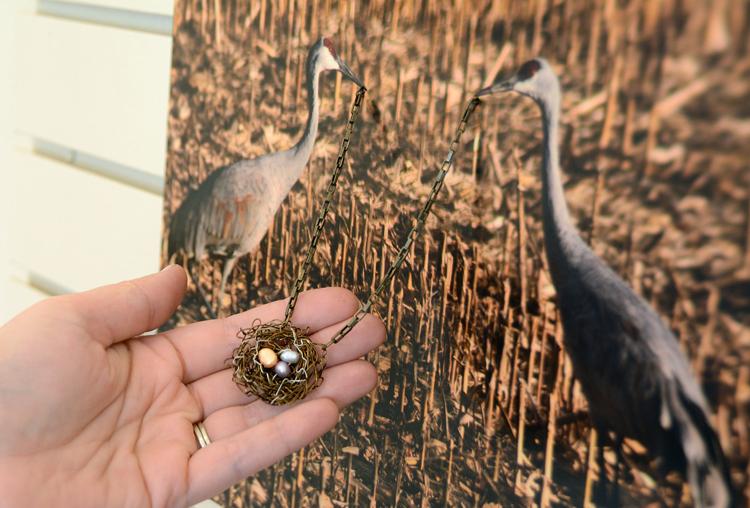 Newberry uses various techniques to create jewelry. She uses a process called electroforming to encase objects in copper. She also does lampworking, using a blowtorch to melt glass. "I kind of like having my hands in all the jewelry cookie jars," she said.
Pairing her jewelry with Nieuwenhuis' photos gave both a chance to grow artistically. "Without his photos, my jewelry would just be little rocks hanging on the wall," she said.
Nieuwenhuis said he was excited about having jewelry set into his pictures. "I haven't seen anything put together quite like that before," he said. "It was an interesting challenge."
Newberry balances her hobby with her career, serving as pastor at First Presbyterian Church downtown. Her pieces are inspired by the world's natural beauty, a blessing she tries to pass on to others through art. "I think we're all meant to create something," she said. "I feel like this is the beauty I have to offer right now."
Every now and then she sees her work gracing the necks and ears of local residents. "How cool is that, to see your own work walking down the street?" she asked.
By month's end Newberry and Nieuwenhuis hope to see several of their pieces come off the walls. Then it won't just be the zoo otters wearing Newberry's bling.