Everything about Baraboo Toy Soldier Shoppe is miniature, from the inventory to the floor plan.
Brenden McDaniel does business in a 175-square-foot room featuring a love seat and dozens of display cases. The shop is bursting with toy soldiers, of course, but also circus figurines, miniature cannons, model cars, G.I. Joes and dozens of other curiosities. It's the only toy soldier shop in Wisconsin.
"I'm trying to find out what the locals like," McDaniel said.
He and wife Jody opened the shop in August. It's one of several second-floor businesses operating above Corner Drug Store. The couple came from West Allis after McDaniel sold an organizing business that landed him on the "Hoarders" television series. He chose Baraboo because of his affinity for circus history and collectibles.
Unlike his former clients, McDaniel is a collector, not a pack rat. The business grew out of his personal collection, with the inventory expanding to include a vast array of items. "What I've learned is it can't always be stuff I like," he said.
On Feb. 23, Baraboo Toy Soldier will hold a grand opening celebration that will feature the release of two custom-made miniatures. They depict Circus World ringmaster Dave SaLoutos and Executive Director Scott O'Donnell in his Dusty the Clown costume. Only a few hundred will be made, and McDaniel is fielding orders from the performers' friends as well as collectors around the world. They're being custom-made by W. Britain Toy Soldiers and Model Figures.
"I'm going to keep it limited," McDaniel said.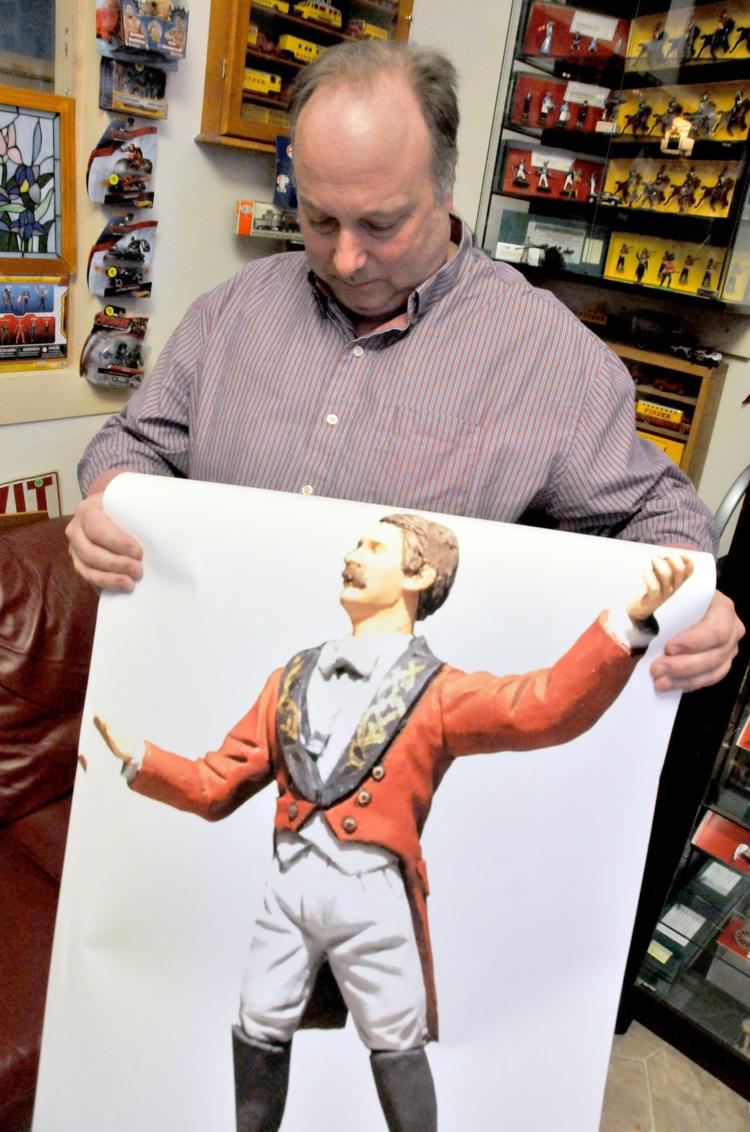 You have free articles remaining.
Shoppers will find collectibles depicting Popeye, "Dr. Who," superheroes and characters from "The Simpsons." McDaniel stocks miniatures made from bullets, bowling pins and sawdust. He's looking to expand into more space in the second-floor complex. "We're constantly expanding," McDaniel said. "As we get bigger, we'll carry more stuff."
Downtown Baraboo Inc. President Deirdre Marshall said the complex serves as an incubator, giving startups a chance to grow.
"The smaller, less-expensive second-floor retail and office spaces provide specialty shops like Baraboo Toy Soldier an economical way to start their business in a unique, welcoming setting for shoppers," she said.
The venue, like much of McDaniel's inventory, has vintage appeal. "The original wood staircase, vintage glass door at the top and creaky wood floors have always made me feel like I'm getting a peek into downtown Baraboo's past," Marshall said.
McDaniel said he isn't interested in growing into a street-level storefront. His shop already has become a destination, with collectors traveling hours to visit. The community of people who collect miniatures is a small world.
"It's a really cool feeling Saturday morning when kids are waiting at the door," McDaniel said. "We're becoming known now around the world because of the circus figures."
He acquires items at shows, thrift shops and flea markets, as well as online. McDaniel accepts interesting trades and is willing to haggle over purchase prices. He wants to see the shop's treasures go to good homes where they're appreciated.