Gov. Tony Evers' plan to spend $600 million more on Wisconsin's roads over the next two years comes as welcome news to municipalities like Baraboo that are struggling to find money for repairs.
On Thursday, Evers proposed raising the gas tax by 8 cents per gallon, increasing fees for heavy vehicle registrations and titles, and imposing a surcharge for hybrid vehicles. Plus, his proposed budget would reinstate inflationary gas tax increases abolished in 2006.
"We're all going to have to share the burden so it's feasible for everyone, to make sure we're not passing the buck onto the next generation," Evers told the Legislature in introducing his budget. His two-year spending plan will require approval from the Senate and Assembly.
Evers said local municipalities shouldn't have to enact "wheel taxes" to afford road repair. He vowed to increase aid to local governments 10 percent. Baraboo leaders explored creating a wheel tax — an additional vehicle registration fee — until voters rejected the idea in an April referendum. The $20 fee would've raised about $275,000 per year.
The city borrowed $1.8 million for road work last year in an effort to complete overdue repairs, work that was delayed due to flooding. As state transportation aid has dwindled, municipalities have been forced to explore funding options, such as the city's current push to secure grant funding to repair Lake Street. Baraboo received $767,000 in transportation aid in 2011, but only $577,000 five years later.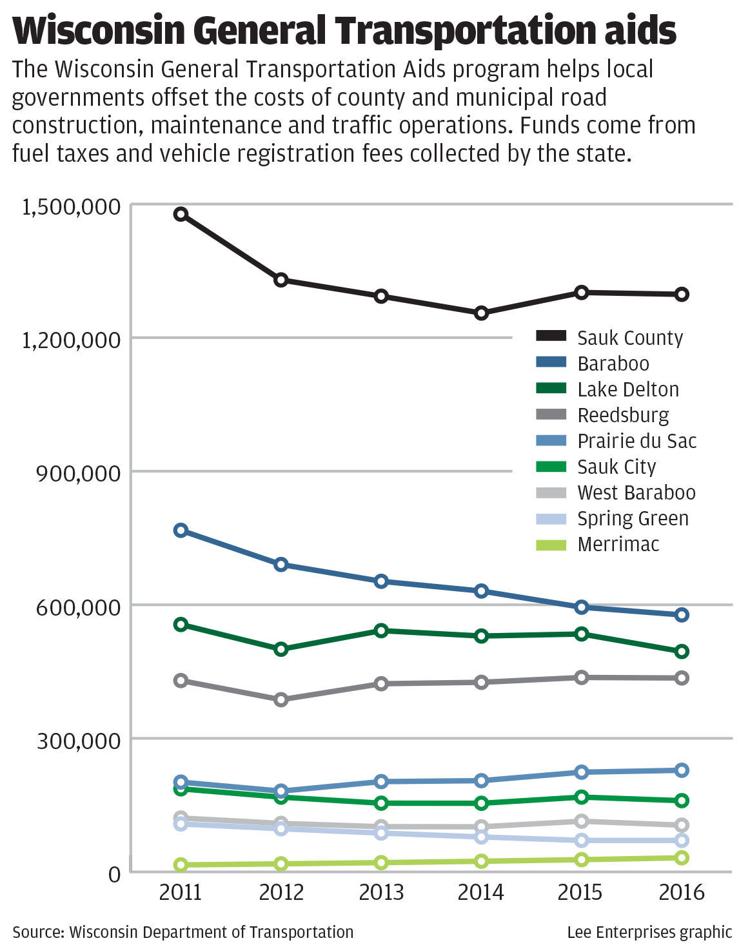 Mayor Mike Palm said good roads are critical to the community's economy and quality of life. "It's going to be costly to fix the roads, but it'll be more costly not to," he said.
Evers said Wisconsin industries such as retail stores, agriculture, tourism and manufacturing supported 1.4 million jobs last year. About $580 billion in goods are shipped across the state each year. Citing a 2018 report, Evers said the state's poor roads cost taxpayers $6.8 billion each year via transportation delays, vehicle costs and accidents.
"It's bad for our economy; it's bad for our pocketbooks," Evers said. "It's time to find a long-term solution to our transportation crisis."
Palm said it's frustrating that Baraboo drivers will have to wait five years to drive on a repaired Highway 33, which finally made its way into the Department of Transportation's queue for reconstruction projects last year. The city spent $500,000 on its own to repair the state road's outer lanes in 2016.
"That's a long way off," Palm said.
State lawmakers typically can be reluctant to raise taxes and fees, as constituents bristle. But Wisconsin's road network has fallen into such disrepair that legislators are considering all options, including tollways.
"It's always an unpopular decision when it costs you more money," Palm said.
Evers said consumers won't be stung by the gas tax increase if the state eliminates its minimum markup law for fuel, which bars retailers from selling gas for less than cost by setting a baseline price. The governor's office claims the elimination of the markup, a Progressive Era law meant to protect small locally owned companies from price-gouging by large corporations, would mean drivers would actually save money: 14 cents per gallon at today's gas prices.
Senate Majority Leader Scott Fitzgerald, R-Juneau, called the governor's proposal to repeal the minimum markup a "shell game." Speaking after Evers' budget address, Fitzgerald said some Senate Republicans would embrace the elimination of the minimum markup law, but called the overall proposal "disingenuous" because it would be tied to a gas tax increase.
Assembly Republicans similarly proposed raising taxes on fuel while repealing the minimum markup during 2017 budget deliberations. They were rebuffed by Senate Republicans and then-Gov. Scott Walker. Republican lawmakers including Fitzgerald have shown openness to toll roads, but some conservative Republican senators stand ready to block any type of tax or fee increase.
Evers made boosting the state's 32.9-cent gas tax to pay for roads a key component in his plan to find a long-term funding solution.
"For years, we've kicked the can down the road on this issue, and we can't afford to do it again," Evers said.