There was a time when Beaver Dam's Swan City Park was the center of social life for miles around, attracting throngs of people from throughout the region and as far away as St. Louis and New Orleans.
Dr. George A. Swan was the mastermind, and made his fortune first as a homeopathic physician and later selling "Pastilles for Women's Weaknesses" across the country. He also patented and sold a shoe heel that literally put a spring in one's step, among other inventions. His legacy will be celebrated June 19 when the Dodge County Historical Society hosts Swan Park History Day from 1 to 4 p.m. at Swan City Park.
Speakers will explain the history of the area, from its Native American spring to the early 1900s when the city purchased it as its first public park, to the legendary Indian and Circus nights, attracting up to 10,000 people. The tour will involve stops at historic sites in the park including the hotel, the band shell, the Spring House, Monkey Island, the barrel filling facility and the Tourist Park (now the bath house for the wading pool).
The presentation has been years in the making.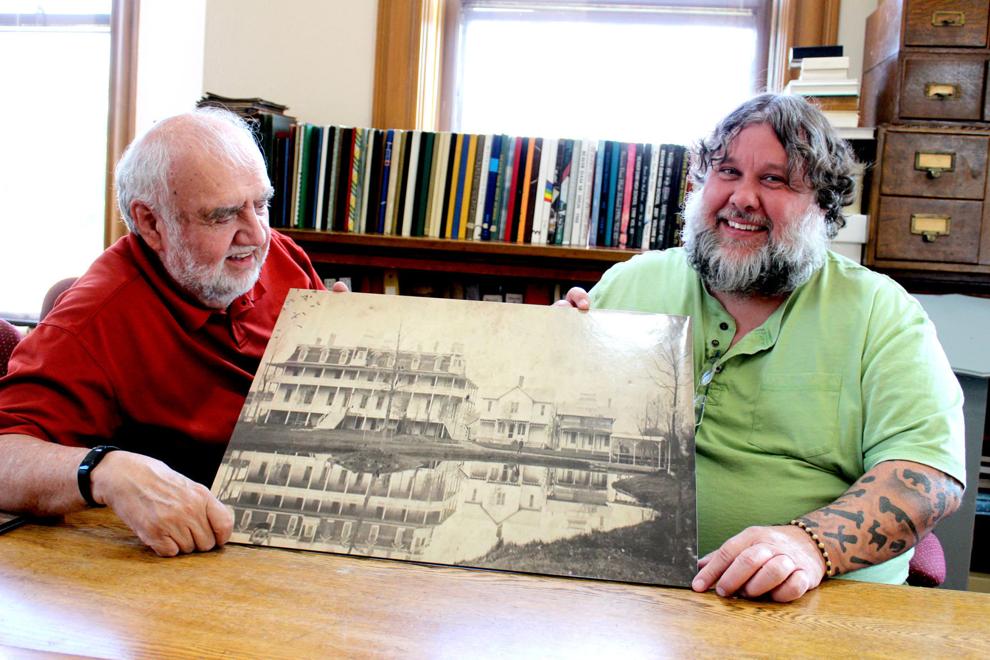 "Mary Cudnohfsky and Kay Fanshaw had not only scoured our collection, but read every news item in the local papers, with the idea of one day writing a book about Vita Park," said Museum Director Kurt Sampson. "The book never happened, but we do have all of their, and other people's, research."
Using numerous photos in the museum's archives, and elsewhere, the Swan City Park tour will share how dramatically things have changed, with some landmarks remaining but changed over time.
"There have been so many neat things that have happened there over the years that people really enjoyed," said Dodge County Historical Society Board President Patrick Lutz. "Sometimes they have been lost over time like Indian Night and Circus Night and other huge attractions. We think that people should be aware of that."
"Really it was the center of live entertainment up until the early 1960s,"said Sampson. "Since then it has become less so, although it's still used for many gatherings and events."
The tour also hopes to inspire donors to contribute funds toward park restoration. A master plan has been devised with restored lagoon walls, walking paths, gardens, more playground equipment and enhanced lighting. Preservation of later additions such as the wading pool bath house, the band shell, the shelter with a fireplace, granite light stands and a concession stand are part of that plan.
"We hope that the city and members of the community value what a resource it has been and appreciate it more because of our tours," said Sampson. "My hope is that the tours revive interest in the park and help to make it as valued and utilized as it once was."
"People see the band shell and don't realize that it was inspired by the Hollywood Bowl and Radio City Music Hall, and that lots of Hollywood stars appeared there urging people to by War Bonds during the 1940s," said Lutz.
Glen Link and Tom Heffron recall childhood memories of the wading pond in the now-filled lagoon near the Spring House. Link also recalls when animals (deer, swans and monkeys) were kept over winter in the former Beaver Dam Town Hall on Mill Street (long-since demolished).
"Of course as kids we would all peek in the windows to get a look at the animals inside," said Link.
Cudnohfsky is dedicated to the proposition that Dr. Swan was a man ahead of his time, and that many of his ideas are accepted and pursued in modern medicine.
"Before a lot of other people had thought of it, he knew that clean air and water were key ingredients to healthy living, and that's what he promoted through Vita Park," she said.
"In those days industrial pollution and contaminated food and water were commonplace," said Lutz. "Dr. Swan understood those connections and worked throughout his life to educate people about those problems."
Society board members will be stationed around the park with photos of features both gone and extant, sharing their stories. Sampson will give a comprehensive lecture in the park shelter throughout the afternoon.