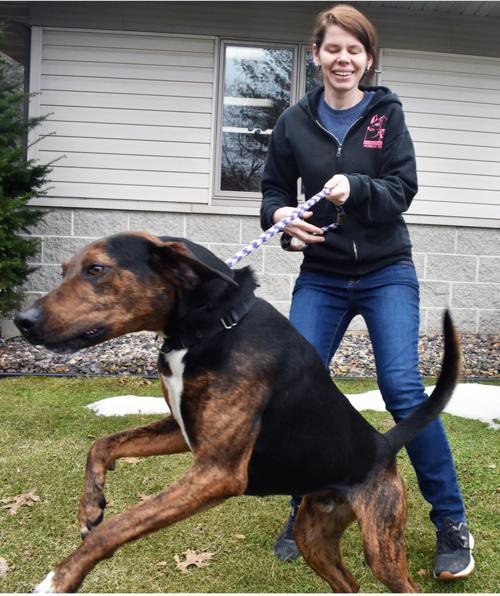 Animal shelters in Columbia and Sauk counties brought in fewer animals in March and April during the public health emergency but are starting to see things return to normal in May.
Columbia County Humane Society took in 60 cats in March and April compared to 107 cats in the same months last year and took in 50 dogs compared to 67 dogs in the same months last year.
It adopted out 76 cats in March and April compared to 113 last year but dog adoptions went the other direction: The shelter adopted out 49 dogs in March and April compared to 40 in those months last year.
"It's hard to say why, but we're taking in a lot more cats now and we just adopted out several cats on Monday, " Executive Director Susan Bratcher said.
Normally, the shelter in Portage holds about 100 animals at any given time during the months of April, May or June but had only about 60 animals on Tuesday, Bratcher said. Factors in this include a facility that's closed to the public where appointments are needed for adoptions, stray redemption and stray drop-offs and initially the shelter had also strongly encouraged residents to seek the owner of strays before bringing animals to the shelter.
"We wanted to limit our possible exposure to the virus," Bratcher said of adjustments in procedure and the efforts related to animal intake. "A lot of times, when people post an animal they found on Facebook, they'll discover its owner lives only two houses down from their house."
Sauk County Humane Society also took in fewer dogs and cats during the early stages of the pandemic but reported a 37% increase overall in adoptions for March, April and May compared to last year.
"I think people who were still employed while spending more time at home and with their family found it easier to adopt a new animal and get to know that animal at home," said Rachel Leuzinger, outreach manager and volunteer coordinator. "They were able to make those family decisions together more easily, which was fantastic for us."
About a week ago, the shelter in Baraboo had only two dogs and four cats available for adoption on site, which was down significantly from the recent past but related to an aggressive "Clear the Shelter" campaign at the start of the pandemic, Leuzinger said. The shelter is now bracing for major increases in animal intake.
"We expect to see a significant uptick in animals coming in as more people continue to feel the impact of job layoffs and income loss," Leuzinger said.
Lower-than-usual intake of animals this spring was probably also related to fewer people finding strays as they weren't outside as often during the state's Stay at Home order, Leuzinger and Bratcher said.
That will likely change as the weather improves.
Both shelters have conducted much of their business on the phone, in their parking lots and have staggered their appointments with the public and neither shelter expects to soon change their current procedures after the state Supreme Court ended the governor's Stay at Home order Wednesday.
They nevertheless encouraged residents to check their websites and social media for important updates to policies, as things change quickly during the health crisis.
Both shelters needed to cancel or alter spring and summer fundraising events and encourage donations but expressed confidence in weathering the storm financially.
"We were impacted (negatively) for a few weeks," Leuzinger said of the pandemic. "But after carefully assessing the situation, people can rest assured we have plenty of supplies in stock" and the shelter continues to assist low-income animal owners including with its pet food pantry.
Bratcher pointed out the Portage shelter recently raised $780 on Facebook to pay for a tumor removal for a cat named Genie — which is nothing new in terms of local generosity.
"I feel like right now people are being very generous and we are seeing more donations," Bratcher said. "People are still helping us whenever they can."
Follow Noah Vernau on Twitter @NoahVernau or contact him at 608-695-4956.
Concerned about COVID-19?
Sign up now to get the most recent coronavirus headlines and other important local and national news sent to your email inbox daily.