LODI — Like most of us, Angie Treinen works best under a deadline.
A veterinarian by trade, Angie is also the artist behind the elaborate, often vexing, designs that are cut into the 15-acre farm field that has served as the canvas for the Treinen Farm's award-winning corn mazes since 2001.
But usually she doesn't know what the design will be before her husband, Alan, plants the field in early June. At that point, the clock starts ticking in earnest.
"Then I'm like, 'Okay, I've got about 10 days" before Alan needs to transfer the pattern to the field and start cutting the emerging corn before it gets too tall. Under the right conditions, Alan said, the corn can grow 6 inches a day.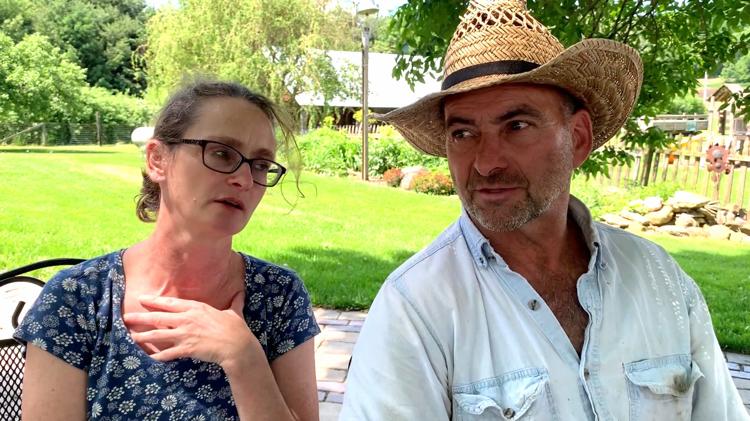 Last year, she was pretty far down the road with a pattern involving wolves and Little Red Riding Hood before deciding late in the process to illustrate the Rudyard Kipling tale of how the elephant got its trunk. She could start drawing earlier, she admits, but "I know I would wreck it."
"Having that deadline really helps me get it done," she said.
This year, for their 19th maze, the Treinens have designed and cut a pair of dancing cranes surrounded by an Art Deco border, presenting endless possibilities for visitors to wander and get lost. Angie worked with the International Crane Foundation in Baraboo for help with the design and interpretive stories to tell visitors about the sandhill and whooping cranes that call Wisconsin home for part of the year.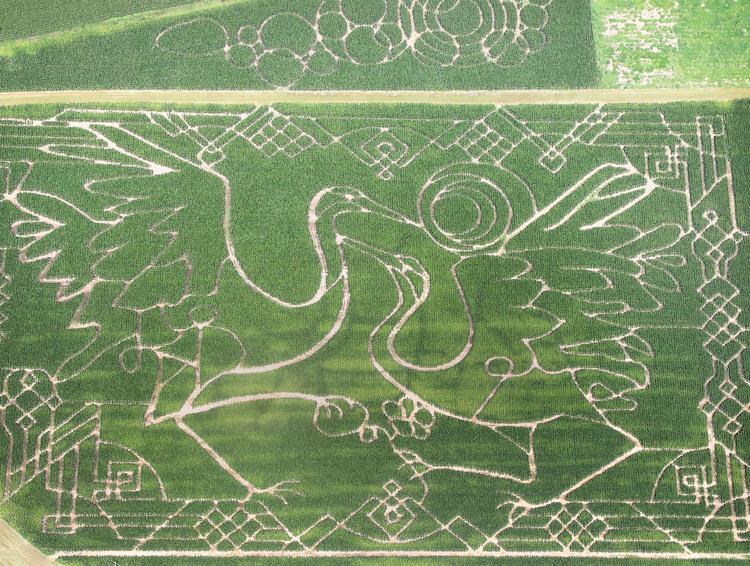 Working out of her office in a refurbished corn crib, Angie comes up with a theme, begins searching for images online and then starts sketching out ideas. The final design is then transferred to a computer where it's overlaid with a grid.
Then Alan begins the painstaking process of replicating the pattern on the ground. Employing crews of young workers, they lay out a grid then plant small flags wherever the lines of the design cross that grid. If it's a curved line, they'll extrapolate an arc and mark the line on the ground with spray paint.
Alan or a crew member will then cut the pattern with a mower. Once Angie's confirmed the maze matches the plan using a drone, the trails are rototilled to kill the corn.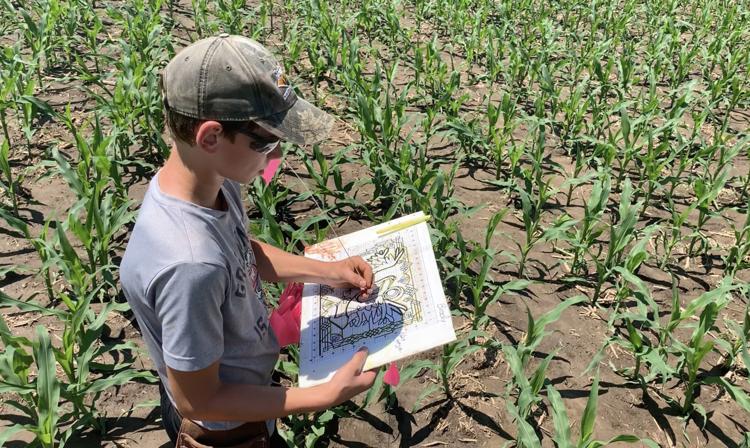 "Everybody believes it's cut with GPS, and it's not," Alan said.
That's not the case everywhere. Increasingly, farms are turning to companies that specialize in designing and cutting corn mazes using GPS systems.
"Nineteen years ago we looked into it and it was $8,000," Alan said. "But if I've got a good crew out there, we can have it done in four or five days."
The couple's early mazes were blocky, with regular or repeating lines that hewed closely to the grid. But beginning in 2008, when the design was a swooping dragonfly surrounded by water lilies and interwoven Celtic knots, the patterns became far more intricate and free-flowing.
Angie began working mathematical concepts into the designs, including tessellations, fractals and irrational numbers; scientific imagery from a famous DaVinci sketch to carbon nanotubes; and images from mythology, fables and natural history. All of the mazes also contain a heavy dose of whimsy (one year the theme was rainbows, kittens and "killer baby unicorns").
This year's maze, which opened Aug. 31, features two cranes whose wings consist of "a squiggly, exuberant line that to me felt like flight," Angie said. One is holding a stone, which refers to the allegory of a watchful crane; if it falls asleep, it's said, the stone will fall into the water and its splash wake the flock. The other is holding a wild geranium, or cranesbill, whose seed pod resembles the bill of a crane.
Over time, the designs also became more about discovery, not just "solving" the maze. Their first year, there was just one solution. Visitors grew frustrated and made their own paths out of the corn.
Now, there are multiple entries and exits. Visitors can stroll through the stalks for as long as they like or intensively try to solve the puzzle by following a partial map to a series of mailboxes, where additional partial maps can be collected and assembled. There's also a series of "secret locations" where visitors can punch their maps for prizes.
"It's not a situation where you're going to get yourself into a dead end," Angie assured.
__________________________________________
Madison-area corn mazes
Get local news delivered to your inbox!
Subscribe to our Daily Headlines newsletter.