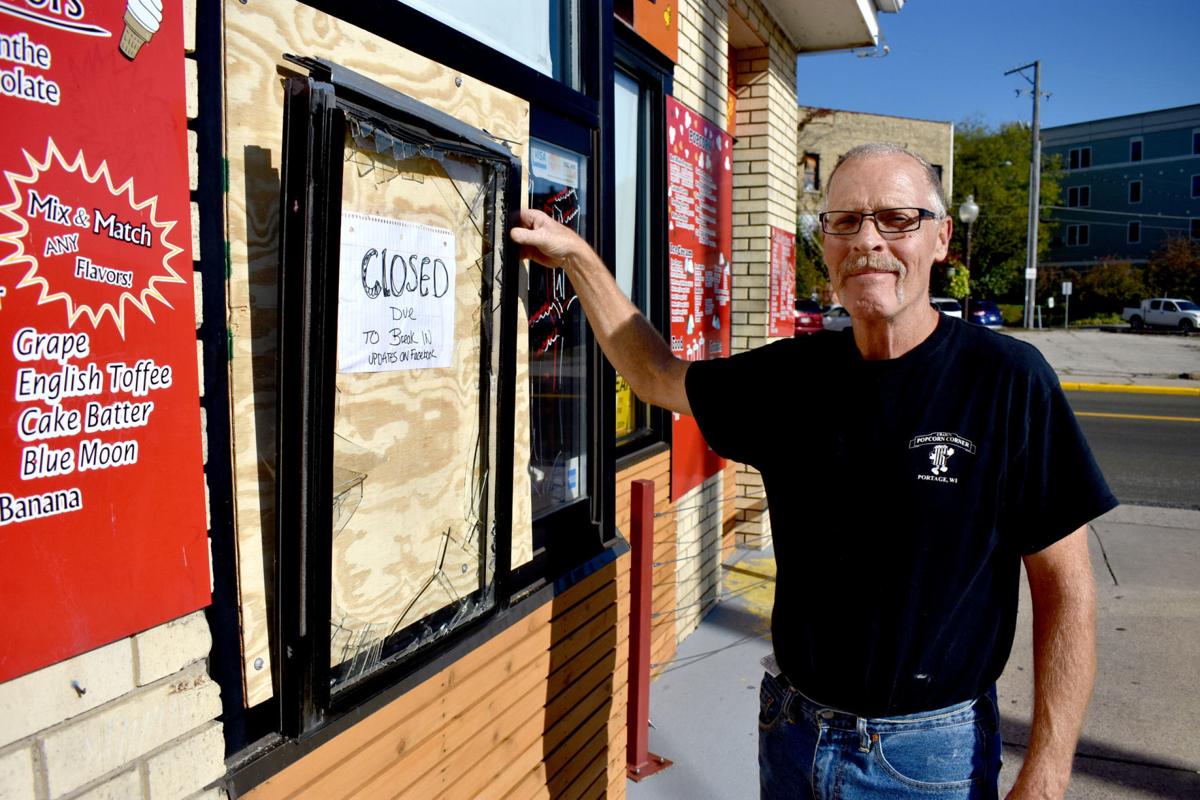 Amyjane Craig said she did not believe police were seeking a criminal mastermind Monday after someone shattered a window, crawled through and burglarized her family's business in downtown Portage before dawn.
"You have to be pretty brazen, because where we're located is near the corner of two major highways," she said, adding the perpetrator had left a crescent wrench behind at the scene.
Detective Lt. Dan Garrigan said Portage police officers were conducting a routine foot patrol downtown at 4:16 a.m. when they discovered a broken window at Craig's Popcorn Corner, 206 W. Wisconsin St., and notified the owners of the break-in.
Police arrested 46-year-old suspect Edgar L. Thorpe in connection to the break-in, but the investigation remains open. Authorities have not ruled out the possibility that a second suspect could have been involved.
Garrigan said police recovered two cash registers across the street behind a U.S. Bank branch, located at 212 W. Edgewater St., and executed a search warrant on a vehicle, seizing additional evidence.
Police continue to be vigilant amid an uptick in burglaries in recent weeks, Garrigan said, and he credited the officers on foot patrol for being "ahead of the eight ball" during Monday's initial investigation.
Mitchel Craig, Amyjane's father who owns Craig's Popcorn Corner, said he cleaned up glass and other debris inside the business Monday morning after the break-in. He said his family intends to reopen the shop soon. The business was closed Monday.
A contractor helped board up the shattered window Monday to prevent bees and flies from swarming the building where ice cream, popcorn and other treats are sold. Craig said he's dealing with his insurance company because the custom-ordered window could cost about $2,000 to repair.
Craig said he was glad he recently moved about $300 from a tip jar into a savings account before the break-in. That money benefits the staff and goes toward college funds.
Still, he said, about $50 was taken from the jar, along with a bag full of roughly $600 in loose change and some other meaningful items. One of the two stolen cash registers was "totally smashed," he said.
Amyjane Craig said the cash registers could cost as much as $1,000 each to be replaced.
She said the break-in was the first time in about 50 years her family has been burglarized. She said her grandparents operated a gas station at the same site before it was remodeled into a sweet treats shop.
Mitchel Craig said the family business will bounce back from the seemingly isolated incident that struck a nerve with many residents.
The Craig family of Portage prides itself on its donations and involvement in the local community, Amyjane Craig said, as she and Mitchel glanced over a wall full of thank-you cards from various organizations and schools for different donations over the years.
"It's amazing that we're thought of so well in the community," Mitchel Craig said.
Monday's burglary affected the whole community, Amyjane Craig said, and she wasn't surprised when countless people reached out on social media.
"It's amazing, and honestly I didn't expect any less," she said. "We have a great community. We have a wonderful customer base. "
City Administrator Shawn Murphy said the community is fortunate police responded quickly to the break-in.
Murphy said whenever any family-owned business is victimized by a burglar, it could feel devastating to them financially. He called the Craigs' break-in an "example of the need to stay to vigilant."
Mayor Rick Dodd said the Craig family did their due diligence by locking up their shop at night. He was glad police have prioritized foot patrols at night, and he urged residents to lock their vehicles and houses at night.
"They happened to be at the right spot at the right time to catch this going on," Dodd said. "Times are changing, and people need to change with the times."
Dodd said while many locally owned businesses are struggling nationwide, burglaries are another troublesome issue.
"Anything like this that kind of sets them back is not good," Dodd said.
Director of Business Development and Planning Steven Sobiek said Craig's Popcorn Corner is a respected family business and a staple in the Portage community.
"It's very bad and very sad that this happened in Portage, because it's an established family business," Sobiek said.
Sobiek said Portage overall has a healthy small business climate, and burglaries are rare at downtown businesses. He added that he hopes the Portage Police Department's proactive response will help deter similar crimes in the future.
Sign up for our Crime & Courts newsletter
Get the latest in local public safety news with this weekly email.