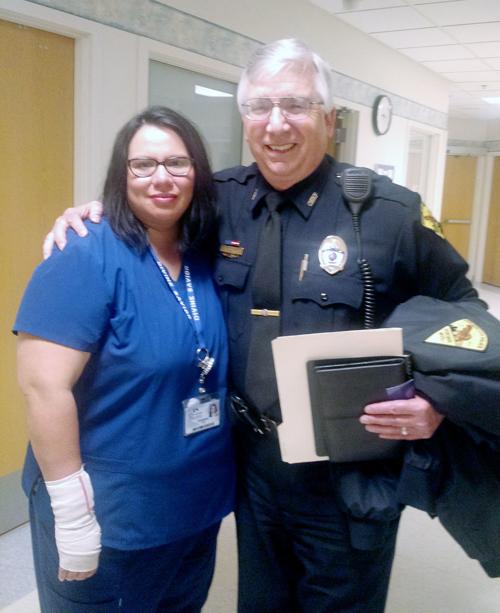 An off-duty nurse who police say subdued a suspect who had attacked and injured an officer during an arrest Sunday was recognized by the department Monday.
Portage Police Chief Ken Manthey thanked Vanessa Guerra, a nurse at Divine Savior Healthcare, who stepped in and helped bring an unruly couple under control at the Portage Kwik Trip on New Pinery Road.
Olivia Boomsma, 21, of Rio, and Jacob Hellenbrand-Bell, 21, of Waunakee, face charges of battery to an officer and resisting arrest. Both are in custody in the Columbia County Jail awaiting initial court appearances.
The incident at the convenience store began when Portage Police Officer Brian Lowenhagen followed up on a complaint that originated at the nearby Ridge Motor Inn. While taking Hellenbrand-Bell into custody outside the store at about 10:30 p.m. Sunday for suspected violation of probation and parole, Boomsma began punching Lowenhagen, according to a press release from the police department.
When Lowenhagen failed to answer to calls on his radio, Portage Police Sgt. Eric Walters responded to the scene. As Walters attempted to restrain Boomsma to take her into custody, Hellenbrand-Bell was able to break free enough to kick Walters in the head as he was struggling with Boomsma on the ground.
Manthey said the kick to the head caused Walters to lose consciousness.
You have free articles remaining.
Guerra, who was a customer at Kwik Trip at the time, said she saw Walters was not moving and began checking on him. According to the release, she heard Boomsma say something about having a knife while fighting with Lowenhagen and "disregarded her own safety" and "body slammed" Boomsma against a wall and held her there until Walters was able to get up.
On Monday, Manthey visited Divine Savior to see Guerra and thanked her for helping his officers. Guerra declined to comment on the incident when contacted by the Daily Register.
Manthey and Portage detectives reviewed video of the incident Monday morning and Manthey said Walters went to the ground and remained motionless for one minute and one second, then stirred, but did not get up for two minutes and 13 seconds, at which point he arrested Boomsma.
Following the arrests, Walters was taken to Divine Savior Healthcare by an ambulance where he was treated for abrasions to his face and collarbone, with precautions taken for a possible concussion. Walters will be off duty for at least three days for rest and follow-up health checks.
Just over a week earlier, Hellenbrand-Bell was in Columbia County Circuit Court on charges of causing injury while operating a vehicle while under the influence of a controlled substance as a repeated offense from an April 15, 2017 incident. During the incident near Lodi, he sideswiped a motorcyclist at nearly 100 mph, shearing the skin from the woman's left calf, necessitating a skin graft and leaving other permanent damage.
Hellenbrand-Bell was sentenced to one year in jail and five years' probation. The judge said that if he were to fail to comply with the stipulations of that agreement and probation, he would face up to 9½ years in prison.
"I'm sorry for what has been done," Hellenbrand-Bell said in court, "and it has given me a wakeup call that there is a lot more in life than drugs and partying. And it's gotta change sometime, so it might as well be now."
After his arrest for sideswiping the motorcycle, Hellenbrand-Bell had been free on $3,000 cash bond and was scheduled to begin his one-year sentence June 1. He also is due to appear May 24 in Sauk County Circuit Court for sentencing in a case of operating a motor vehicle while intoxicated as a second offense.