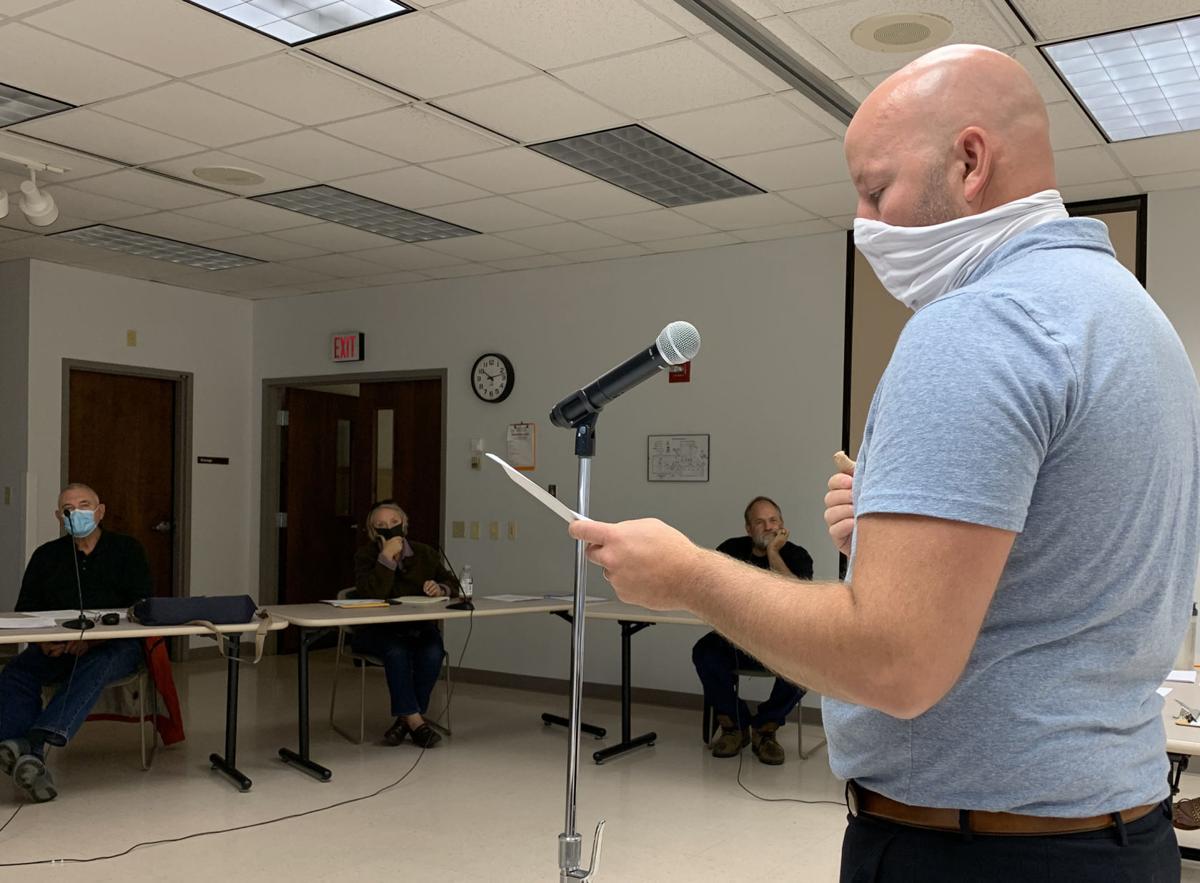 JUNEAU — The COVID-19 pandemic touched most items on the agenda of the Dodge County Executive Committee which met early Tuesday in the Administration Building auditorium.
From an update on the COVID test numbers to theories of a plot to keep the masses compliant with government control, COVID spread through the meeting like an unprotected sneeze.
A half hour was allotted at the meeting's start for members of the public to share their thoughts, each of which received a round of applause from disease doubters. Ten of the 17 people attending spoke about why the illness does not exist, or is at the least overblown. One of them wore a mask, with the rest violating a statewide order to do so. Of the 15 or so board supervisors and county staff members, all wore masks except for supervisor Jeff Schmitt.
According to Public Health Officer Abbey Sauer, there are 1,416 positive cases in Dodge County, with 20,662 people testing negative since mid-March.
"We have seen a steady increase in our percentage of positives," she said. "The total percentage of positives is 6.41 percent. Clearly we have seen the numbers steadily increase in the last few weeks."
Of those numbers 236 are active community cases (not including cases in the corrections system). A total of 835 individuals have recovered. Cases in the corrections system have seen a large jump, with 41 new positive cases last week and 44 the week before
A partnership is forming with area Emergency Medical Services, by which COVID testing might take place at local stations.
"We hope to be collaborating with them on a regular basis," Sauer said. "The station in Mayville is very interested and we are eager to have testing there once a week. One of our goals is to test those who have been exposed, not just those who are having symptoms. We're actively reaching out to those contacts. That early identification will get them quarantined and in isolation so we can slow the spread of the virus."
Ed Somers, Executive Director of Clearview Nursing Home, reported that if a county is below 5 percent positive, nursing homes must test monthly. If it is between 5 and 10 percent, they must test weekly. If it is more than 10 percent they must test twice weekly.
According to Somers the cost of $110 a test will have a huge financial impact.
"With 350 employees that's $35,000 each run," he said. "The state will continue to cover outbreak testing, which is if you have a single positive resident or staff member."
Outdoor visitation continues as the safest option to allow contacts between residents and their families. One staff member recently tested positive, resulting in a two-week quarantine for all the residents in the affected household.
"We haven't had any residents test positive," Somers said.
An air ionization system and robotic cleaning system have been installed at Clearview to improve air quality and overall cleanliness.
Much discussion was focused on the Declaration of Emergency issued in Dodge County on March 17, at the time when Gov. Tony Evers declared a shutdown many non-essential services – including schools and businesses. The county ordered limited contact in facilities and in meetings, allowing government business to continue.
"Remember that the declaration also provides that emergency purchases can occur," said Corporation Counsel Kim Nass. "It provides that procurement procedures can be relaxed, if you will. Those are some of the things that stand in the existing declaration that you may want to revisit."
"We're seven months away from that so I think we should revisit it," said Schmitt.
He suggested that more meetings be held to follow stringent purchasing guidelines. He added that holding special board and commitee meetings will not be a burden, and that board control is essential to good government.
"Statute allows us to call a meeting with certain notice (the shortest being two hours)." Schmitt said. "If it's an emergency purchase I don't understand why we can't be more inclusive with the committees and the county board. We can do it. Then at least the taxpayers are theoretically at the table."
Federal and state emergency declarations remain in effect. No definitive response was provided as to whether a local declaration is required to remain eligible for Road to Recovery and/or CARES (Coronavirus Aid, Relief, and Economic Security) funds.
Emergency Government Director Amy Nehls responded, "There are certain items that are very difficult to get hold of. Gowns are one of them, and we did request them through the state. The state has not said that we can't get them without an emergency declaration, but that's how the process has always worked."
"In reality I think we've had the order in place and I don't think that the powers have been used unless absolutely necessary," said Supervisor Dave Froehling. "Purchases have gone to committee and the county board if at all possible."
Nass will present proposed language changes at the next Executive Committee meeting on Oct 5.
In a related item it was decided that supervisors can continue to attend meetings remotely and collect a per diem (payment) for attending. They may not, however, claim mileage.
The Executive Committee is directing the Information/Technology Department to gather costs for potentially broadcasting and/or recording county board meetings. It was stated that those meetings were once broadcast on a local cable channel, but that has not occurred for some time.
Concerned about COVID-19?
Sign up now to get the most recent coronavirus headlines and other important local and national news sent to your email inbox daily.