When movies and performances resume this summer at Baraboo's Al. Ringling Theatre, the viewing experience will feature new lighting, sound system, laser projector and 52-foot movie screen, all funded by a $150,000 donation from the Sauey Family Foundation.
Alison Martin, foundation president, said the board and Sauey family have maintained an interest in the 106-year-old theater, which she called a national and local "gem," donating multiple times over the years. She said it's important for organizations like hers to step up with "major funding" to keep it functional.
"We're just very impressed with how lovely that theater is and I certainly hope that the community of Baraboo is enjoying it and showing it off to other people that they know as much as we are, because it's really quite a treasure," Martin said in a recent phone interview.
Theater CEO Tom McEvilly said he's grateful for the donation, especially at a time when the theater was losing out on its usual revenue from ticket sales and other sources due to the coronavirus pandemic.
"To have a donation like this is crucial," he said in a phone interview last year. "This really helps us out financially a lot."
"The equipment's really amazing," he added. "It's a brand-new projection screen, brand-new sound system, and the donation is really appreciated."
Shipped from the Netherlands, the new screen arrived Aug. 15, but installation was delayed because of the building's age. McEvilly said workers had to redesign the rigging system, put in new structural supports and bring in a rigging team from Madison to hang it.
Because of its weight, bringing the screen inside the building became a community effort. Marketing Director Shannon Hill said the theater crew had help that day from Hill's Electric, the Baraboo police and fire departments, Deppe Transit and the Baraboo District Ambulance Service.
"It was pretty exciting to get our screen in, because it was this 2,000-pound, 52-foot monstrous thing that we had to get in, and it was really neat to see our community come together," Hill said, noting that it was all hands-on-deck to help the Al., "and they all did it just out of the kindness of their heart."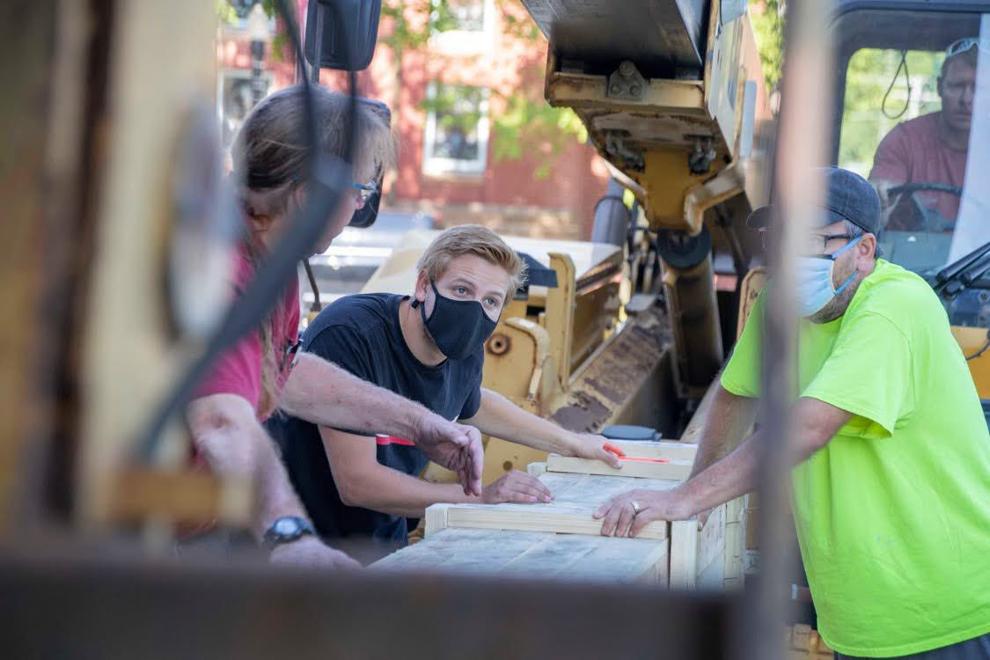 It's the third screen ever put up at the theater, she estimated in an email, "so we hope this one will hang for many years to come and show many many movies."
The $150,000 gift, given last fall, also paid for a "state-of-the-art sound system," laser projector, new light and sound boards, wireless microphones, a Clear-Com system and other new equipment, according to a news release. It said audiences for years "have had difficulty hearing movies and theatrical performances because of our substandard sound system," a problem solved with the new technology.
"When we are able to reopen, come grab a beverage, popcorn, and sit back for a majestic entertainment experience," McEvilly said in the release.
The Sauey foundation also donated $100,000 to the Baraboo Public Library last year. Martin said this year's donations total about $260,000, including contributions to the International Crane Foundation in Baraboo, the local Boys & Girls Clubs and a park in Reedsburg.
Other local organizations to which the Sauey foundation has donated since 1999 include Baraboo schools, Hope House of South Central Wisconsin and Circus World Museum, according to its website. Started in the name of W.R. and Floy A. Sauey, its funding comes from Nordic Group Member Companies, such as Flambeau Inc. of Baraboo, Seats Inc. and Columbia Vehicles Group Inc., both of Reedsburg.
Follow Susan Endres on Twitter @EndresSusan or call her at 745-3506.