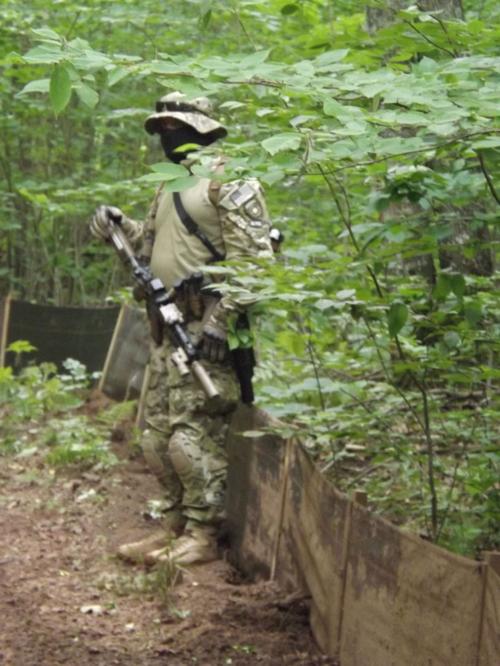 The state has approved an out-of-state security company to resume work in the North Woods, but it is unclear when the company's heavily armed guards will return to the mining site they had been guarding.
Bulletproof Securities, which deployed the armed and camouflaged guards to Gogebic Taconite drill sites in Iron County this summer, was approved Monday by the Department of Safety and Professional Services for a permit to operate in Wisconsin.
Bulletproof, based in Scottsdale, Ariz., withdrew the guards in July because the company, which had federal approval, lacked a Wisconsin license.
"We had all of the requirements for the state of Wisconsin for the permit itself. It wasn't a matter of us being deficient. In fact, we exceed the state regulatory requirements," said Stacy Pearson, a Bulletproof spokeswoman. "It was a matter of administration. When we arrived on site with federal credentials we assumed that those superseded and it was something we made amends of as soon as we were made aware."
Bob Seitz, a spokesman for Gogebic Taconite, said the mining company has several options for security. They include off-duty deputies from nearby sheriff's departments, but also plans on using Bulletproof in the future. Workers doing a variety of tasks remain on the site, but test drilling was completed July 16. The next major project involves bulk sampling, which requires testing rubble left from mine exploration work decades ago.
It is unclear when that work would begin, but the company hopes to have it completed "by the time the snow flies," Seitz said.
It's unlikely the company will announce when Bulletproof returns to the area, which could someday be home to a 4 1/2-mile-long open-pit iron ore mine.
"They're one of the options we have and we'll use," Seitz said. "The violent protesters didn't announce to me their plans, and I'm not going to announce to them mine."
The mine has been controversial since the Republican-controlled Legislature approved, and Gov. Scott Walker signed, a bill that eases mining regulations in the state.
Environmentalists say the mine will ruin a pristine wilderness and pollute water while Republicans contend the bill maintains environmental standards and paves the way for jobs.
Gogebic said the guards were necessary because of a June 11 vandalism incident in which a woman was charged with taking a camera from a mine worker during an incident in which tires were slashed and fences pulled down.
Sen. Bob Jauch, D-Poplar, who called for fines against Bulletproof, and other critics have said the masked, camouflaged guards were there to intimidate mine opponents, and the high-powered, semi-automatic rifles they carried weren't needed to guard construction equipment. Mine opponents say the June 11 incident was uncharacteristic of the peaceful protest taking place near the mine site.
Bulletproof personnel wear masks to prevent threats to their families that could occur if their photographs were circulated, Tom Parrella, Bulletproof's president has said. The weapons carried by his guards are designed to handle worst-case scenarios while protecting mine workers, he told the State Journal last month.
Seitz said Gogebic has no concerns about the methods of operation used by Bulletproof.
"They did their job professionally," Seitz said Monday. "All of our security options have been effective."
Officials with the state safety and professional services department did not return calls seeking comment.
contributed to this report.