Matt Reetz has spent years studying birds, from earning a master's degree to doing postdoctoral research that took him on trips around the United States, Australia, the Caribbean and southern Chile.
He ultimately landed in Madison in 2009 and has been head of the local Audubon chapter since 2014. The nonprofit is a conservation organization that works on land protection, education and advocacy across southern Wisconsin with reach throughout the Midwest, Reetz said.
The organization owns Goose Pond Sanctuary in Arlington and Faville Grove Sanctuary in Lake Mills, which add up to almost 2,000 acres of land the nonprofit manages. Reetz said owning and managing so much land is "unique" for Audubon chapters. Both sanctuaries are open to the public, and Reetz said both are "fabulous places to visit."
Aside from his enthusiasm for birds and caring a lot about the environment, Reetz says he is "just not that complicated."
"I'm a dad, husband and bad joke teller, too," he added.
He lives on the Near West Side of the city with his wife and 12-year-old son and their two dogs.
Reetz, 47, grew up in Ohio and moved around a couple times in New England, visiting Wisconsin almost every year for summer vacations up north and in Madison because his parents' roots were in the state.
He went to college in Illinois, "did a little soul searching" after graduating, then moved to Florida to continue his education and worked as a professor at a small college in central Indiana for a short time after.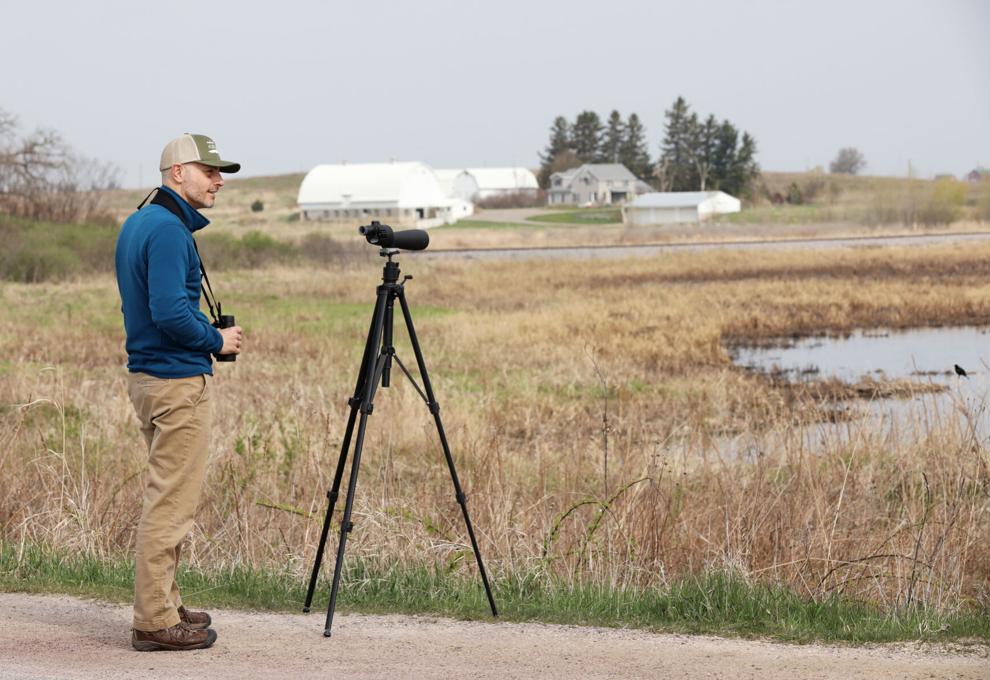 It was during his second postdoctoral appointment at UW-Madison that Reetz had an "aha moment."
"I thought I wanted to be an academic," Reetz said. "I really enjoyed teaching and working with students and research, but I needed to pursue something different that really fits me better."
He started reaching out to nonprofits in the area and getting advice from people in the field. Before securing the top spot at Madison Audubon, he volunteered for Gathering Waters — a statewide conservation organization that works to strengthen Wisconsin's land trusts — wanting to lend his hand toward applied conservation. He now serves as chair of the organization's board of directors.
Describe the work you do.
We are a conversation organization. Conservation is a serious business. There's a lot of threats to birds, there's a lot of threats to nature. I would say we're also in the joy business because what we do is really fabulous. It resonates with people. It provides opportunities for recreation and education. We're a land trust. We do all sorts of different kinds of things that are meant to impact long term conservation for birds and wildlife while providing great opportunities for people to enjoy and learn about nature.
Are these things you like to do in your free time as well?
Absolutely. I work a 40-plus hour week doing conservation work, and because conservation is so awesome and birds are so awesome, it's definitely something that I enjoy doing in my spare time. I would say that I'm very enthusiastic about conservation, and I'm hopeful that it is infectious. A few of my friends are now birders, so they're sharing their observations with me. They don't have a conservation background, but birds really resonate with people. We've enjoyed just talking about birds, as well.
I like to go hiking, I like to spend time outside. When my work week is over, conservation doesn't quit, nature doesn't quit. It's a lot of fun to enjoy pretty much full time. I mean, that said, too, I like to play basketball. I like to veg out with Netflix, too. But, it's a lot more fun to hike.
What would you say the best part of your job is?
The best part of what I do ... there's two things. One is that it's just awesome to be able to work on conservation generally. Again, it's a serious business, and birds and wildlife and nature need our help. I get to do all sorts of really great things that put me in touch with nature. It's a real privilege just to work on conserving birds. Also sharing my enthusiasm with everyone else, whether that be through tagging a monarch or being involved in some of our kids education programs. You kind of see that spark when they first kind of get it, when they first start to get why nature is awesome. The other portion of it is the people. I'm kind of a people person. When I made a career change to be involved in the nonprofit world, it was largely because I enjoy being around people, and the people who are involved in this work are incredible. They're super knowledgeable, they're super welcoming, they're funny, they're kind and they're very generous. It was an easy switch for me to this arena because of the people that we work with.
Do you see yourself staying in Madison for the foreseeable future and beyond?
Madison's a great town. We're making no plans to go anywhere. We chose Madison. My wife and I learned that jobs are not what you should seek, but places are what you should seek. When we were looking for a place to live following grad school, we put some pins on a map of places we knew are awesome, and Madison was one of them. My folks are from Wisconsin, I'd spent a lot of time in Madison. My wife and I had visited a couple different times. We knew it was great. She found a job here first, and that was it. We're staying. It's a fabulous town, and Wisconsin's great, too.
---