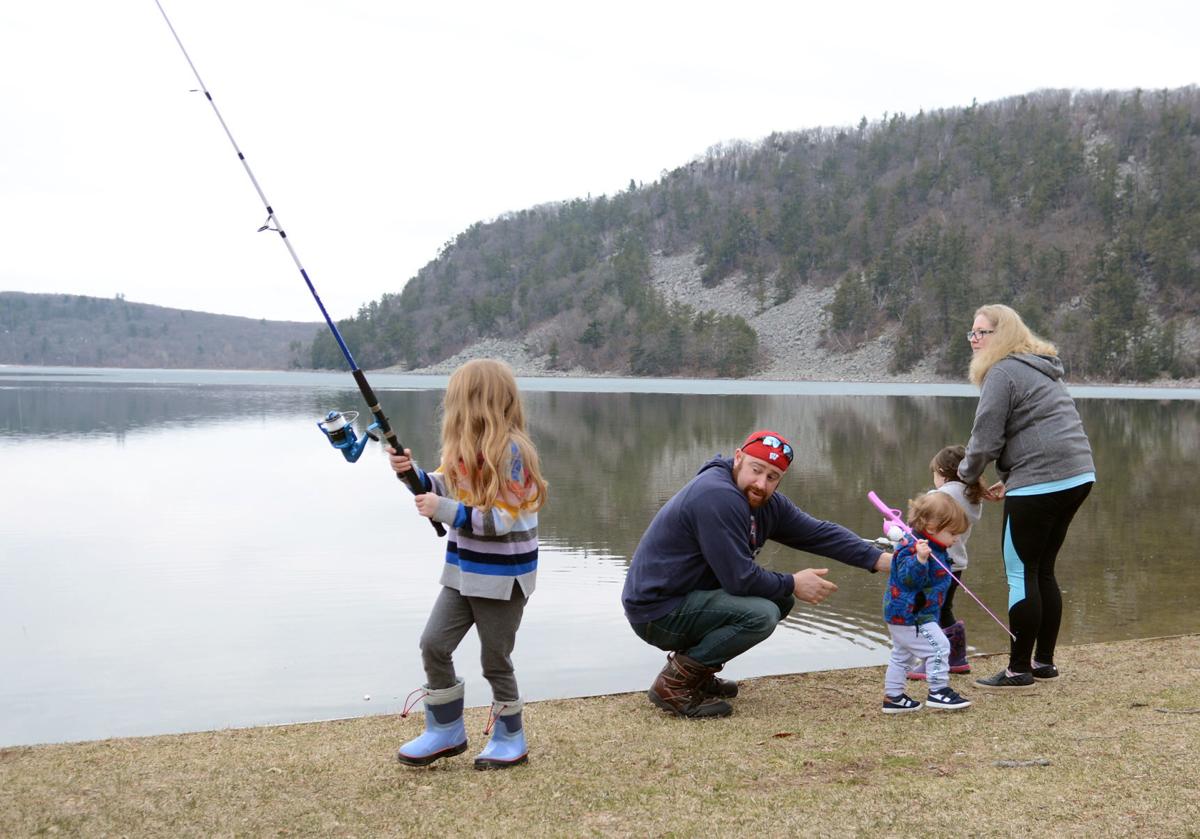 Only a smattering of visitors could be found Monday afternoon on the north shore of Wisconsin's most visited state park, with a family of five fishing on the beach, a teenager attempting back-flips off of a picnic table and a few individuals and small groups walking along a trail at least 20 feet apart from each other.
Dave and Nicolette Solomita of Madison had taken their three young children to Devil's Lake State Park for a day trip. With schools shuttered indefinitely starting last week due to the spread of COVID-19, Nicolette Solomita said the family is "surviving" and hasn't fought too much.
"The kids already have cabin fever," Dave Solomita said.
To limit the virus' spread, Gov. Tony Evers announced Monday his plans to order the closing of all nonessential businesses, referred to as a "safer at home" order. Though staying at home is the best way to slow infection rates, Wisconsin state parks and trails remain open and are waiving all entrance fees, according to a news release Tuesday from the Department of Natural Resources.
"Keep in mind what the governor said and be safe if you're out visiting (state parks)," said Missy VanLanduyt, DNR recreation partnership section chief. "We're happy to be open and supportive of folks getting out and supporting their health and wellness throughout this process."
VanLanduyt stressed the importance of following social distancing recommendations by maintaining at least 6 feet of distance from anyone else and not congregating in groups of 10 or more, even while waiting in line at the restroom. She said staff in state parks have seen some large groups, though not many.
"I think maybe some folks think that it's OK to meet up with your 20 best friends at a park and go for a hike, but the social distancing is incredibly, incredibly important whether you're inside or in the outdoors, and so we can't say that enough to just self-regulate and regulate within your own group as you're out on the trails," she said.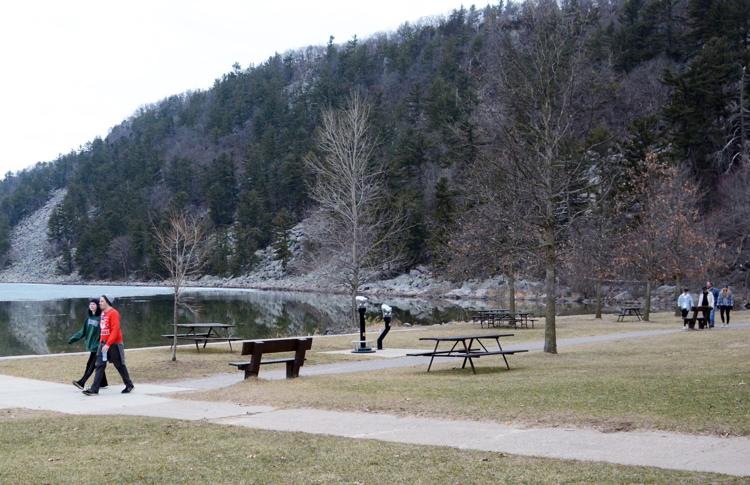 Park staff and wardens are giving "gentle reminders" to groups that may be congregating but are not handing out citations to those breaking guidelines at this time, VanLanduyt said. She said all full-time park staff who would normally be working this time of year are still reporting to work on site.
She said state properties, especially those closer to population centers such as Madison, Milwaukee, Green Bay and Hudson, are seeing a slight increase in attendance for this time of year. She didn't have specific numbers by property.
The city of Baraboo closed all of its parks as of Tuesday in response to Evers' order.
VanLanduyt recommends that people find state properties close enough to their home to travel there, enjoy the recreational opportunities and then return home without having to make stops along the way or use restrooms. That might mean checking the DNR website at dnr.wi.gov/topic/parks for parks and trails you haven't heard of, she said.
At Mirror Lake State Park south of Lake Delton, Superintendent Ryder Will said it's hard to tell whether attendance has changed since COVID-19 spread to Wisconsin.
"It's all anecdotal — our numbers are pretty average to what we would expect this time of year on a nicer day," Will said. "Obviously, on a rainy, crummy day we aren't seeing very many people."
Will said his workers are following guidance from the governor's office.
In an effort to prevent groups from forming naturally while waiting in line, the DNR is waiving entrance fees and parks are putting up signs around restrooms to remind visitors to maintain social distancing, VanLanduyt said.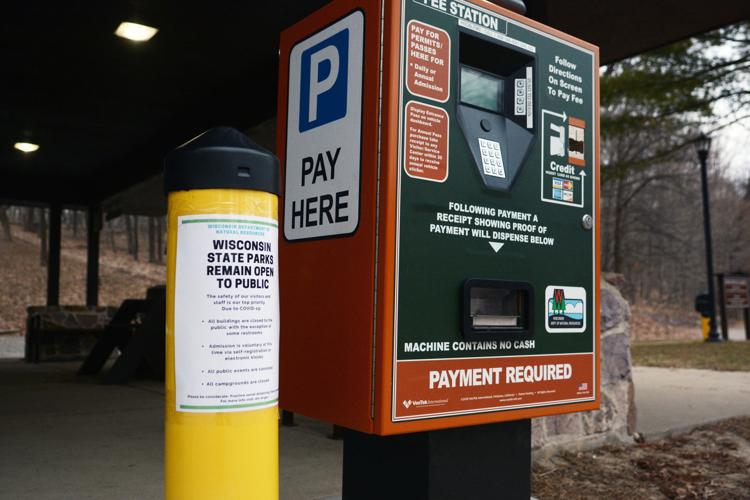 The DNR is monitoring parks regularly "to determine if park closures become necessary," according to the news release. VanLanduyt said parks may close if visitors don't follow social distancing guidelines or restrooms may close if staff can't continue to safely clean and stock them.
While they currently have enough toilet paper and hand sanitizer to restock restrooms, VanLanduyt said people have been stealing both at some parks.
"If people can refrain from doing that, that would be great," she said.
While DNR properties remain open for hiking, fishing, boating, hunting and other activities — under the usual regulations — all nonessential buildings, including park offices and nature centers, are closed.
Campsites also are closed through April 30 and will not accept new reservations until further notice, according to the news release. People who have camping reservations will be contacted by the DNR or Camis Reservations to receive a refund.
The Camis Call Center is available at 1-888-947-2757 for questions. DNR customer service representatives can be contacted at 1-888-936-7463 from 7 a.m. to 10 p.m. daily.
Keith Warnke, administrator of the Division of Fish, Wildlife & Parks, said the DNR recognizes that spending time outdoors benefits one's physical and mental health.
"Getting outdoors can also help relieve stress, so a quiet walk in the woods or a hike at a state park can really go a long way to taking your mind off the troubles of the day or helping you feel better," Warnke said.
Follow Susan Endres on Twitter @EndresSusan or call her at 745-3506.
Concerned about COVID-19?
Sign up now to get the most recent coronavirus headlines and other important local and national news sent to your email inbox daily.