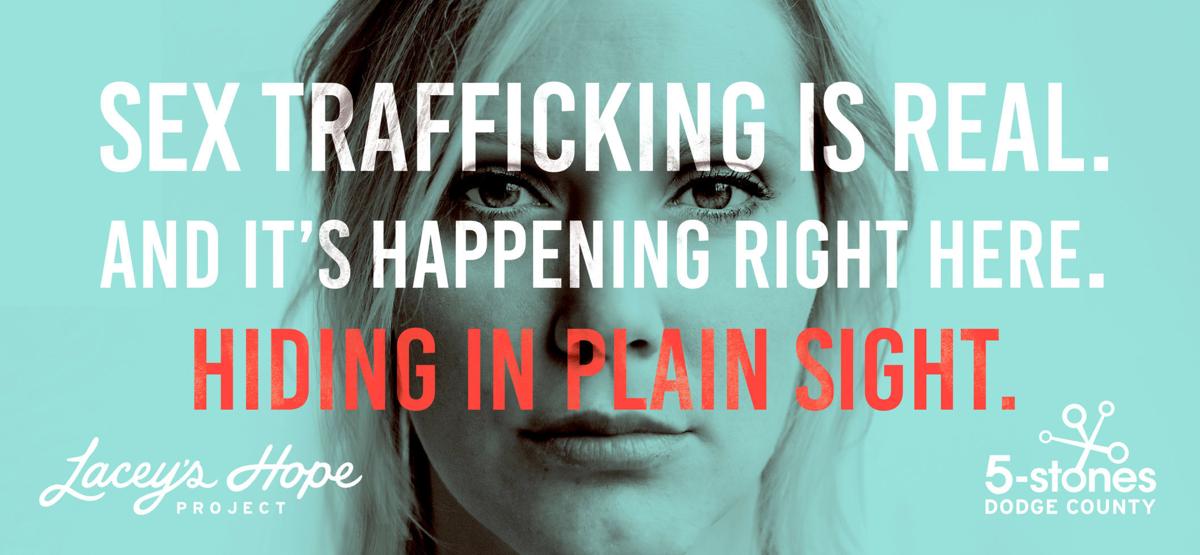 Dodge County 5 Stones Hiding in Plain Sight presentation will offer a unique opportunity to gain information from a survivor of human trafficking who has been working to keep people safe by sharing her story.
Five Stones has given several presentations about the dangers of human trafficking over the last few years, but this is the first to center around a discussion with a single survivor of human trafficking.
"I feel people wanted more time to hear from survivors and weren't able to hear the whole store in the past," Dodge County 5 Stones founder Tracy Scheffler said.
Hiding in Plain Sight will be held on Nov. 12 at Harvest Church, W7444 Highway 33, Beaver Dam, and will begin with refreshments and a meet and greet at 5:30 p.m. 
There has been four presentations at Harvest Church over the last seven years Scheffler said.  Those in attendance will be able to send questions via text and software will sort the questions so similar questions do not reappear.
"It should be a little more efficient," Scheffler said.
Emmy Myers will tell her story and participate in the question and answer session.  Myers created Lacey's Hope Project after she was able to get free from her trafficker and started giving presentations in Wisconsin about the subject. Lacey's Hope Project is named after a friend who died while being trafficked, to help end the social justice issues with sex trafficking and drug abuse.
You have free articles remaining.
"I went from the all-around American girl in high school in a suburban small town to being trafficked," said Myers, who is from Hartford. "I will talk about how this happened and what others can look out for. I hope people will learn what sex trafficking looks like in our society and what to do if they suspect someone is a victim. I also want to show everyone that there is hope and you can come out of the other side."
Scheffler said that she saw Myers speak at the University of Wisconsin-Madison and felt she would be a good speaker for a program in Dodge County.
"It is always part of our desire to help people understand that human trafficking is real and bring local survivors in to show that it is not just a big city problem but a rural problem as well," Scheffler said.
Social media is the No. 1 way human trackers find their victims, Scheffler said.
"Traffickers can go online and into chat rooms and befriend kids," Scheffler said. "Online you can be anyone you want to be, which a big part of the problem is."
Parents will be reminded that talking with their children is one of the best ways to keep their children safe online, Scheffler said.
"We need to be the voice in their ears, because if we are not then someone else is," Scheffler said.
Follow Terri Pederson on Twitter @tlp53916 or contact her at 920-356-6760.