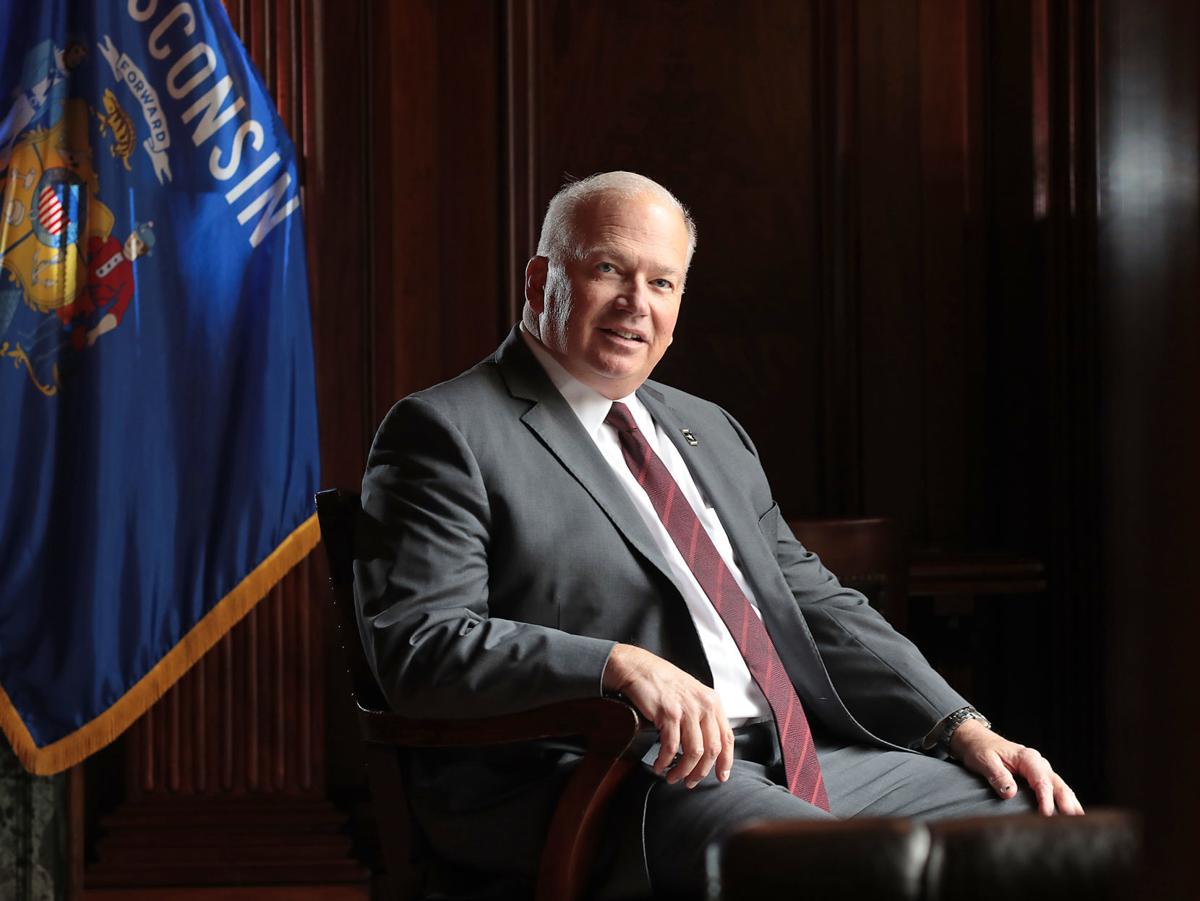 It has been two months since U.S. Rep. Jim Sensenbrenner announced his retirement, an event political insiders once thought would trigger a succession battle royale in his staunchly conservative suburban Milwaukee district. Yet only one Republican has emerged to run for the seat.
That Senate Majority Leader Scott Fitzgerald, R-Juneau, has so far cleared the Republican field a year before the election is a testament to his political savvy and a streak of conservative political victories going back more than a decade.
"Fitz," as he's known at the Capitol, credited his position in the race to his experience and conservative politics.
"It's kind of what I expected," Fitzgerald told the Wisconsin State Journal. "I did a lot of the heavy lifting in that caucus on some of the more conservative social issues."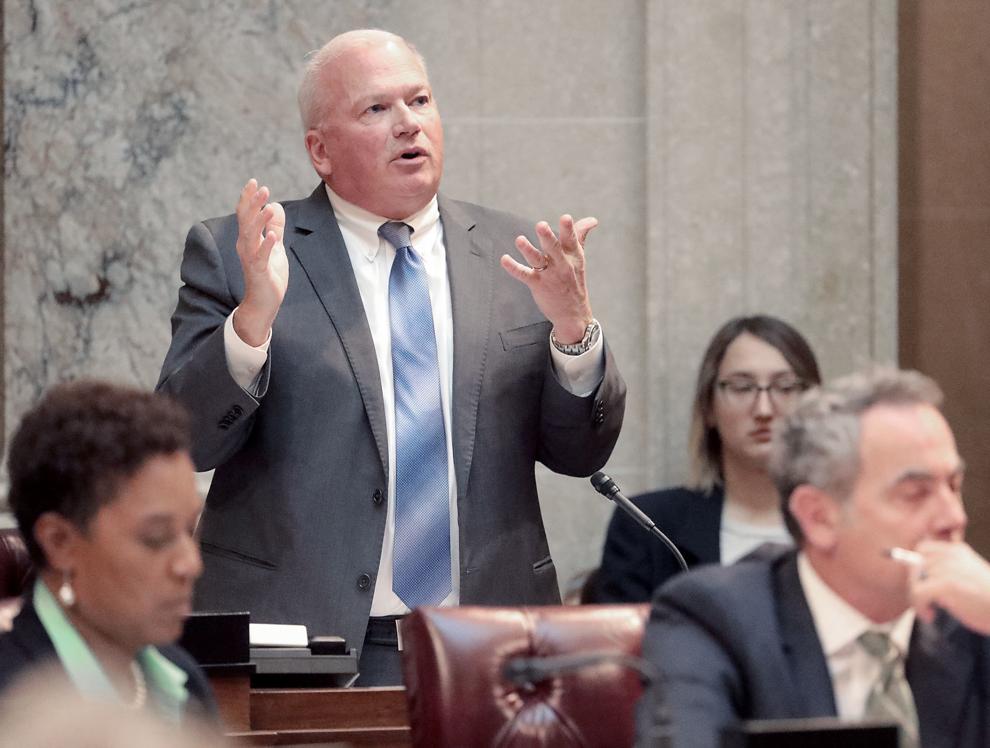 But his leadership also has become a lightning rod for criticism from Democrats both in the eight years he was part of the GOP triumvirate that controlled state government as well as in his recent clashes with Democratic Gov. Tony Evers.
Senate Minority Leader Jennifer Shilling, D-La Crosse, took aim last week at what she called the Senate's "Do Nothing Republicans," led by Fitzgerald, for meeting only nine days this year while refusing to take up a number of items that have received considerable support from the public, including funding for homeless shelters, gun control legislation, medical marijuana legalization and Medicaid expansion.
"Unfortunately this session, hardworking families have been left behind by Republican lawmakers who continue to prioritize power grabs and petty political games," Shilling said in the statement. "The Republican refusal to take up legislation that has overwhelming public support is a disservice to their constituents and the state."
Mike Tate, who was state Democratic Party chairman while Fitzgerald was among those leading the charge to reduce collective bargaining rights for public employees, restrict abortion access, cut taxes and eliminate mandatory private sector union membership, has had his share of disagreements with Fitzgerald — but credits his leadership.
"I don't like what he did, I didn't always like how he did it, but you can't argue with his effectiveness," Tate said.
GOP strategist Bill McCoshen said the fact that Fitzgerald has no challengers so far reflects the depth and breadth of his support.
"The reality is this could have easily been the most expensive primary in the country next August, and Fitz, for all intents and purposes, has cleared the field of any serious challenge," McCoshen said.
A narrow field
Sensenbrenner's retirement provides interested candidates with "a once-in-every-other-generation opportunity," said GOP strategist Brian Fraley.
Yet several potential GOP candidates have formally passed on a bid in the 5th Congressional District. Many of them, including former Sen. Leah Vukmir, R-Brookfield; Waukesha County Executive Paul Farrow; and former U.S. Senate candidate Kevin Nicholson have endorsed Fitzgerald.
Endorsements from other notable Republicans include former Gov. Tommy Thompson and state Reps. Mark Born, R-Beaver Dam; Barbara Dittrich, R-Oconomowoc and John Jagler, R-Watertown. Last week, one of the last remaining holdouts, Sen. Chris Kapenga, R-Delafield, announced he wouldn't run.
Fraley said there still is plenty of time for candidates to emerge before the June 1 filing deadline. However, he added those hoping to mount a credible campaign against Fitzgerald's growing momentum will need to announce before the end of January.
Democrat Tom Palzewicz, an entrepreneur and Navy veteran who lost to Sensenbrenner in 2018, also is running in the GOP-friendly district.
"The closer we get, the steeper the climb is going to be," Fraley said. "With no competition right now, he is not being pressed to come out with positions on issues or to somehow differentiate himself from an opponent. The longer this goes, the more to Majority Leader Fitzgerald's advantage it is."
Early life and first election
Fitzgerald, who turned 56 on Saturday, was born in Chicago and moved to Wisconsin when his dad became police chief in Hustisford, where Fitzgerald attended high school.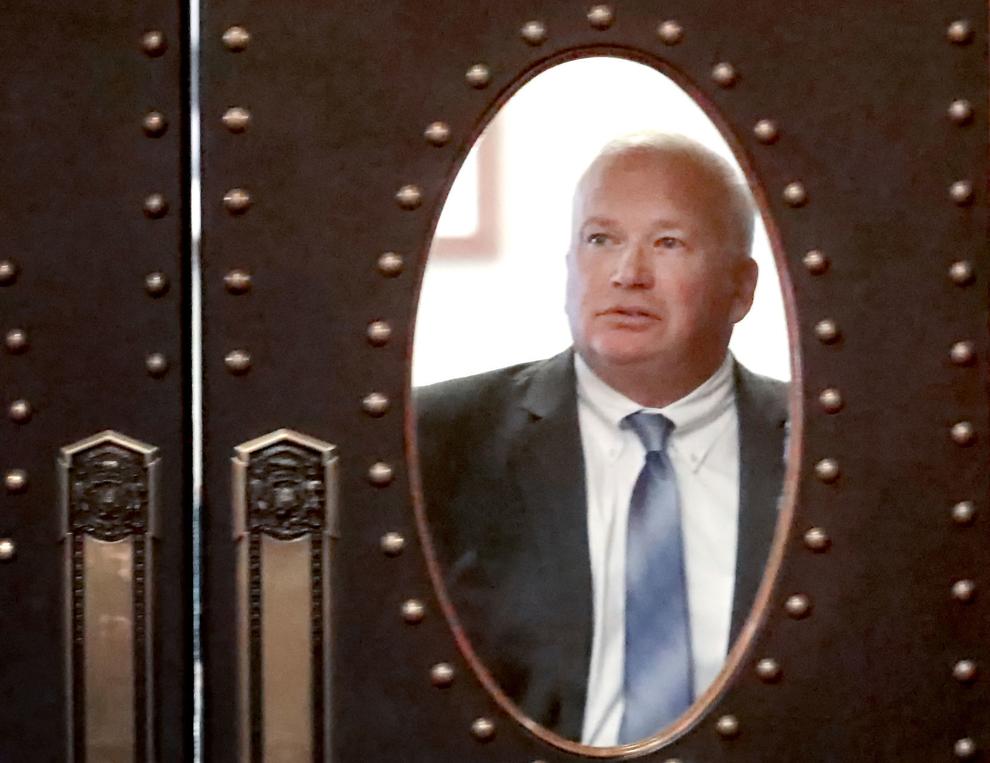 After graduating from UW-Oshkosh with a degree in journalism, spending time as owner of the Dodge County Independent News and reaching the rank of lieutenant colonel in the U.S. Army Reserve, Fitzgerald said he "got the bug" for politics when helping his father run for Dodge County sheriff.
In 1994, Fitzgerald, then chairman of the Dodge County Republican Party, won Wisconsin's south-central 13th Senate District seat after a three-way primary that included 14-year incumbent Barbara Lorman and restaurant operator Herb Feil.
In a primary that focused largely on abortion rights, Lorman was considered the most moderate of the three, while Fitzgerald and Feil ran anti-abortion campaigns.
For the next 25 years, Fitzgerald would hold a firm grip on the mostly rural, strongly conservative district that includes Oconomowoc, Watertown and Fox Lake.
"I would say he's been a true conservative all 25 years in the Legislature," McCoshen said. "He hasn't wavered from his core principles."
Praise from others
Former Lt. Gov. Margaret Farrow, who was assistant Senate majority leader when Fitzgerald was elected, recalled the freshman senator as "quiet, interested and very patriotic."
"He listened very carefully," said Farrow, who has endorsed Fitzgerald. "We have some people who come in and immediately want to be heard and run everything, but he was not one of those. He wanted to make sure he had his feet on the ground and wanted to make sure he understood issues before he spoke."
Fitzgerald spent a brief stint as majority leader in 2004, then became minority leader from 2007 to 2010 after Democrats took control of the Legislature. He has served as majority leader for all but a few months since the tea party wave of 2010.
Dale Schultz, a moderate Republican who served 32 years in the Legislature until retiring in 2014, recalled Fitzgerald as an ambitious and hardworking senator with a strong interest in anti-abortion measures.
"Scott, I think, really tried to make progress, but do it in a way that wasn't nearly as hostile or insensitive as things have gotten now," he said.
'Pick my battles'
Fitzgerald said he values bipartisan discussion but added he isn't afraid to push when it comes to conservative issues such as abortion or tax cuts.
"I do try to work across the aisle to kind of make sure that the institution continues to function," Fitzgerald said. "But I've also had my battles, and I like to pick my battles, and I've had great success in that arena. I think it's because of my ability to figure out when to hit the gas and when to pump the brakes."
Some of those battles over the years have included the senator's push for a now-invalidated constitutional amendment banning same-sex marriage, and efforts to ban partial-birth abortions and de-fund Planned Parenthood.
Fitzgerald said his conservative views derive from the values of the 13th Senate District, as well as his personal beliefs that came from being raised in a very conservative Republican family.
"That's what keeps me grounded," he said. "Developing ways of getting some of those very conservative initiatives over the finish line is what I'm probably most proud of."
Social conservatism
Fitzgerald has also been at the center of some of the state's most controversial moments in recent memory.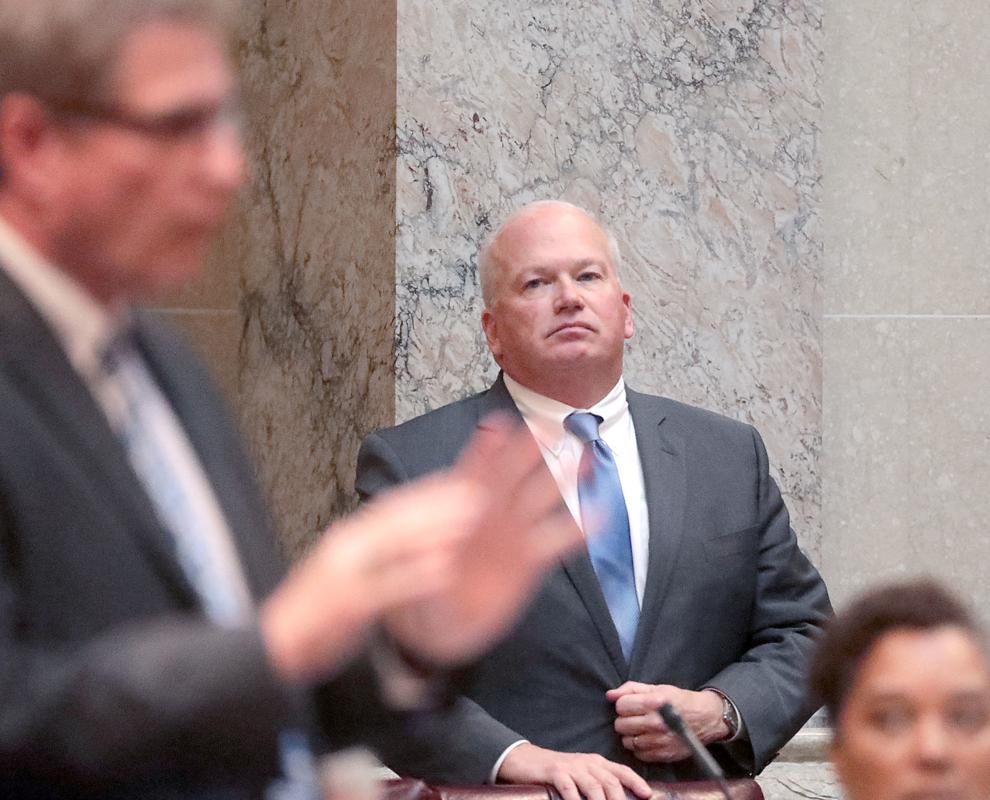 In 2011, Fitzgerald played a key role in the passage of Act 10, which effectively ended collective bargaining rights for most public employees. While he stands by Act 10, Fitzgerald acknowledged the resulting "hangover" and growing partisan divide it has created in the state.
"I do feel like it diminishes, it seems, year by year that goes by, but it shook the state from top to bottom," Fitzgerald said. "It changed the dynamic of the relationships … and it's going to take a long time for that to go away."
Four years later, Fitzgerald was a key advocate to push through legislation that prohibited private sector unions from automatically collecting dues from bargaining unit employees. Again, Fitzgerald acknowledged the move was controversial because it alienated private-sector union members who had supported Republicans during Act 10.
"That's a heavy, heavy lift in the face of opposition from people you've considered friends and sometimes political allies," Fitzgerald said. "That's tough stuff."
Republicans lost control of state government at the start of 2019 after Democrats swept all statewide offices, but Republicans retained large majorities in the Assembly and Senate — thanks largely to gerrymandered legislative districts Fitzgerald helped pass in 2011. The resulting dynamic has led to regular partisan battles and repeated efforts by Republicans to hamstring the governor's power.
Even before Evers took office, Republicans in a late-night lame-duck session passed legislation to limit the power of the newly elected Democratic governor and attorney general.
In October, Evers called for a special session on bills to require universal background checks for all firearm purchases in Wisconsin and implement laws to remove firearms from people perceived to be threats, both of which have received overwhelming support from voters, according to recent Marquette Law School polls.
Fitzgerald refused to take up a vote on the matter, adjourning the special session immediately after calling it to order.
Fitzgerald also has maintained opposition to any form of marijuana legalization, despite proposed legislation introduced last month by Democrats to decriminalize small amounts of marijuana and a bipartisan medical marijuana bill announced in September.
Another point of contention between the governor and Senate Republicans has been Evers' cabinet appointments, several of whom have been serving all year without formal Senate approval. Earlier this month, Senate Republicans voted to fire former Agriculture Secretary Brad Pfaff, a move with no known precedent.
"He has completely broken tradition and political norms," said Analiese Eicher, executive director of the liberal advocacy group One Wisconsin Now. "I would honestly say he's doing the opposite of reaching across the aisle. It's like he's put up a blockade."
Run for Congress
As a member of Congress, Fitzgerald said he would continue his support of President Donald Trump, someone the senator backed early in his 2016 presidential run.
Fitzgerald proclaimed he was proudly on board the "Trump train" three years ago, even as other Republicans mounted a "Never Trump" effort that was particularly strong in Sensenbrenner's district. Trump lost the state's Republican primary but won the general election, becoming the first Republican presidential candidate to carry Wisconsin in 32 years.
Fitzgerald, who concurs with the president that the ongoing impeachment inquiry constitutes a "witch hunt," said his support for Trump has only grown, due in part to what he described as a "roaring" economy.
In Congress, Fitzgerald said he would emphasize addressing federal debt but also acknowledged he could find himself in the minority party, something he hasn't experienced in almost a decade.
Fitzgerald said his plan would be to try to work both sides of the aisle while maintaining his focus on the conservative social issues he's been pushing for in Wisconsin for the past 25 years.
"Going from being majority leader for all these years to being a freshman in D.C. would be maybe a shift," he said. "I always joke the only job that you have when in the minority is to get into the majority."
[Editor's note: This story has been updated to reflect a correction. An earlier version incorrectly identified Sen. Dale Kooyenga's position regarding Fitzgerald's candidacy for the 5th Congressional District. Kooyenga, R-Brookfield, has not endorsed Fitzgerald.]
"I would say he's been a true conservative all 25 years in the Legislature."

Bill McCoshen, GOP strategist