Flooding hit the region hard in August and September 2018, with heavy and constant rains destroying homes, raising water levels, washing out roads, and causing tens of millions of dollars in damage. In the last year, municipalities in the county have evaluated the lessons learned from those floods, and are taking action to mitigate damage from the next flood.
Elroy
Officials in Elroy evacuated homes as floodwaters filled the city, with eventual damages exceeding $6.5 million dollars. The city reported damage of $1.9 million to residences, $4.5 million to business, and $100,000 of damage to the city and infrastructure.
"Obviously, this flood was worse than the 2008 flood," Elroy Chief of Police Tony Green said after the flooding. "The night of the flooding we did evacuate approximately 20 people via boat."
According to City Administrator Carole Brown, Elroy has worked to prevent future flood damage by removing the homes damaged in last year's floods.
"We applied for a hazard mitigation grant to demo the severely damaged homes on Lake Street and Franklin Street, and there was one home on Marshall Lane which fell into that category," Brown said. "That's the biggest thing we're doing to prevent future damages to ensure there is no future loss of property or loss of life."
Instead of those spaces being occupied by residents, the city will install green spaces.
"As far as the roads, we have a capital improvement plan that we've included some of the major street repairs to help with drainage issues," Brown said. "We have put in some new culverts and done some other work along the hardest hit streets as well."
Brown said the city will continue working with engineers to look for future projects and funding to prepare and alleviate flood damage.
Necedah
"We were lucky with what we ended up having compared to people in other communities around us," said Necedah Administrator Roger Herried.
According to Herried, Necedah used lessons learned from flooding in 2012 to prepare for possible floods, and improvements to infrastructure done since 2012 meant the village mostly was spared from damage in 2018.
"We didn't have much damage in homes, most of it was groundwater coming up so it was peoples' sump pumps running more and more," Herried said. "There was damage that was done to the boat ramp at Lions Park, also some storm sewer outlet outfall that happened down at the Yellow River, and we also had down at the wastewater treatment plant a ramp that was damaged."
After the flooding in 2012, the village received funding from FEMA for infrastructure improvements, which the village used to install rip-rap at the dam, improve the gates on the dam, and install automated systems so workers no longer have manually raise and lower dam gates. Herried estimated those projects cost between $200,000 and $300,000.
Herried said the village is looking ahead to future projects, but "our budget limits what we can do."
"We have some areas that are lowlands that always flood after heavy rain, but then seep away with the sand,"Herried said. "There are areas along (Highway) 21 that cover roads, but then within hours they drain back down."
Mauston
"The flooding we had last year was beyond the 100-year flood," said Mauston City Administrator Randy Reeg. "Most of the time, historically, people have engineered storm water infrastructure for a 25-year flood or maybe a 50-year flood. I think a lot of places you'll see them go towards engineering for a 100-year flood, but that storm was beyond that and you simply cannot engineer for the 500 or the 1,000-year floods… that can overwhelm your infrastructure."
Nevertheless, the city of Mauston has two major projects underway to mitigate flood damage, according to Reeg.
"We hired an engineering company do some storm water modeling for us to help us identify some projects we can take to alleviate future flooding problems," Reeg said. "We also just undertook some steps and hired the engineering company to reroute a significant portion of the sanitary sewer system in the southern part of the city to bypass a lift station that is known to have a bottleneck in the system, so that should help alleviate some sewer backups that occur occasionally."
Reeg says the projects are estimated to cost between $800,000 and $1 million, with the city looking at grant options as a funding source.
"They're not fixes that will happen immediately, but they're on our list and we're moving forward hoping to fund them and get them done in the short term," Reeg said. "Even with the fixes we're hoping to do, there would have still been some backup and some flooding issues that would occur even if the fixes were in place last year at this time. It wouldn't have been as bad, it wouldn't have been as long-lasting, but you can't fight mother nature."
Reedsburg
Reedsburg is still waiting for word on buyouts while also preparing for future flooding, almost one year after the Baraboo River reached 21.85 feet in the city. The National Weather Service reported the level was slightly above the 21 feet reached in 2008.
Reedsburg Emergency Management Director Josh Kowalke said the city updated its emergency management plan since last year's floods to include a flood response checklist. He said the city was approved for state grant to install an automated river gauge to track, update and predict the Baraboo River's levels, similar to gauges in Rock Springs and La Valle. Currently, an employee uses a weighted gauge, manually reading the river levels and submits the information to the National Weather Service daily.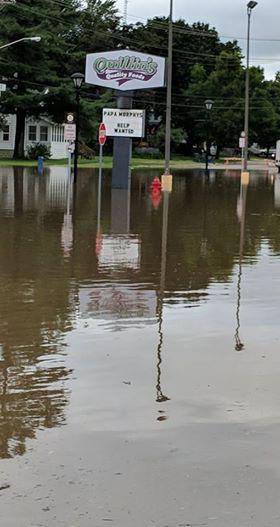 Kowalke said the city is waiting for the grant money to install the device and estimates it could happen this fall. He said the next step after that is to become a prediction site, where officials predict river levels based on rainfall. Kowalke said becoming a prediction site would help residents prepare more ahead of time for a flood.
He said FEMA approved funding to help repair the Barbara Ann Bridge on Hay Creek, which washed away during the flood. Kowalke expects the project to be completed this fall.
Reedsburg Zoning Administrator Brian Duvalle said the city has not officially looked at mitigation efforts. Instead it has focused on lessening the impact on those affected by flooding through buyouts. In Reedsburg, 18 structures damaged from the flood are eligible for buyouts. Duvalle said the city submitted its information to the state in March for FEMA's Hazard Mitigation Grant Program, which has four to five grants available for buyouts. He said July 29 the city has not received word on possible funding.
"We have no idea what is going to happen right now," Duvalle said.
Rock Springs
The Baraboo River levels rose to 27 feet in the village of less than 400 people last August. Rock Springs Flood Recovery Chairman Jamie Busser said it's "in a waiting zone" on flood recovery and its project to relocate the downtown out of the flood plain almost a year later.
Busser said the village is waiting for the state to finish submitting the information to FEMA before it moves forward with a plan to move the downtown a quarter of a mile from its current location to higher ground. The last flood recovery meeting was May 16. He said the village also is waiting to learn how much funding it will receive for the structures it has to tear down and how much it would cost to rebuild at other locations. It also depends on the space available after buyouts.
Ten structures were ruled substantially damaged from the 2018 floods, including the community center. The village plans to construct an estimated $1.3 to $2 million building as a part of its relocation plan. The plan is to place the building on Railroad Street, depending on funding, Busser said.
The 11,000-square foot building will include a kitchen, fire station, municipal office and library and has room for a post office. The village has applied for community development block grants through its engineer, Vierbicher Associates, to cover new building and land for the community center.
He said the village hasn't applied for grants for the commercial, residential or business phases of the project. Busser said two people have expressed interest in potentially opening a restaurant in the village.
The village board in May approved flood proofing Fireman's Park. Busser said the park's electrical system was compromised and a water heater was damaged during the floods. The system will be replaced and installed above the flood plain, the plumbing will be reconfigured and floor drains will be plugged so it doesn't overwhelm the sewer system. Busser expects the project will finish in the fall.
You have free articles remaining.
In terms of mitigation efforts to prepare for the next flood, little can be done because of the village's geography, Busser said. The inlet of the Baraboo River is to the north of the village while the Narrow Creek Watershed is to the west, and the Baraboo River outlet is to the south. The landscape of surrounding rocks creates a bottleneck that lets out three times less water than the inlet.
Busser said moving the downtown will help the village recover from the devastation.
"The floods are getting historically higher and higher and it's so much stress and heartache that goes down in those buildings in the lower area that have flooded," Busser said. "We just want to get that out so when the floods come through we pull back anything that may be impacted."
Sauk Prairie
When flooding hit areas across southern Wisconsin in August 2018, the villages of Sauk City and Prairie du Sac mostly were spared.
But that didn't mean the fire departments and others in a position to help stood by idly.
"We were paged out to Cross Plains, they had multiple people stranded," said Sauk City Firefighter David White. "We took Highway 12 to (County Road) P, because were told we couldn't get in to Cross Plains on 14."
While out assisting other communities, White and other firefighters saw a state patrol squad car completely immersed in flood water. Later, they witnessed an individual sitting on the roof of his pick-up truck.
"It was literally within two inches of the roof of his truck," White said.
Cross Plains and Black Earth received mutual aid from Sauk City and Prairie du Sac Fire Departments and other organizations, such as Prairie du Sac Public Works. To get to Black Earth, they drove through four inches of flood water in Mazomanie.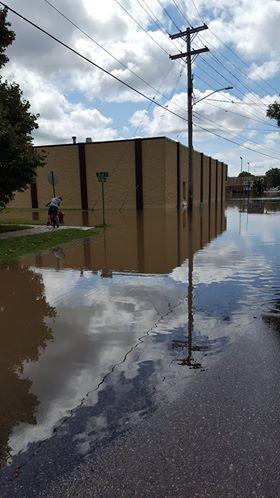 Flooding was only part of the challenges they faced. A structure fire took place in Cross Plains when lightning struck a building.
"They had that going on as well, besides all the other stuff in Cross Plains," said Sauk City Fire Department President Curtis Eberle.
White said an added complication in Black Earth was that the fire department building there flooded. "So not only did they have work they were doing, they didn't have homes to take the trucks back to," White said.
The villages, particularly Prairie du Sac, are somewhat naturally resistant to flooding.
In Prairie du Sac's case, two things contribute to that: sandy, absorbent soil and an elevated position.
"We are higher than the river is, so that plays into it," said Prairie du Sac Village Administrator Alan Wildman. "And that's the main body of water that's coming through. There's no other creeks or streams that come through the village."
Wildman said even in studies examining what would happen if the Prairie du Sac dam failed, the village would not see significant water passing through.
But in March, Prairie du Sac was hit with a different kind of flooding; one spurred not by rainfall, but snowmelt.
"Even though we have sandy soils, the soil was still frozen from the frost being in the ground, (then) the temperatures went high and we had a rapid snowmelt that day," Wildman said. "That was unusual, we've never had that before."
With the ground too frozen to absorb the water, it spread across the area and pooled in basins.
In both Sauk City and Prairie du Sac, police monitored several barricaded streets where water water reached unsafe levels. Some residents used water pumps outside their homes to keep the water away.
Wildman has said he does not believe the retention pond at Walter Doll Park ever needed to be pumped before March 14 and 15. Pumps capable of draining 5,000 gallons per minute were used. A water basin on Parkside Drive also was at capacity.
Water from farmland near Lueders Road and Broadway street flowed over toward the residences there.
Sauk City saw some flooding in the Cardinal Estates subdivision and a section of Highway 12.
Public Works Director Troy Murphy said the village is constantly thinking about its capacity to handle water.
"Every year we upgrade storm sewer," Murphy said. "As we redo capital improvements like our street projects, we're constantly engineering our storm sewers."
Prairie du Sac is currently working on study to consider the possibility of future floods like the one in March. "We engaged our engineers," Wildman said. "They're actually in the process of putting together a review of what happened in March, looking at our response to it in March (and) what we can do if it happens again."
Lake Delton
Lake Delton fire chief Darren Jorgenson is always on the lookout for potential dangers in his village, be they natural or otherwise. In light of last year's severe flooding around Sauk County, he is, if anything, more careful than ever.
Jorgenson is responsible for creating and maintaining Lake Delton's emergency action plan in the event of natural disasters. According to Jorgenson, the village has avoided major flooding or other disasters in recent years. But that doesn't mean he doesn't monitor potential risk factors.
"We've had issues in the past where the water has risen quite high on the Wisconsin River and has caused localized flooding on the shoreline, resulting in a few evacuations in the past several years," Jorgenson said. "But it hasn't been too many, thankfully."
For any future incidents, Jorgenson and Lake Delton defer to the Sauk County emergency plan, much like other municipalities in the county. In the event of disaster-level flooding, command defers to the Sauk County emergency operations center, and the first step is to seek out a disaster declaration.
In 2008, Lake Delton received significant state support to rebuild after its namesake lake drained into the Wisconsin River, taking several homes with it, during a major flooding event.
Jorgenson said the disaster declaration is a key part of repairing damage from floods, as it allows the county and state to funnel additional funds to municipalities that otherwise would not be able to afford cleanup efforts. In some cases, such as in last year's severe floods, some areas will seek out an official disaster declaration from FEMA, as the damage extends even beyond what the state can help with.
"We'll get a disaster declaration, either at the local level or at the state level," Jorgenson said. "And what that allows us to do is bring in additional resources that the locals can't provide when we're tapped out and need more help."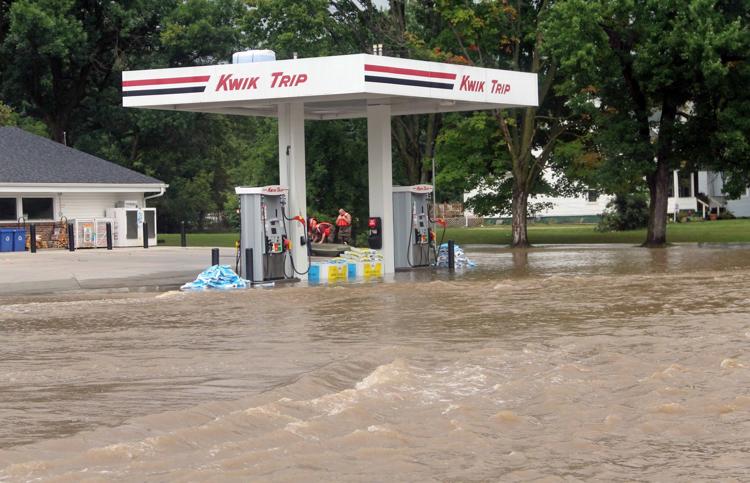 It isn't just the government that spearheads the effort to clean up from severe weather. Private citizens are instrumental in the effort. Jorgenson said the Wisconsin Dells Ducks have been crucial in past flood cleanup efforts.
"In years past, we have used, with great success, the Wisconsin Dells Ducks to assist with evacuations, and that's written into our plan now because they're so effective," Jorgenson said.
The Ducks provided ample assistance to the communities hit hardest by 2018's flooding, helping to evacuate residents from unsafe areas while cleanup crews attempted to repair the worst of the damage.
Jorgenson complimented Sauk County as a whole for its capabilities to respond to severe flooding incidents, citing the multiple incidents in the last several years that have allowed the county to refine its disaster response.
"We've gotten pretty good, on a county level, of responding to flooding issues because we've experienced them a handful of times in the last several years, so that's a good thing," Jorgenson said.