Michelle Roth Baade lost the job.
With a photography gig in Madison on the line, Roth Baade needed to find a way to get one her children from school to the babysitter to be with her other child. However, the Beaver Dam resident couldn't find anyone reliable, and she didn't trust the local taxi service to help make it happen, either. Roth Baade couldn't book the gig.
"There was just no way for me to make that happen," she said.
It's been a few years since she last tried the taxi, when her mother developed heart problems and couldn't drive. Roth Baade said that, "without exaggeration," there were two dozen times when her late mother was left stranded and she had to come pick her up. There were other times in years past when, as a then-single mother, she was in Madison and the school would call wondering where her children were. She believed the taxi would get them there.
"We don't have any service to get our weakest citizens back and forth through this town," Roth Baade said.
They're common complaints: The taxi service is too slow and might not even show up to get me to work, my mother to the doctor, my kid to school.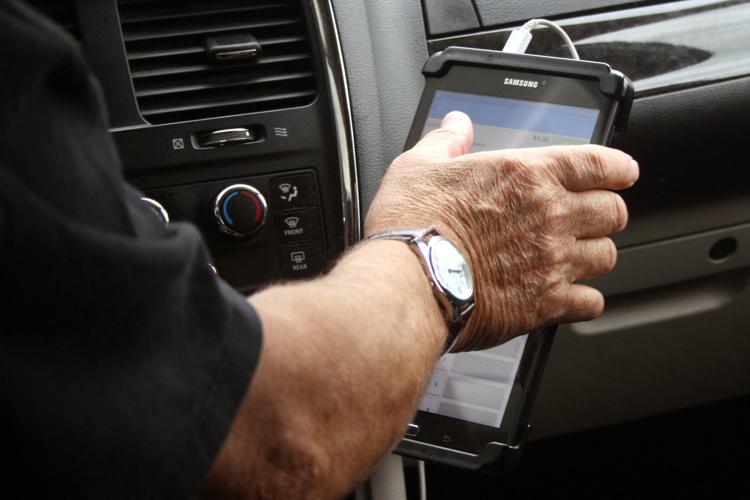 Beaver Dam, where Roth Baade lives with her family, contracts with Running Inc. of Viroqua, to provide shared ride services to residents, as do Portage and Baraboo.
While Running Inc. is aware of the complaints, the company said providing consistent service, at the levels expected, is complicated by how local taxi services are funded, an ongoing shortage of employees and contract limitations with communities.
Grant funds
Rural communities receive state and federal grants for taxi services, then put out requests for bids.
Portage City Administrator Shawn Murphy said money for the service comes from three sources in that city: About 40 percent in grant funding, about 30 percent from fares with the rest subsidized by the city. In Baraboo, about two-thirds comes from grant funding and a third from fares, according to city documents. In Beaver Dam, the mixture is roughly 60-65 percent from grants, 20-25 percent in fares and 10-20 percent from the city, officials said. Beaver Dam received about $625,000 in grant funding and used $80,000 from the general fund for transit in 2018.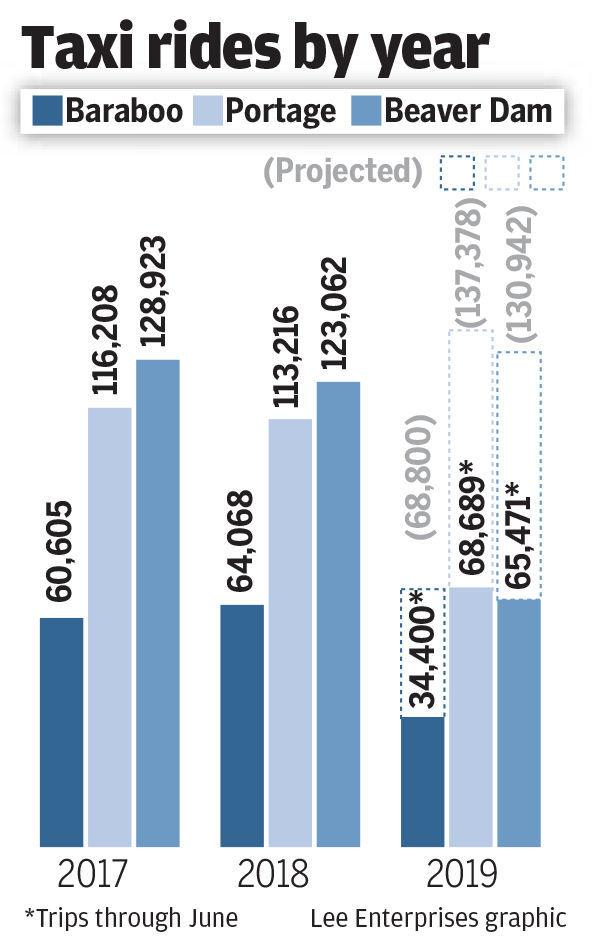 Beaver Dam, Portage and Baraboo contract with Running Inc. while leasing out the vehicles and setting their own hours and rates for passengers. For example, Portage has 24/7 service, while Beaver Dam and Baraboo do not. 
The contracts issued by the cities limit the total number of hours the company can provide service and the rate the company will receive per hour. In Beaver Dam, the 2018-22 contract calls for a maximum amount of funding at $6.1 million for 217,880 hours of service for about $27.60 an hour.
In Portage, the contract calls for funding of $1.34 million for 47,517 hours of service in the fourth year of the contract for about $27.60 an hour.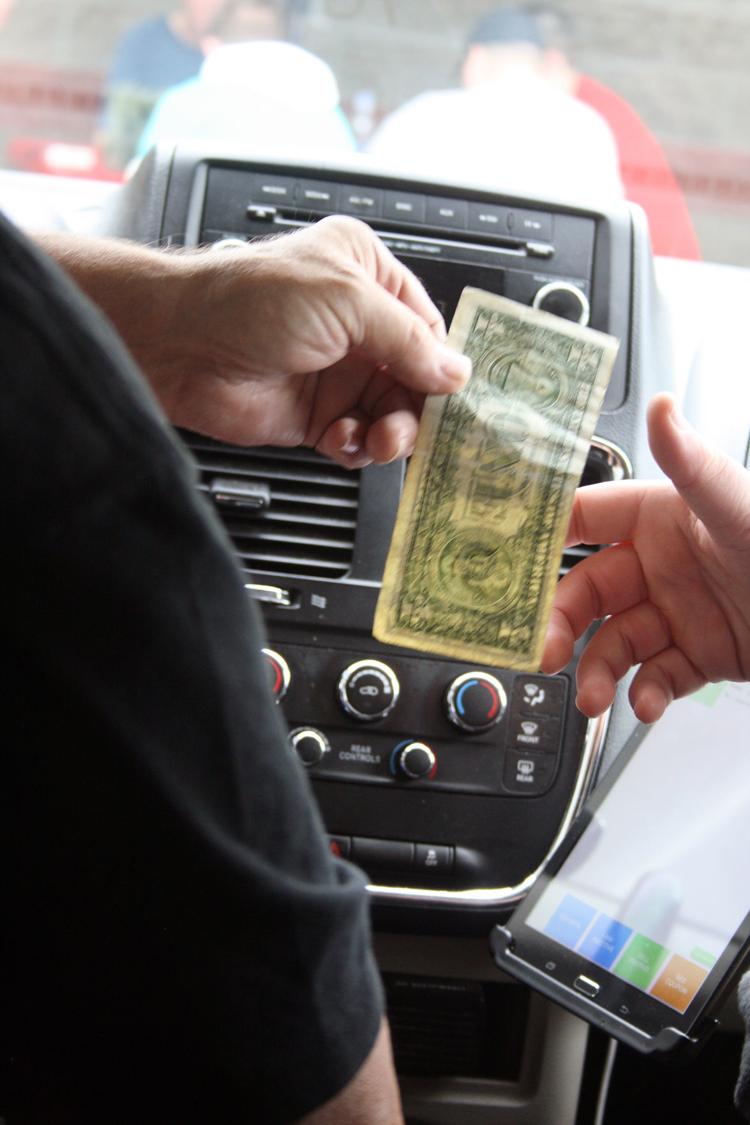 Baraboo officials could not provide a contract by press time, but said the rate is about $26.50 an hour, and other records provided show that there were 20,811 hours of service in 2018. 
It's a complicated system.
"We can't go over that amount of service hours, regardless of demand," said Justin Running, the vice president of Running Inc. "From a private business standpoint, it's maddening that our demand is outpacing the possible service I can provide and there's nothing I can do about it."
The only way to change these numbers to try and make service match demand is to back out of the bid, which either the company or the city can do. The company might also depend more on cities to provide extra vehicles, as it has in Beaver Dam.
The company is required to provide reports about ridership to the cities.
Hundreds of people use the company's services every day to get where they need to be without issue. By mid-afternoon on a recent Friday, 170 received rides in Baraboo, 319 in Beaver Dam and 186 in Portage. 
Worker shortage
Amanda Running, the communications coordinator for the company, said a tight labor market makes it difficult to find and replace employees.
"It's not just go buy another van and hire five more people," Amanda said. "It's more complicated than that in a shared ride service."
The manager of the service in Beaver Dam, Lisa Kudick, said the company increased the service bid last year to have more money to pay for more employees. She said they've had more interest from people looking to work as a cab driver. However, she said the turnover rate remains high.
The starting rate in Beaver Dam is $10.25 an hour on weekdays and $12.25 an hour on weekends. There are no benefits. Beaver Dam has 36 drivers and has an average of 500-600 calls a day with 17 vehicles, including four buses that aren't used much. Portage stays in the range of 30 drivers with a similar amount of service.
Dan Doyle, a member of the Beaver Dam Common Council and a cab driver on the weekends, said he's seen major improvement over the past year or so with more drivers and cars, including re-purposing the former mayor's vehicle into a cab. He said things have become more steady and less swamped than they were when he first started.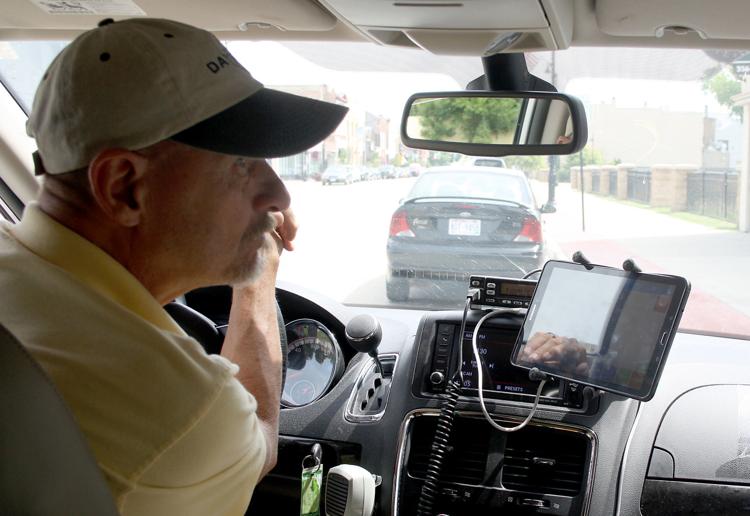 "I know for us as drivers, it helps," he said. "There just seems to be more options for the dispatcher to cover the rides needed."
Frank Haack, a driver in Portage, starter driving cabs after he retired and said it's a good way to get out of the house. 
Kudick said the service is fully staffed on weekdays, but there still have been issues filling weekend shifts. She said switching from a paper-and-radio system to a tablet system to keep track of requests has helped reduce wait times dramatically.
She said riders should call with a 30-minute window and that, most times, drivers can get riders where they need to be on time. Riders have to watch for a taxi, rather than receive a call from a driver upon arrival, due to the large call volume. Out-of-town calls to Juneau or Columbus should be made the day of and are not guaranteed.
"We do the best we can to get everybody they need to," Kudick said.
Kudick said dispatchers prioritize riders with medical appointments, work shifts and children at school over personal trips during busy times. She said school trips can clog up the system because they need to send drivers to every school.
"We are not school transportation," Kudick said.
Michele Yates-Wickus, the director of student services for the Baraboo School District, said the district has an attendance policy in place to follow, and will work with families to get their kids to school on time, including meeting with school principals to resolve transportation issues.
Other options
Some residents of Dodge, Columbia and Sauk counties have a transportation option of their own: Taxi services through the counties.
"We are the best-kept secret in Dodge County, but hopefully not for too long," said Kristine Schefft, a supervisor in the county's Aging and Disability Resource Center.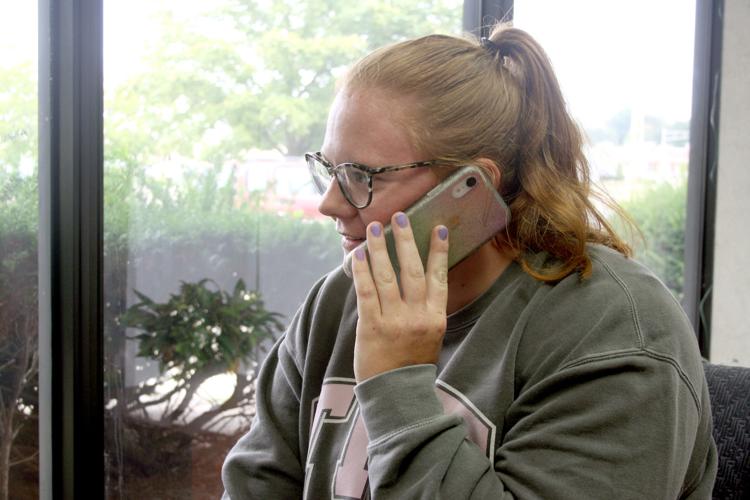 The ADRC provides transportation on request for free, though with a suggested donation. The service is funded with federal funding, donations and local taxes.
In Dodge County, seniors are the first priority, followed by county human services clients and then the general public. Rides are reserved in advance, up to six months. Routes are done a week in advance and at least three days' notice is preferred. Trips are prioritized as well, with medical needs first. There are six vans with wheelchair ramps and two mini-buses. The Dodge County agency also has volunteers who drive their own vehicles.
To qualify, one must be a resident without others means or transportation, a client of the human services department, or a resident with prior authorization from another agency or nursing home. The biggest reasons people use the service are for medical appointments and nutritional appointments like a senior dining site or trip to the grocery store. 
The service provided 902 rides with its own paid fleet and 1,563 rides with volunteers in the second quarter of this year.
How would you rate your local taxi service?
Schefft said she remembers helping a patient on hospice travel with her husband to see the farm she grew up on.
People in Beaver Dam or Waupun traveling in town are asked to use the existing taxi services. However, the county can offer vouchers for those who are unable to afford the taxis. Business hours are 8 a.m. to 4:30 p.m. Rides can travel out of the county or, on rare occasion, out-of-state for necessary appointments.
"Unfortunately the thing with our program though is that it's not a guaranteed ride, just because of the limited availability of how many drivers we have and how many rides that we make," said Elaine Deblare, the transportation coordinator in Dodge County.
Things work a bit differently in Columbia County. According to ADRC director Becky Mulhern, a fleet of 15 paid drivers serves residents who are over 60 years old and residents of any age who have a disability or are a veteran. There are volunteers who deliver meals but not people.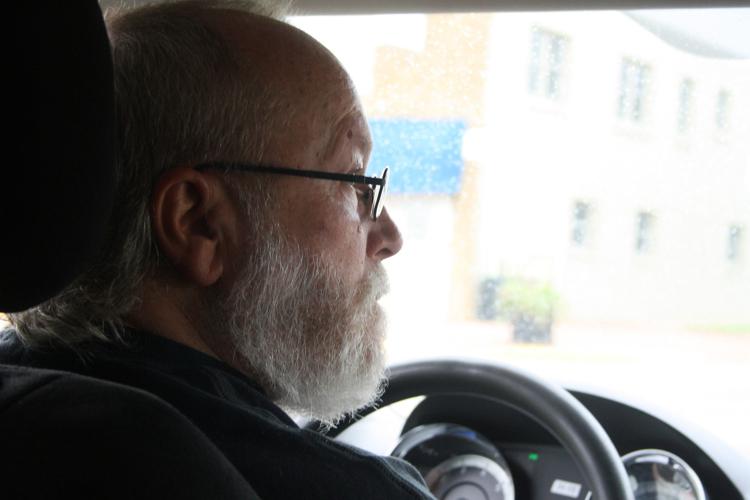 Medical appointments are a priority. The service, funded with federal and state grants, is not free: It's 60 cents a mile with a $6 minimum. There is not an issue with residents traveling within a city that already has another taxi service.
There is a 125 mile round-trip maximum in Columbia and rides scheduled within 24 hours are guaranteed. Guests are allowed to ride along for medical trips for free.
"We had a woman who called and was crying and it took us a while to get her calmed down to figure out what was going on," Mulhern said.
The woman, who used a wheelchair, was trying to attend a funeral. Her quote for a trip using a different service was $125. With the county's taxi, she paid $20.
Sauk County also has transportation services through the ADRC for seniors and people with disabilities, including recreational bus trips, volunteer escort drivers and shopping trips.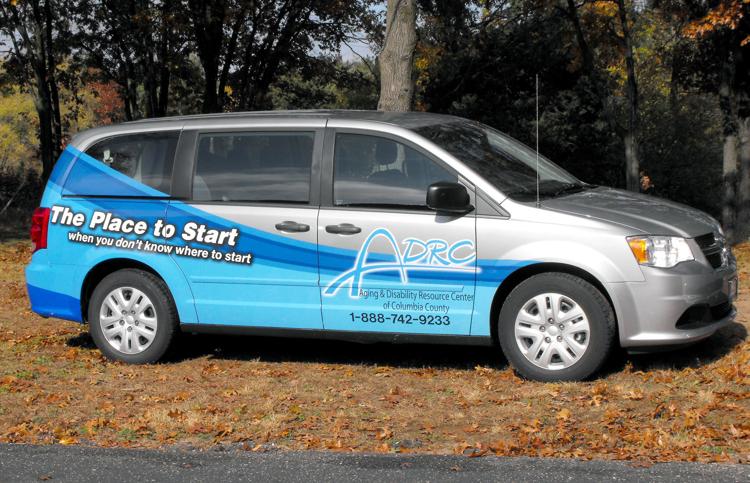 Ride share services like Uber and Lyft do have a presence in the towns, but the availability of drivers isn't anywhere near the coverage in urban areas. 
And there have been other ideas for expanding ride services.
Beaver Dam Mayor Becky Glewen proposed the idea of a north-south route in the city with a bus, perhaps sponsored by businesses. That would, of course, cost extra money. Murphy said Portage tried to start a shuttle service to Madison, especially for people attending medical appointments, but the service was canceled due to low ridership. 
In the end, Roth Baade said she would like to see a larger service in town, including one just for school kids, so children and adults aren't competing against each other. She said that's important as Beaver Dam becomes more of a bedroom community for working families.
"If engineers can time the lights in big cities, we can figure out a way to get a few small vans," she said.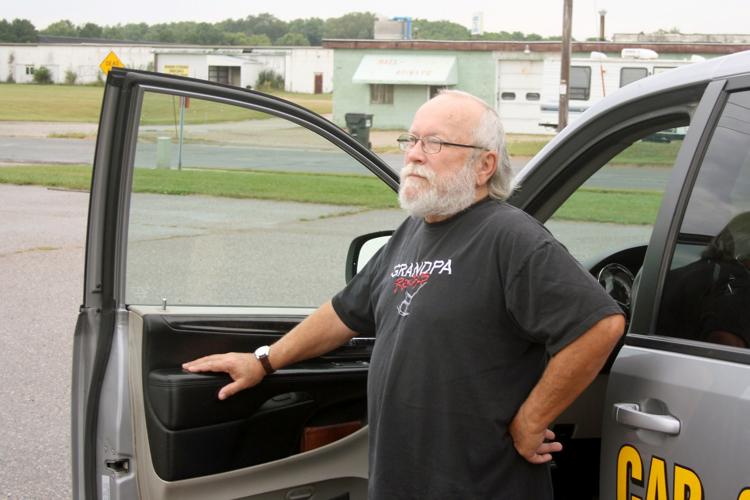 Get local news delivered to your inbox!
Subscribe to our Daily Headlines newsletter.