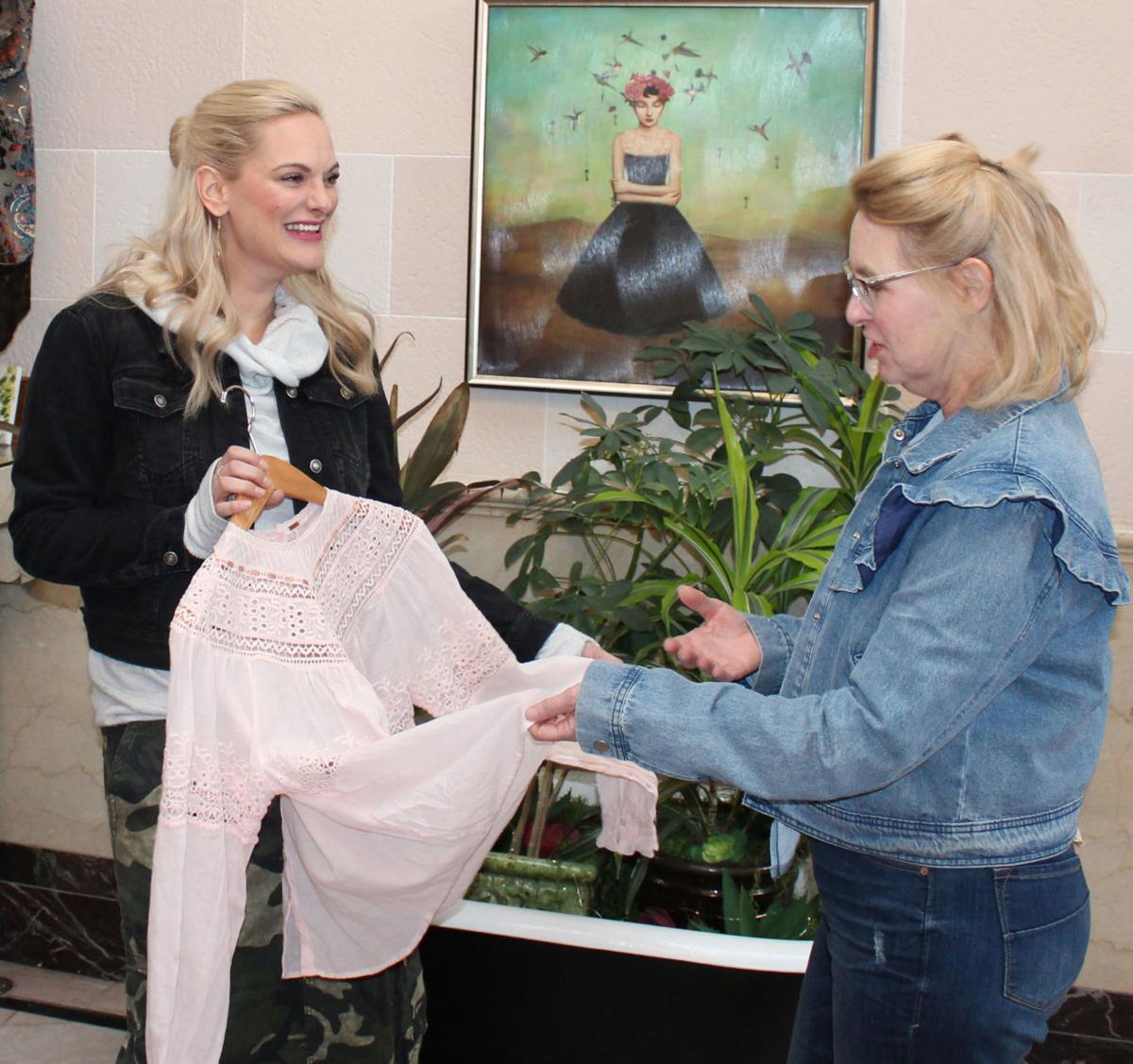 Ladies fashion store adds to Waupun elan
WAUPUN – A trendy little shop with big ideas is adding to the destination status of downtown Waupun.
K's Boutique, operated by Katrina Hoinacki, offers ladies fashion and a selection of décor items in a former bank at 317 E. Main St.
Hoinacki had earlier opened a photography studio in the back of the BH Home shop nearby. That business eventually grew to include wedding décor and tuxedo rentals.
All that was changed by a chance stop at Cranberry Fest.
"My mother, mother-in law and I went into a boutique in Sparta and were super inspired and decided we needed to do it ourselves," said Hoinacki. "That was in September and by October we had a whole selection of clothing in place."
Luckily Hoinacki has retail experience, an associate's degree in applied science and has taken college courses in photography and business. Perhaps most importantly she has a lifelong interest in fashion.
"I've been in retail since I was 12," she said. "When the boutique opportunity came up I just decided to take the leap."
Months later she learned that the neoclassical bank building four doors away was on the market.
That building was constructed in 1929 and includes a sky-lit, two-story lobby, marble-textured walls, real marble floors and wainscoting, a mezzanine-level office overlooking the floor below, a kitchenette, a vault (now dressing rooms) and additional spaces for storage and/or other uses.
Family members (including husband Trek, his parents Tom and Sue Hoinacki, and Katrina's mother Heidi Petroselli) helped to set up the shop, and to update the space where needed.
"The building was purchased in May of 2019 and Trek came in every day after work to get it ready for the grand opening at the end of the month," said Hoinacki. "He has been so supportive. He's my rock."
A friend gave Katrina a vast semi-circular couch, and many other items were brought from home — including a claw-foot tub now filled with house plants and other greenery. Clothing racks came from ShopKo in Beaver Dam when it was liquidating its fixtures.
Décor is partly inspired by the family's love of nature. With that in mind a huge elk head — shot by Tom Hoinacki in Colorado and brought down from the mountain with Trek's help — was hung in the vast open space of the main floor.
Antlers and other natural elements are also used as props in several displays.
You have free articles remaining.
"I had a lot of help from a professional designer, Alex Kohlenberg, who helped me come up with our unique look," Hoinacki said. "We still change things around frequently, but the elk helps set the theme."
A modern chandelier adorns the middle of the room, flanked by two ceiling fans.
To set her shop farther apart Katrina has focused on exclusive new lines of clothing – ones that customers won't find at the big box stores. Designer labels include Free People, Bed/Stu, Salt Water Lux and others.
Katrina attends seasonal fashion shows in Chicago and shops wholesale sites online to select her featured looks.
"It's all hand-selected by me," she said. "It's very personal. My process is so much more than just selling clothes."
Katrina offers what few other shops can provide – which is expertise in fashion and what goes with what.
"Not everybody knows how to dress," she said, frequently demonstrating her style online and in the shop. "We provide one-on-one personal attention. Not every woman knows what looks good on her body type. So many times a woman will come in and will leave with a real sense of personal style and beauty. Looking good really helps a person's self-esteem and I'm proud to help them to achieve that."
She continued, "I take a lot of pride in coming up with cute outfits for people. I like playing with clothes and thinking outside the box."
Customers range from girls in high school to women in their 80s.
"I favor things that are contemporary and unique," she said, "but also things that women of all ages can wear and enjoy."
The shop also sells original paintings and other art by Kendra Bach in her "In His Images" series.
Prices range from $20 to $30 for T-shirts and tank tops, to $250 to $300 for high end boots and purses.
Customer response has been overwhelmingly positive.
"It's a great addition to Waupun," said friend and occasional store watcher Jean Jansen "As more and more things open downtown it's becoming more and more of a destination. Coming here is more of an adventure than a trip to a big box store. It's a real pleasure to grab some coffee (at nearby Wine & Wined) and to walk from one store to another (like Brooks Shoes, K's Boutique, BH Home, Geysber's Jewelry, Mateo's Restaurant and other businesses)."
"It's such a nice shop, and it's so nice to have it in downtown Waupun," Bresser said. "Katrina is very helpful. She doesn't tell me that something looks good on me when it doesn't. She's very honest. I like her variety and I like her prices. It's really fun to shop there."
As for what's next, Katrina hopes to expand her inventory, and perhaps to rent out a portion of the building to a masseuse or some other pampering addition.
"I'd like to add a men's line and a babies' line," she said. "There are a lot of possibilities that I can explore in the future."