Construction of the expanded convention center is nearing completion at the Kalahari Resort in Lake Delton, with the opening of the convention center still on track for September 2019. The expansion will more than double the size of the current convention center, from about 100,000 square feet to 212,000 square feet.
"When the addition is complete, it will be on-par with Kalahari's Sandusky (Ohio) property — which is the largest convention space in the Midwest," said Nicole Friedman, Public Relations Account Supervisor for the resort. "Previously we didn't have the opportunity to bid on certain events… without the expansion."
New additions to the convention center include 10 new meeting rooms, a new 52,000 square foot main ballroom and exhibit space, enhanced load in and load out capabilities, additional registration and client office spaces, pre-function space, "recharge" lounges, and outdoor patios. The additional meeting rooms will bring the total number of meeting spaces to 45, and the new ballroom and exhibit space is separate from the currently available 20,560 and 17,200 square foot ballrooms.
Travis Nelson of Kalahari Resorts said the increased size of the convention center will both help Kalahari meet "current and future business," while also bringing additional tourists to the Wisconsin Dells area.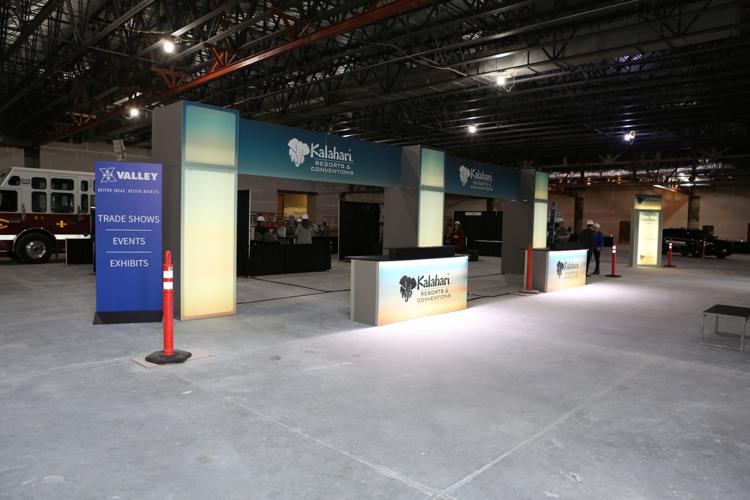 Kalahari broke ground for their convention center addition on October 5, 2017. The addition is estimated to cost about $35 million. Funding for the project is being aided by a $10 million grant through tax increment financing incentives from the Village of Lake Delton as part of a private development agreement.
According to the agreement, the expanded convention center is likely to attract additional national and regional conferences. The project is expected to create demand for an additional 250,000 nights of lodging in the area, which Kalahari cannot provide for completely at the resort. Kalahari currently has 756 guest rooms, and Friedman says the resort does not plans to add additional rooms at this time. The increased visitor numbers are expected to expand the village tax base, and provide additional revenue for local businesses.
"The resort does not plan to expand its current offering (of rooms)," Friedman said. "(This is) a decision that will bolster business for other lodging options in the area."
The addition to the Wisconsin Dells property is one of numerous additions Kalahari properties across the country are undertaking. Kalahari broke ground on a new property in Texas in May 2018, and broke ground on an expansion to the convention center at the Pocono Mountains resort in June 2018.
The convention center space is now available for booking. For more information, visit kalaharimeetings.com.