As he once made a pivotal career change, Tony Gomez-Phillips is now fashioning a dramatic shift in the look of one of Madison's iconic buildings — the rooftop gardens at the Frank Lloyd Wright-designed Monona Terrace.
Born in Maracay, Venezuela, and raised there and in Columbia, Peru, Uruguay, Wisconsin and Texas due to his parents' work — his father was a veterinary research scientist for agriculture systems in developing countries — and with family ties in Wisconsin, Gomez-Phillips' exposure to different countries and cultures sparked an interest in international relations.
He attended UW-Madison and earned a bachelor's degree in international relations, international political economy.
But in his youth, he also was immersed in the tropics and in areas teeming with vibrant life and adventure. He'd come home from school and then run out with friends to climb a mountain, catch minnows in a river, and pick mangoes and bananas. He still recalls frightening torrential rainstorms fading into extended, quiet stillness and then followed by singular frogs alerting their presence.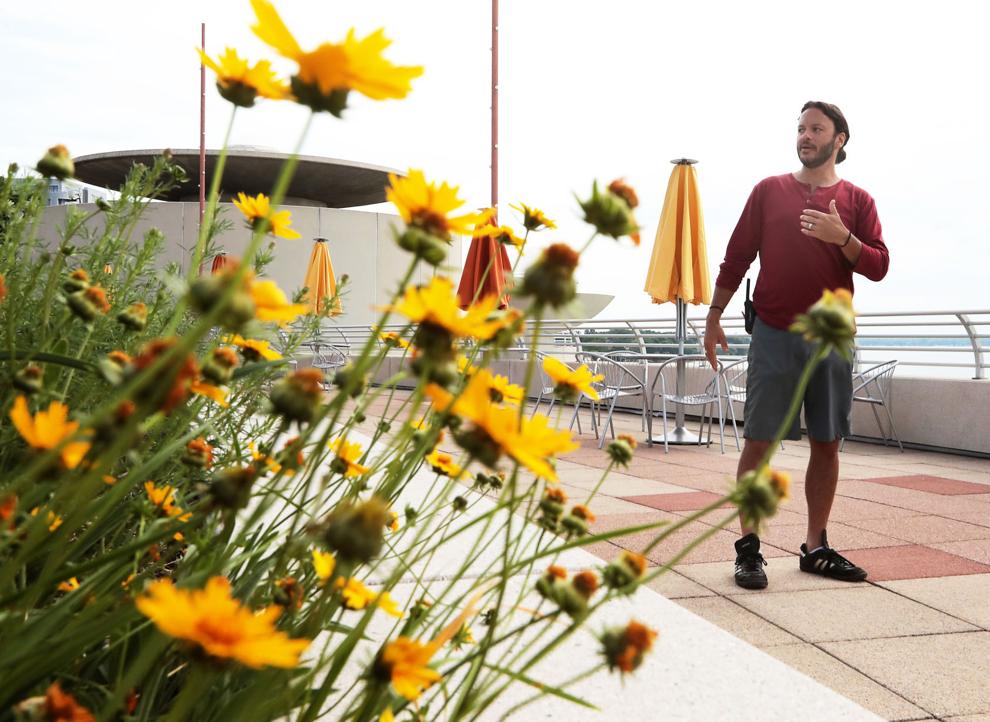 With a mother from Madison and generational family history in the Sauk Prairie area, he also spent many childhood hours on the lower Wisconsin River, area lakes and backwoods of the family farm in Sauk Prairie.
Gomez-Phillips started his professional career as client care coordinator for GE, but realized his true calling was elsewhere, one that echoed from indelible experiences in nature. He temporarily worked for Wollersheim Winery and then took a part-time position as a staff horticulturalist at Olbrich Botanical Gardens. In February 2016, he accepted a full-time job in facilities and landscape maintenance and horticulture at Monona Terrace.
What exactly caused the career pivot? That's pretty dramatic.
Sometimes you just know where you don't belong. I attempted and realized that the constructs of a corporate career were not for me so I walked away from tech and into nature. I truly believe that my immersion at an early age to the wonder and beauty of the tropics incubated a deep connection with the natural world.
How did you develop your expertise in landscaping?
I'm constantly learning every day. I think it is more or less a slightly better understanding of human nature/behavior as it relates to the spectrum of constructed versus natural environments.
What are the special responsibilities of shaping gardens at high-profile places like Olbrich Gardens and Monona Terrace?
I think the term "shaping gardens" is everything in this question. It at first acknowledges the power and ability of the human hand to impose its will on the natural landscape and also identifies the gardener or designer as the creative force behind this subjective interpretation of beauty. So they are special responsibilities that should be well thought out.
Why did you move to Monona Terrace?
Aside from the full-time position, what an amazing opportunity to be a part of an internationally recognized iconic Frank Lloyd Wright building dripping with local history.
What sort of garden existed at Monona Terrace when you arrived?
It was a pretty garden — a relatively symmetrical and conventional landscape with a few more trees, shrubs, and many flowering annuals planted throughout. There was more shade in certain areas, however, and views of the lake were obstructed by shrub plantings in between the mature Norway Maples. There was a lot of unplanted space that was covered with wood mulch and there were higher maintenance inputs like irrigation needs and pest management.
What is your vision for the gardens and landscaping there?
My first big project, the prairie-inspired planting, resulted from the process of connecting Frank Lloyd Wright architecture with a garden style that embodies his views of nature and how it interacts with us humans. He was a student of nature and drew from it inspiration in his designs. He also believed that the essence of nature could be discovered by thoughtful, probing contemplation. He was far ahead of his time in his complete acceptance of natural landscapes and finding inspiration in the beauty of their inherent wildness. To some extent, the goal of the gardens is to engage the public to this "wild" beauty instead of the standard landscapes you'll find in today's urban environment. I think Monona Terrace is the perfect place for this approach.
What should people know about the gardens?
They should know that they are a work in progress. And that they are an open palette to learn about a beneficial plant they may have not seen before or see a pollinator working its craft. The gardens are an opportunity to get lost in a moment of beauty, relaxation, reflection and appreciation.
I'd like to get more shade on the roof and continue to update landscape infrastructure like irrigation and lighting. Once those are in place, we'd like to continue editing designs to facilitate maintenance and programming needs. We have a nice opportunity to have a role in educating our youth to plants, ecosystems and gardening in urban environments.