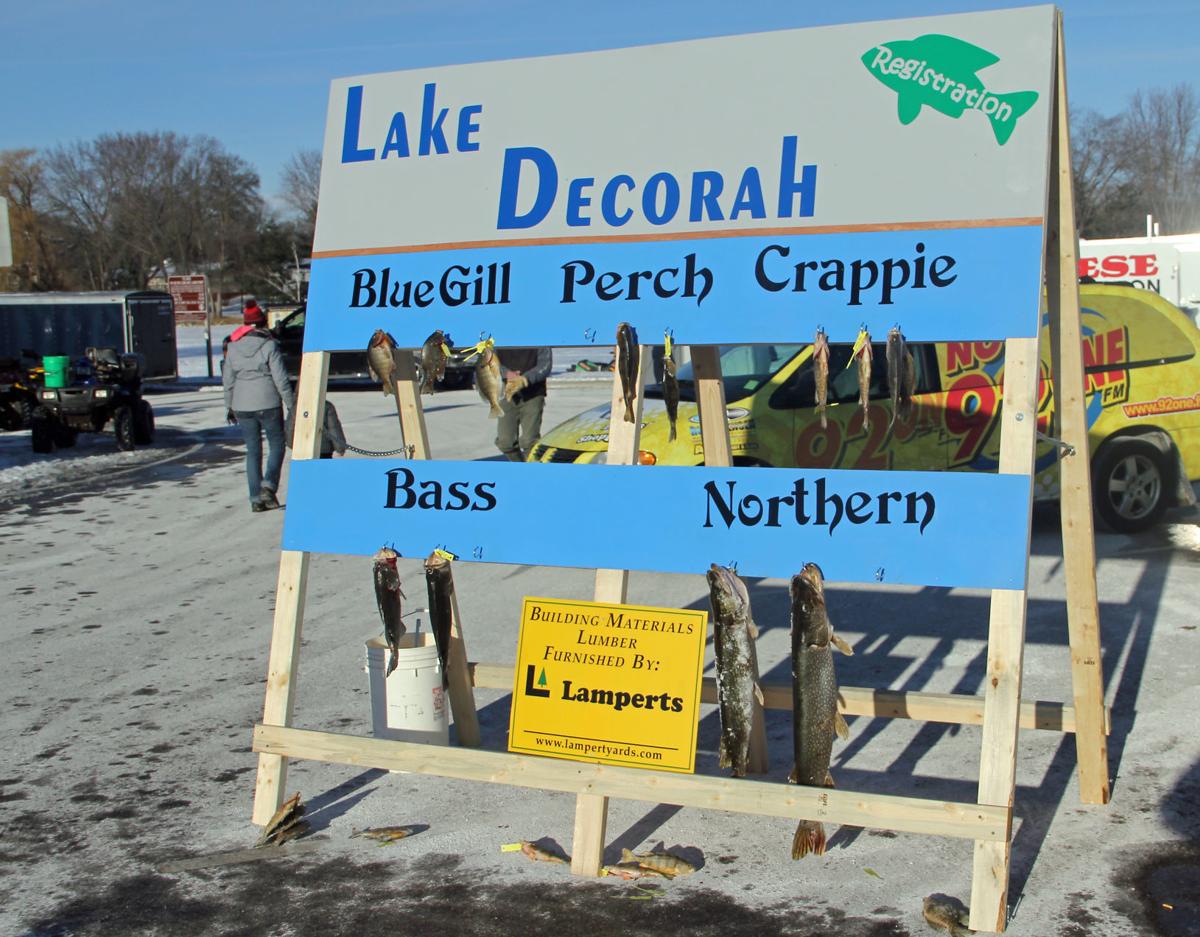 Although unusually warm winter weather is creating challenges for ice fishers this season, the city of Mauston is working every night to ensure the Third Annual Lake Decorah Restoration Ice Fishing Tournament goes on as scheduled.
"We have one more warm day coming," said event organizer and Mauston Superintendent of Parks, Forestry, and Cemetery Jordan Wilke. "But we're making more ice at night than we are losing during the day."
As such, the tournament will proceed as scheduled, with registration open from 6-11 a.m. Jan. 11 at Riverside Park by the City Boat Launch. Entry costs $20, and pre-registration is open at Mauston Public Works and City Hall through Jan. 10 from 8 a.m. to 4 p.m.
Cash prizes are available for first through third places in each of the five fish categories, including perch, crappie, bluegill, northern, and bass. All DNR fishing rules will be enforced and fish must be registered by 2 p.m. to count towards the prizes.
A pre-registration social begins at 6 p.m. Jan 10 at Heinie's Tavern, with registration also available during the social.
"You can register, and then fish as early as you wake up on Saturday," Wilke said.
Besides the prizes for fish, participants can win a Mossberg Patriot rifle, an Eskimo EVO shelter, a shotgun, a propane auger, a crossbow, a tool package, or a Yogi Rod package in the raffle drawings. Other drawings include a bucket raffle with more than 30 prizes, and a 50/50 raffle. Drawings begin at 3 p.m. Jan. 11, and tickets are $10 each or three for $20.
All proceeds from the tournament go towards Lake Decorah restoration efforts. According to Wilke, in past years the money raised from the tournament has allowed for surveys of the outlets and inlets of the lake.
This year, the city and the Guardians of Lake Decorah have teamed up and are working together with the USDA and National Resource Conservation Society to apply for a cost-sharing grant through the DNR. If the grant is approved, funds from this year and the last two tournaments will be used for a lake study through SEH Engineering.
"Once the study is finished, the (engineering firm) will give us a written management plan, with a price point, of things we need to do for the lake," Wilke said.
A member of the engineering firm will attend the tournament to help answer questions on the Lake Management Plan for Lake Decorah.
Wilke says the event is family friendly, with the National Guard on hand to assist children with fishing at no cost. Also available are a beer tent, food, and a bonfire.
As there is an abnormally large amount of open water on the lake this year, Wilke is stressing safety for participants.
"It's not perfectly ideal, we're aware of that, and we're making ice, but anglers need to be safe," Wilke said. "Be smart, don't take UTV's or snowmobiles… but it's safe for foot travel in non-channel areas."
For more information, visit Mauston.com or search for 3rd Annual Lake Decorah Restoration Ice Fishing Tournament on Facebook.
Reach Christopher Jardine on Twitter @ChrisJJardine or contact him at 608-432-6591.
Get local news delivered to your inbox!
Subscribe to our Daily Headlines newsletter.